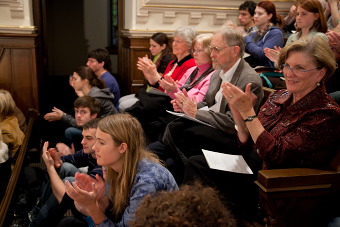 Dickinson College music series draw numerous audiences. All student musicians benefit from the presence and support of live audiences. We thank our devoted patrons for their ongoing support for the college, the music program and, importantly, you—the young musicians.
A unique feature of music education in the liberal arts college is the three-pronged approach to musical development that performance studies (private, one-on-one study in musical performance) make possible: First, the movement from academic courses (in music history, theory, and composition) to performance studies takes the student from analysis to realization through physical practice and performance. The "laboratory experience" gained in performance studies also drives the student toward academic study of music with a deeper interest and focus. And finally, the movement from academic music courses and private instruction to departmental ensemble participation reveals the holistic benefit of committing one's best individual efforts to the cause of a shared artistic endeavor.
Dickinson performance students are privileged to have access to:
Other Opportunities
Teaching opportunities in the area
Performance Studies Resources and Policies
Getting Started & Registering in Performance Studies
If you are interested in beginning private study of your voice or instrument, please read about how to register for performance studies. Dickinson College Music faculty will teach Dickinson students on campus only when they are officially registered for Performance Studies lessons.

Read our information particular to voice students.