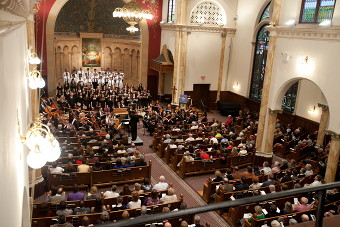 Fall 2011, the combined forces of Dickinson Orchestra, Choir and Collegium draw an overflowing audience to the First Lutheran Church in Carlisle for their performance of Handel's Messiah.
All student musicians, majors and non-majors, are invited to participate in the Dickinson Orchestra based on auditions held on the first Tuesday of each academic year at Music Audition Night. Musicians who wish to join after the fall semester may arrange an audition with the Director, Professor Robert Pound, in late January. As an educational forum complementing a liberal-arts education, the Orchestra is unique in that students have the opportunity to work side by side with experienced musicians from the faculty and community.
Striving to meet the challenges of both the traditional orchestral repertoire and contemporary works, musicians in the Dickinson Orchestra cultivate the discipline and craft of music-ensemble performance. The culminating performances for peers, faculty and community members reward the musicians' effort and dedication with reaffirmed and strengthened self-assurance and with the joy and satisfaction of artistic accomplishment and excellence.
The ensemble gives two concerts each year. At least one concert features the winner(s) of the Annual Student Concerto Competition, and concerts also often feature faculty and guest soloists. In collaboration with the Collegium, the Dickinson Orchestra has performed Mozart's Requiem, C-minor Mass, and Coronation Mass; Bach's Magnificat; Faure's Requiem; and selections of operatic choruses.
The Dickinson Orchestra rehearses on Wednesdays from 7:00 - 9:15 PM in Rubendall Recital Hall. All members of the Orchestra follow a strict attendance policy.