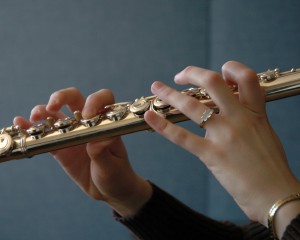 Before you begin private lessons at Dickinson, you'll need to obtain what's called "Instructor Override Permission." Here's how:
Meet your instructor at the Music Audition Night on the first Tuesday of each fall semester of classes, 5:30 pm. This is especially recommended to first year students. If you are an upperclassman, contact the instructor with whom you wish to study. (A directory of all Performance Studies faculty, including contact information, is available on the Music Department Faculty page.)
If the instructor agrees to take you on as a new student, s/he will place the appropriate override code (instructor's permission *) on your Banner account.
Once the override is recorded, you will receive a confirmation e-mail from the Registrar's office. Once you receive this confirmation, you must still log in to Banner and register for lessons as you would for any other class.
At the beginning of the semester, once your registration is confirmed, you and the instructor will arrange for a mutually convenient weekly lesson time.
* Instructor's permission is required only before you register in lessons for the first time (in MUPS 113). Subsequent semester numbers are 114, 213-214, 313-314, 414-414. Music majors pursue 323-324 and 423-424 in the 300 and 400 levels.
Half-Hour and Full-Hour Lessons
Please note that all Performance Studies registrations (except 323-324 and 423-424) default to half-hour lessons. If your instructor has given you permission to take hour-long lessons, s/he will make the appropriate adjustment in consultation with the Registrar during the first week of classes. Generally, all performance majors take full hour lessons. Hour long lessons are also recommended for advanced students.
Overload
To take half or full hour studio lessons and exceed 4.5 credit hours per semester you will need to fill out the overload form (available through the Registrar's Information for Students page and at the Biddle House). You may use the form twice in your Dickinson years.
If you have already used the overload form twice, you must write a petition to APSC (All-College Committee on Academic Program and Standards, asc@dickinson.edu) using the *petition form*. Cc your studio instructor, the music department chair (Professor Wlodarski), and your advisor when submitting the petition, so that they may write to APSC in support of your petition. Instructions for the petition are on APSC web page.
Studio Lesson Fees
All Performance Studies students (with the exception of music majors meeting certain criteria) are assessed a Performance Studies fee. Current fee information for both half and full hour lessons is available from the Financial Operations office.
Studio Lesson Scholarships
There are three types of scholarships available for students pursuing performance studies (studio lessons) to cover the cost of half hour lessons. They are Swan/Long , Ensemble, and Bullard. For more information on these scholarships, visit our scholarship page.
For more detailed registration information, please visit the Registrar's Information for Students page.