Carol Jones Saunders '62 never had the opportunity to study in France as a Dickinson student. "There just wasn't anything like that back them," says the former French major, noting that it wasn't until graduate school that she took courses in the country whose language she'd studied for nearly a decade. Once there, however, Carol knew this was the best way to learn the language. "There's a real difference when you're totally immersed in the culture," she says of her yearlong experience in Paris as a Fulbright scholar while pursuing an M.A. at Middlebury College's French School. "You learn so much more when you're spending your entire day living, breathing and dreaming in French."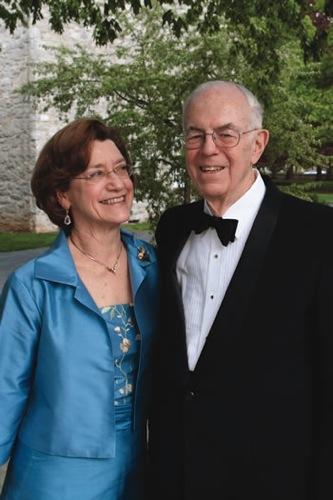 Hal and Carol Jones Saunders '62
After going on to teach French at several universities and colleges, Carol was excited to learn about the new study-abroad programs Dickinson had launched since she graduated. Then she stopped by the Dickinson Center in Toulouse in 2005 during a visit to France with husband Hal and immediately felt this was something she needed to support.
"I just thought, 'Don't I wish that this had been available for me when I was at Dickinson?'" she recalls. "The fact that we have our own program – that we don't farm our students out as the stepchildren of some other institution – that makes a big difference. Working from our distinctively Dickinson experience, we immerse our students in the country and the culture. It's really the best of both worlds as far as I'm concerned, and I wanted to do anything I could to help this along."
Carol set her sights on creating an endowment that would permanently fund the position of the center director, who coordinates students' academic work at the center and the University of Toulouse as well as their cultural immersion in extracurricular activities. "The goal of our program is to have students truly become a part of the community," says Sylvie Toux, the center's director. "In addition to placing them with host families and taking them on trips, I help them find volunteer opportunities, internships, local clubs or sports – whatever will help to immerse them in the culture."
The nature of the work means that there is a big advantage to having a permanent funding for the post. "It's very important to have a permanent director here because of relationships you need to establish throughout the community," Sylvie adds. "If the director were here for only two years, you would just start to establish those connections, and then it would be time to leave."
"The centers and their directors are so important to the global experience at Dickinson," Carol explains. "They don't just help the students get enrolled in their courses; they really connect them with the culture. Students get the chance to build friendships not only with fellow Dickinsonians but also with new French friends. These relationships can stick with them for a lifetime. I couldn't have this experience, but I'm delighted I can help today's Dickinson students achieve it."
At a special campus-wide ceremony, Sylvie Toux was installed as the inaugural holder of the Dickinson Toulouse Center Carol Jones Saunders '62 Faculty Directorship.