French Club and Global Gastronomy Group celebrated the Canadian Thanksgiving with lots of "home cooking" at Stern Center.

Canadian Thanksgiving - Jour de l'Action de grâce: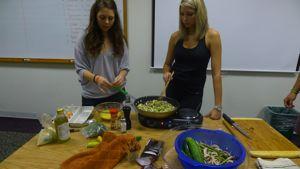 The history of Thanksgiving in Canada can be traced back to the 1578 voyage of Martin Frobisher from England in search of the Northwest Passage. His fleet of fifteen ships was plagued by ice and freak storms, which at times scattered the fleet and caused the loss of one ship. On meeting again at their anchorage in Frobisher Bay, the fleet minister and preacher, Robert Wolfall, ". . .made unto them a godly sermon, exhorting them especially to be thankful to God for their strange and miraculous deliverance in those so dangerous places, . . ." Years later, French settlers having crossed the ocean with Samuel de Champlain in 1604, held huge feasts of thanks upon arriving in Canada. The first Thanksgiving Day after Canadian Confederation was observed as a civic holiday on April 5, 1872 to celebrate the recovery of the Prince of Wales (later King Edward VII) from a serious illness. For many years before it was declared a national holiday in 1879, Thanksgiving was celebrated in either late October or early November. From 1879 onward, the date was initially set as a Thursday in November, then it was changed several times, and finally in 1957, it was officially declared to be the second Monday in October. The theme of the Thanksgiving holiday also changed each year to reflect an important event.