Popel Shaw Center for Race & Ethnicity Staff
VINCENT L. STEPHENS, PH.D.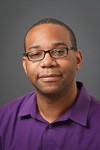 Vincent L. Stephens has served as the Director of the Popel Shaw Center for Race & Ethnicity since June 2015. He is a College Dean, the Coordinator of the Bias and Education Response Team (B.E.R.T), a hearing officer, the co-adviser of MANdatory and a member of multiple College committees. Previously he served as the Director of Multicultural Student Services at Bucknell University (2011-14). Prior to Bucknell he was a Postdoctoral Faculty Fellow in the Humanities at Syracuse University and worked for Syracuse's Summer Start Program (2006-11). He completed his Ph.D. in American Studies from the University of Maryland College Park in 2005 and has published a variety of articles and essays on post WWII popular culture and social plurality.
Diversity Coordinators
Ashley Morefield '18
Special Projects Coordinator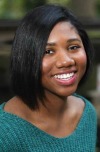 Ashley is a senior from Columbia, Md. She is an International studies and French double major with a concentration in Sub-Saharan Africa. On campus, she is a First-Year Mentor, Co-Editor of the Microcosm Yearbook, and Multicultural Student Ambassador. Her hobbies include dancing, choreographing dance pieces, reading, writing and traveling. After studying abroad for a year in Toulouse, France, Ashley is extremely excited to return to the PSC for her senior year. She hopes to continue expanding her passion for civil rights issues regarding not only race and ethnicity but also other marginalizing factors that affect members of society.
Hyla Jacobson '18
Outreach Coordinator

Hyla is a senior sociology major from Silver Spring, MD. On campus, Hyla is involved in Kappa Alpha Theta, is on the executive committee for Relay for Life, serves as a global ambassador for the Copenhagen program, and tutors prison inmates at the local Cumberland County Prison. Hyla is extremely passionate about social justice issues, and has a particular interest in the area of criminal justice reform. She is excited to work as an outreach coordinator for the PSC and work towards promoting more diversity and inclusion on Dickinson's campus.
John Adeniran '19
Marketing & Advertising Coordinator


John is a junior Computer Science and Neuroscience double major from Philadelphia. On campus he is involved with Dickinson Christian Fellowship, the Black Student Union, MANdatory (alum), and is also a Social Justice Peer educator. He was the 2016-2017 Student Employee of the Year.
Calayah Heron '19
Coordinator at Large

Calayah is a junior Posse scholar from New York majoring in English. She is a member of eXiled, a campus spoken word group; the marketing chair for the Multicultural Ambassadors, which reaches out to propective students of color; and a member of MOB, which hosts a wide variety of campus events.
Ta-Tyanna Williams '20
Outreach Coordinator

Ta-Tyanna is a sophomore Africana Studies and History double major. Born and raised in Newark, NJ, Ta-Tyanna plans to pursue a career in law and later hopes to transition to education. On campus, Ta-Tyanna is a member of the Multicultural Ambassadors (MCA), a First-Year Mentor, and serves on the Executive Board of the Black Student Union (BSU) and Trendsetters. From being on the debate team in high school to now attending Dickinson, she has become increasingly passionate about promoting social justice. Some of her hobbies include listening to music, traveling and just being a socialite! With her new position as a Student Outreach Coordinator at the PSC, she hopes to help promote equality and diversity at Dickinson, and someday, throughout the world.