Service Trips Important Information:
Apply to be a part of the Navajo Nation Service Trip in May! The trip will be May 22nd - June 1st (subject to minor change). It will travel to Arizona to work with Rez Refuge and other organizations on the Navajo Reservation. Participants will also have the chance to explore some of Arizona's natural wonders. Applications are due Wednesday, March 29th by 12pm to servicetrips@dickinson.edu or Landis House. Navajo Nation Service Trip Application.

Link to pay for service trips: http://my.dickinson.edu/CSSSFund2016
---
Service trips immerse students and staff in communities throughout the US and abroad to empower others to see their circumstances and help meet their needs. Students will confront underlying societal needs by asking questions and making real connections between their academics and lived experiences. Before, during and after service trips students engage in intentional reflection to make sense of their observations, develop inter-group friendships on a deeper level, and enhance their identities as engaged citizens.
At Dickinson, three student groups organize multiple service trip opportunities annually. These trips can include a weekend of service in the fall, an international trip, several options over spring break and a summer trip. Dickinson faculty and administrators also participate in each trip, serving side by side with students, and strengthening the Dickinson community. If you have any questions, please contact servicetrips@dickinson.edu or volunteer@dickinson.edu (during the summer months).
Find us on Facebook, Instagram, and Twitter to see what's going on!
Check out this feature article on the 2016 spring break service trips!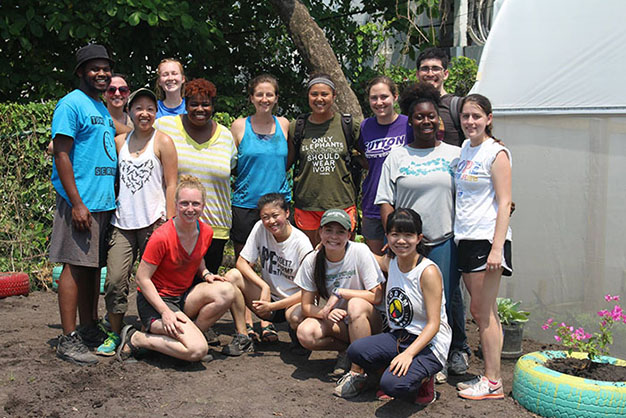 Students on a spring break service trip to Belize.
Service Trip Outcomes
Why go on a service trip? Why take your vacation and help others? Why pay and raise all this money?
Each year an annual survey is completed by trip participants to gather comments, suggestions and reflections. Service trips help one to:
enhance cultural understanding
develop skills in leadership and emotional intelligence
increase self realization of strengths
increase ability to articulate personal values and life priorities
see areas of need in home community in a new light
become more engaged in community service upon return to Dickinson
Upcoming Services Trips
Fall Weekend Trip: Pittsburgh, PA
Winter break: Guatemala
Spring break: Detroit MI, West Virginia, Georgia, Florida
Spring Weekend Trip: Washington D.C.
May: Navajo Nation
Past Service Trips
Focusing on alleviating poverty: New York City (weekend); Wheeling, WV (fall pause); Miami, FL (spring break)
Focusing on distaster relief: New Orleans, LA (spring break); Pisgah, AL (summer); Nashville, TN (January break)
Focusintg on interfaith service: Philadelphia, PA (weekend); Detroit, MI (spring break)
Focusing on education and empowerment: Belize (spring break); Cuenca, Ecuador (January break); Black River Jamaica (January break); San Pedro Guatemala (January break); Puerto Plato Dominican Republic (January break)
Focusing on community development: Macon, GA (spring break); Greenwood, SC (spring break); Philadelphia (weekend); Washington, DC (weekend); Pisgah, AL (spring break)
Guidebooks
Every student and administrator applying for a Dickinson service trip must read the appropriate service trip guidebook. These guidebooks cover everything from expectations to meals to team dynamics. These guidebooks also share quotes from past participants, thoughts on the trip process and aim to answer all your questions about a service trip at Dickinson. While these are not specific to each trip, the basic format and outline is used in every service trip at Dickinson.
This must be read by every service trip participant before participating in any service trip.