Biblio Café Hours & Menu
Located on the main floor of the Waidner-Spahr Library, the Biblio Café is open to the public and offers a quiet setting to enjoy a pastry, espresso, Sun Coffee Roasters coffee or cold drink.
Hours of operation:
Monday - Thursday: 8 a.m. - 11 p.m.
Friday: 8 a.m. - 2:30 p.m.
Saturday: 10 a.m. - 2 p.m.
Sunday: Noon - 11 p.m.
Hours are subject to change with the academic calendar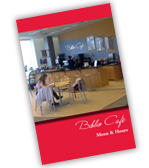 Menu
View the Biblo Café menu here.