The seaside city of Málaga is home to Dickinson in Spain. Under the guidance of a Dickinson faculty member serving as resident director, students pursue classes in Spanish language, culture, history and art. Participants live with families and may undertake internships and community-service activities while living in Málaga. This video, Caminando en los pasos de un Malagueño, was made by students during their semester in Málaga.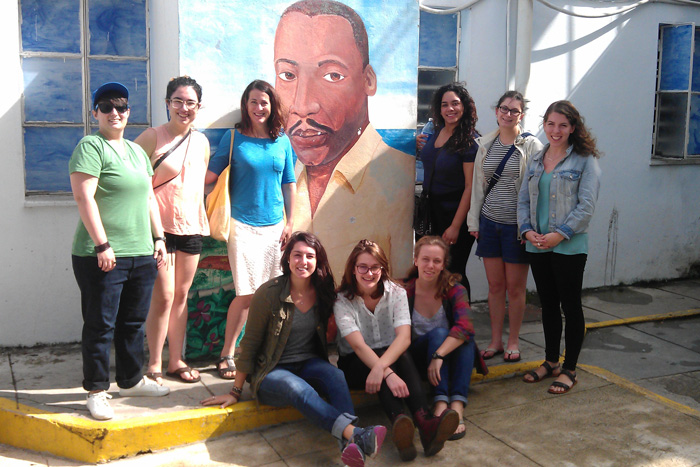 In Spring 2016, ten students from two different Spanish classes traveled to Cuba for a mini-mosaic. The two classes that participated were Spanish 360, "Introduction to Translation," taught by Professor Mark Aldrich, and Spanish 380, "Cubania and Cuban Cinema," taught by Professor Margaret Frohlich. The students had the chance to meet with the writers, filmmakers and artists they had been learning about in the previous semester and to see for themselves the cultural influences they had studied.
Our large and diverse faculty works closely with students to help them achieve high levels of language proficiency and in-depth knowledge of Hispanic literatures and cultures. These cultural and literary studies cover a vast geographical and linguistic area—our majors read noted Spanish and Latin American writers from the past and present as well as Chicano and Latino authors who write in both Spanish and English. Although Portuguese is not offered as a major, classes may be offered occasionally, and interested students may petition to study the language, culture, and literature of the Luso-Brazilian world through tutorials and independent study.

¡Bienvenidos!
Students interested in Spanish and Portuguese may also want to learn more about Dickinson's Portuguese & Brazilian-studies minor.