Samuel Bañuelos Jr. '19
Hi, my name is Samuel Bañuelos Jr. and I am from Los Angeles, California. I am a International Business & Management and Spanish double major. Decidí hacer una carrera en español porque quiero ser la voz de la comunidad latina. La comunidad Latina siempre está bajo representada y eso necesita cambiar. Mi clase de español favorita en Dickinson ha sido Introducción a la literatura latinoamericana y la cultura con el profesor Héctor Reyes Zaga. Esta clase me dio la oportunidad de aprender más sobre mi cultura mexicana, junto con la cultura cubana y puertorriqueña.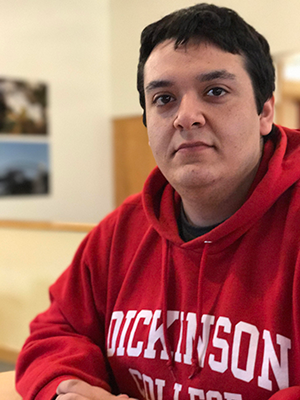 Caitlin Filiato '19
¡Hola, Me llamo Caitlin y estoy estudiando español y negocios internacionales a Dickinson! I am currently a sophomore at Dickinson and am extremely excited to be studying abroad next year in Málaga. I have always loved learning Spanish and about different cultures, and I knew I wanted to continue Spanish in college. After taking my first-year seminar with Professor Bartosik-Velez on colonization of the New World, I fell in love with the Spanish department and how passionate each of the professors are about their concentrations in the field. Within the department, I have been exposed to a variety of courses from sociolinguistics to subversive Latin American literature. Through the courses I have taken, my language comprehension and writing skills have improved tremendously. I feel that this major, along with my International Business and Management major will fully prepare me to be successful once I graduate.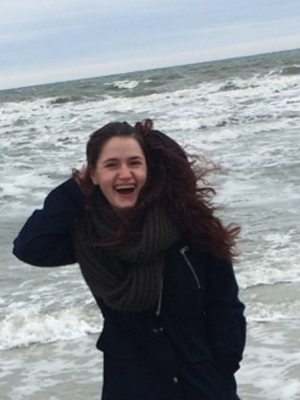 Julia Hillary '19
¡Hola y bienvenidos! I'm Julia and a Spanish and Biology double major. I've always been interested in languages, and Spanish in particular caught my interest early in middle school. I've continued with Spanish all throughout high school and always knew I wanted to further my knowledge in my collegiate career. ¡Hay tantas oportunidades increíbles para explorar la lengua y la cultura en el departamento de español! I've been exposed to so many different aspects of culture in all of my Spanish classes here at Dickinson that have only increased my love for Spanish and languages in general. I hope to continue those experiences abroad at some point in Málaga, Spain! ¡No puedo esperar a ver y experimentar todo lo que Dickinson tiene que ofrecer!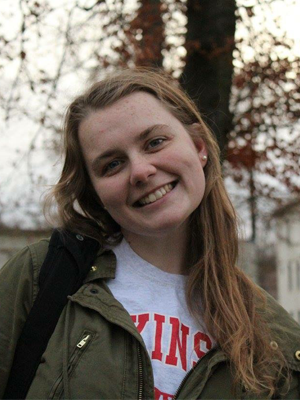 Olivia Lowden '19
¡Hola, soy Olivia! I'm Neuroscience and Spanish double major. I decided to take Spanish at Dickinson so that I could one day take Professor Arnedo's Spanish for the Health Professions course. This class, which I took during my sophomore year, inspired me to combine my love of science and language in a meaningful way. By the end of the course, I could translate medical information for Spanish-speaking migrant workers in Pennsylvania and was even thinking in Spanish on the way home! During my junior year, I studied abroad in Málaga, Spain and stayed for the whole summer after the program ended interning at an Alzheimer's day center with the Red Cross. Now in my final year at Dickinson, I'm doing an independent study that focuses on immigration and healthcare. Dickinson has been a wonderful place to study language—the possibilities are endless!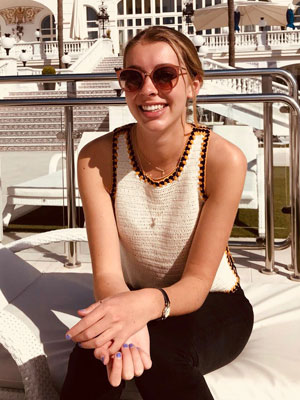 Jackie Joyce '19
¡Hola! Me llamo Jackie Joyce y estoy en mi segundo año en Dickinson. Me especializo en Español y Sociología y soy de Mechanicsburg, PA. I came to Dickinson planning to pursue only a minor in Spanish. However, one of my goals since beginning Spanish classes in first grade, has been to become fluent in Spanish. I have become so impressed with my growth as a Spanish student from taking at least one Spanish class during each of my semesters so far, and as a result, I felt that fully taking advantage of the resources that our Spanish department offers, which included declaring the major, would best equip me to reach my goal. I am planning to study abroad next spring at our Dickinson site in South America spending a month in Cuenca, Ecuador and the remainder of the semester in Mendoza, Argentina. Therefore, I am optimistic that spending time abroad will significantly enhance my confidence as a Spanish speaker. I can say nothing but phenomenal remarks about the caliber of the Spanish department and its transformative influence on my worldview and my Dickinson experience as a whole.
Mollie Montague '19
¡Hola! Me llamo Mollie. I never thought I'd major in Spanish. In my junior year of high school I'd only had never studied Spanish due to a language waiver I'd received due to mild learning disorders. I began taking Spanish to furfull language requirements my junior year and by my senior year of high school was amazed at how much I could understand. I'm currently a sophomore at Dickinson, and I declared my Spanish major last semester after declaring my Sociology major the semester previously. I love being a double major and seeing all the unexpected places that the two disciplines intersect. I plan to study abroad next year with Dickinson in South America in the fall and in Spain in the spring. The Spanish department here is flexible and broad. I've connected with every professor I've had and look forward to their classes. Every week I go to the Spanish table, where anyone is welcome to come have dinner and speak Spanish.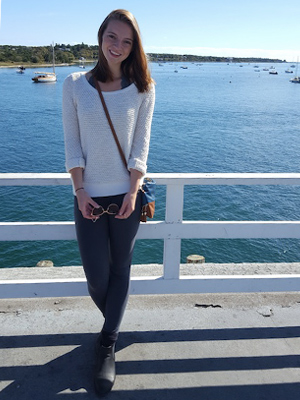 Francie Peña '19
¡Hola! I'm Francie and I am double majoring in Spanish and Law and Policy and am currently a sophomore. I plan to study abroad in Málaga, Spain in the Fall of 2017 and am so excited to not only to grow as a Spanish speaker but also to immerse myself in a new culture! My favorite class so far has been The Crime Novel in Hispanic Context: Trends and Topics with Profesor Rivas who helped me take my Spanish writing to the next level and really help me get extremely interested in Spanish. In the future I hope to be able to use my Spanish as well as my knowledge of the law to help in fulfilling my dream of working with those in need.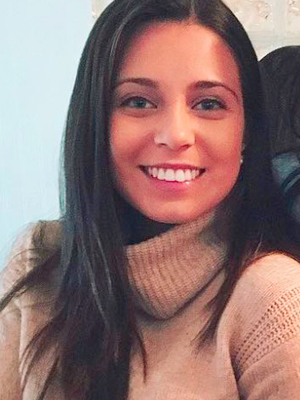 Katie Schmidt '19
!Hola! My name is Katie and I'm a sophomore Spanish and Psychology double major at Dickinson. I've been taking Spanish since elementary school and Dickinson as allowed me to continue learning a language that I found an interest for at a young age. I love to travel and I'm currently looking forward to being able to travel and use the Spanish language when I study abroad in Málaga, Spain in the coming fall! At Dickinson, I have learned so much more about the Spanish language and culture around the world. I have a passion for helping others and so some day I hope to be able to have a career that uses both Spanish and Psychology.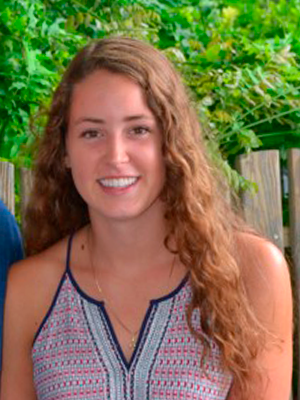 Amanda Custer '19
¡Hola! Me llamo Amanda. I am an International Studies and Spanish double major. Growing up in New Mexico Spanish was a huge part of my life, and at Dickinson I knew I wanted to continue with it. I am currently studying abroad for the Fall of 2017 in Málaga, Spain. Dickinson's Spanish department offers so many opportunities to learn and grow with the language outside the classroom both in Carlisle and abroad. After graduation I plan to work in the field of national security policy, and hope to continue to use my Spanish throughout my career.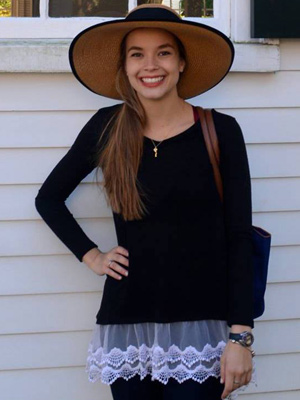 Maura Reilly '19
¡Hola me llamo Maura y soy de Holland, Pennsylvania! I am an Archaeology, Political Science, and Spanish triple major. I have always been interested in languages, and I had initially planned to minor in Spanish. However, after taking a few classes in the department and learning more about study abroad opportunities, I decided to take on Spanish as a third major. My favorite Spanish class at Dickinson was a level 231 course with Professor Rivas about crime novels. After taking this class I had a better understanding of how to analyze text and write essays in Spanish. I have had so many great professors in the department, and my language skills have improved tremendously!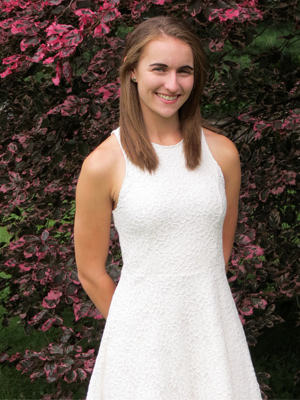 Margot Kahn '19
¡Hola! My name is Margot Kahn and I am Spanish major from Baltimore, Maryland. As a freshman entering Dickinson, I had no clue what I wanted to major in. After taking classes in many different departments I finally declared as a Spanish major. The decision to major in Spanish was the best academic decision I have made. I take many different classes in numerous topics all while perfecting my ability to speak in a second language. All of the professors in the Spanish department are very supportive and passionate about teaching. My Spanish ability advances every day. The Spanish major opens up so many opportunities inside and outside of the classroom. From service projects with Spanish speaking residents near Dickinson, to studying abroad, to classes exploring all aspects of Spanish culture, history and politics, the Spanish department can impact your education, and general knowledge of life in so many positive ways. It is truly rewarding being able to master an academic subject while becoming fluent in a foreign language.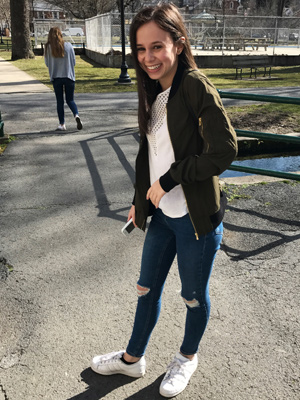 Paul McGovern '19
Hola, Soy Paul McGovern un estudiante de Methuen, Massachusetts and I am a junior Spanish/English double major here at Dickinson. I actually found a love for Spanish in high school when I simply needed to fill a language requirement. I came into Dickinson interested in Spanish, but not completely sure where I wanted to take the language. However, while at Dickinson the professors have nurtured that passion which eventually became a clear vision of majoring in the subject. I am currently studying in Malaga, Spain, where between my host family and my integrated classes I have adapted the culture and improved my linguistic skills. I am very interested in eventually using my Spanish and English backgrounds towards a career in reporting!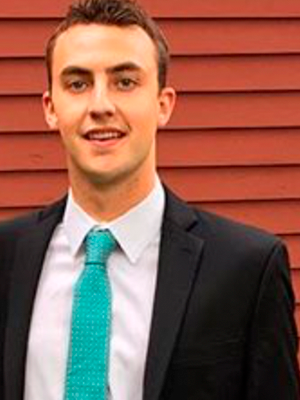 Alexandra Mier y Teran '19
Hola, my name is Alexandra Mier y Teran and I am from Los Angeles, California pursuing a double major in International Business & Management and Spanish. Coming into Dickinson, I didn't think I would be a double major, but the Spanish department absolutely stole my heart. As a latina, I have grown up my entire life speaking Spanish but the classes I have taken at Dickinson have not only helped me improve my language skills but have opened my eyes to subjects I never thought I'd study. My favorite class in the major has been Spanish for Health Professionals where my peers and I worked as interpreters at a health clinic in Gettysburg, PA. Each day at the clinic was thrilling and the stories of the patients I met will stay with me forever. I am currently studying in Málaga, Spain and learning to adapt to the Spanish lifestyle! Although it's been the most challenging experience of my life, I have already learned so much and can't wait to see what the rest of the semester will bring.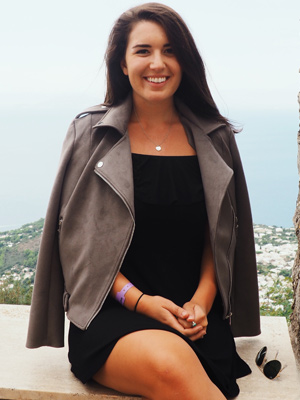 Amara Rojo '19
¡Hola! My name is Amara Rojo and I am a senior Political Science and accidental Spanish double major. I didn't intend on pursuing a second major, but after studying abroad my junior year in Málaga, Spain it just worked out! While in abroad I was able to volunteer for La Asociación Marroquí tutoring English classes, as well as intern at El Movimiento Contra La Intolerancia, an anti-hate organization, and conduct an independent study on foreign language education. I'm so grateful for the opportunity to have lived in Spain for nearly a full year and to have challenged myself in a new environment. Focusing on Spanish has helped me beyond the academic sense, including getting to understand my Hispanic heritage in a new light and to communicate with my family in their native language.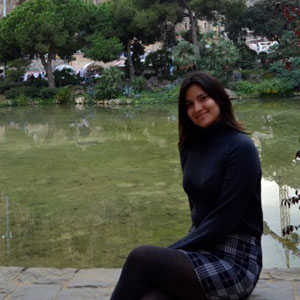 Sally Aldrich '19
Hola, soy Sally, y mis carreras son Español y Estudios Latinoamericanos. I'm from Montpelier Vermont, and am a senior at Dickinson. I always knew I wanted to study and speak Spanish. My classes in high school focused on learning language through culture and current events which is why I also declared Latin American/Latino/Caribbean Studies. Dickinson allowed me to study for a full year in Cuenca, Ecuador, and Mendoza, Argentina where I took amazing classes at the local university and held two internships over the course of the year. Estas oportunidades no hubieran sido posibles sin Dickinson. The professors in the Spanish Department are always helpful and easy to reach out to and specialize in a broad range of topics. No me puedo imaginar mi educación sin el departamento de español y lo que ofrece la universidad para estudiar en el extranjero.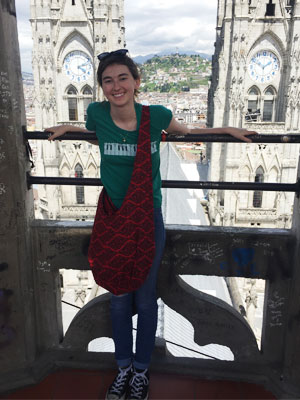 Sarah Murphy '19
¡Hola y Bienvenidos! My name is Sarah and I am a senior from Boston, Massachusetts and an International Business & Management and Spanish double major. Initially, I was planning to minor in Spanish but during my first year at Dickinson, I had the opportunity to take a class with my advisor, Professor Sagastume, that challenged me to think critically about Latin American literature. Since then, I have grown as a student and have taken many academic courses that have expanded my interest and depth of knowledge about culture and literature. Two of my favorite classes at Dickinson have been Sátira contemporánea en Latinoamérica and Spanish Linguistics. As well, I have been so fortunate to have spent my Fall 2017 semester in Málaga, Spain. This is truly a once-in-a-lifetime experience to live with a host family, engage in the Spanish culture and explore the wonders of Andalusia. Thank you to all professors and students for making my experience as a Spanish major so special!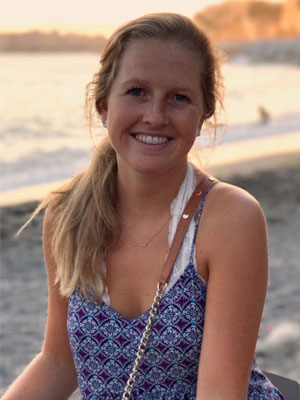 Kristen Kozar '20
¡Hola! My name is Kristen Kozar and I am a Political Science and Spanish double major from Pittsburgh, Pennsylvania. In the summer before my senior year of high school, I had the opportunity to study abroad in Heredia, Costa Rica. Coming into college, I had a strong interest in Spanish, however I did not consider the major until I took several classes with amazing faculty. Through the major, I have been able to study the literature, history, film, and politics of many cultures often underrepresented in a traditional curriculum. In today's globalized world, I believe that being bilingual is a critical skill. I can't wait to take more classes, and to study abroad next spring in South America!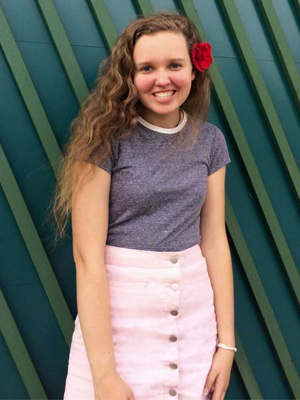 Ilana Gruber '20
¡Hola, soy Ilana! I am a sophomore Spanish and Political Science major from Virginia. I began studying Spanish my freshman year of high school, and I've been studying it ever since! I love writing in Spanish, and my favorite class so far has been "Pre-Columbian and Colonial Spanish American Texts" with Professor Bartosik- Velez, where I did research on 16th century Spanish cartography. I am very involved with the Spanish department here at Dickinson, as I am an student office assistant, a board member of the Spanish club, and a resident of the Romance Language House. I hope to combine my two majors this summer doing research on South American social moments with Professor Anria.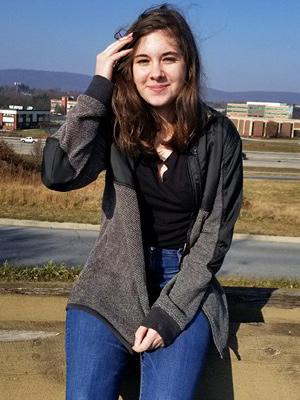 Alana Richards '20
¡Hola, soy Alana! I am from Takoma Park, Maryland and am currently a Sociology and Spanish double major. Next year I hope to spend both semesters in Cuenca, Ecuador and Mendoza, Argentina perfecting my Spanish and immersing myself in a new and exciting culture. I first began learning Spanish in an immersion elementary school and ever since then my love for the language, and the cultures which surround it, have only grown. My favorite class that I've taken within the Spanish department thus far was probably professor Arnedo's Spanish for Health Professionals. It was an amazing opportunity to put to use all of the skills I had been learning throughout my years of speaking Spanish as well as get to know the area outside Carlisle a bit better. My ultimate goal would be to find a job that allows me to incorporate both my Spanish and Sociology skills!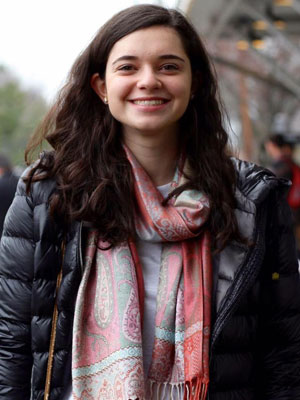 Isoke Senghor '20
¡Hola! Me llamo Isoke Senghor y soy de La Ciudad de Nueva York. I am a double major in Spanish and Africana Studies with a concentration in the Diaspora. Upon coming to Dickinson, I knew that I had wanted to continue studying Spanish while also studying the histories and experiences of people of African descent. I first had this realization when I traveled to Mexico with my high school in 9th grade and saw the image of a woman with tight, coiled hair styled in Bantu knots carved into an ancient temple. She looked just like me! My favorite class in the Spanish Department so far has been Figuring the Auto/Biographical I/Eye with Professor Sosa. This class gave me the opportunity to really explore identity development and its presentation in literature, film, and visual art. This class fueled and filled my interest in how narratives are constructed by ourselves and others, and how these constructions connect us to the spaces in which we navigate. I look forward to my growth as a Spanish and Africana Studies major! I am happy to be a part of the department and to use what I learn to connect with the world within and beyond Dickinson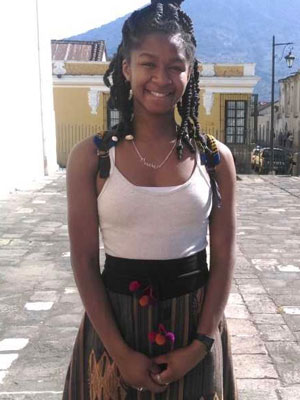 Giuseppe Collia, '20
¡Hola! Soy Giuseppe Collia. I am a double major in Environmental Studies and Spanish, Italian minor, and Food Studies Certificate. Throughout high school I knew that I enjoyed learning Spanish and that I'd want to continue here. Coming in, I was blessed to have the fantastic Professor Asunción Arnedo for SPAN 201 and Agustín Cortés as our OSA (language TA from Spain)! Having had a great professor and a great OSA encouraged me to continue my studies and become more involved with the department. One of my favorite experiences at Dickinson is living in the Romance Languages House, o Casa de lenguas romances, with some of the OSAs and other students who are committed to practice the languages they study outside of the classroom. Additionally, the Multilingual Writing Center is another reason I came to Dickinson in the first place! I'd love to be a resource to you if you ever have any questions about the experience of a Spanish major (although Spring 2019, I hope to be in Sudamérica en Ecuador y Argentina)!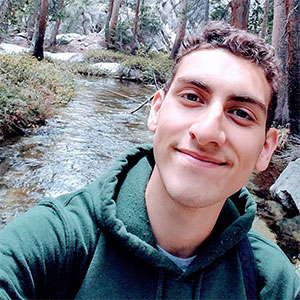 Meredith Jones '20
¡Hola! Me llamo Meredith Jones y soy de Connecticut. I am a double major in Spanish and Environmental Science, as well as an Earth Science minor. I first started learning Spanish in elementary school and my passion for the language grew in high school. Coming to Dickinson, I found that my Spanish classes were some of my favorites as I was able to analyze literature, poetry, and film. My favorite class so far has been "The Crime Novel in Hispanic Context: Trends and Topics" with Profesor Rivas because I was able to write fascinating papers about short stories and films. I am also interested in the art of translation, and had the wonderful opportunity to discuss environmental issues and topics in Spanish with waterkeepers from Central and South America this summer. This experience encouraged me to pursue a future career that combines my two areas of study and allows me to share scientific knowledge with Spanish speakers in the U.S. and beyond.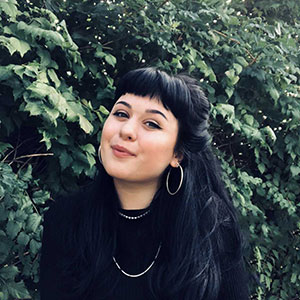 Rogelio Cuevas '20
Hola! Qué onda? Mi nombre es Rogelio Cuevas y yo estudio español y sociología! I came to Dickinson thinking I wanted to major in comp-sci or math. Who knew what college had in store for me? After taking one class con Profesora Delutis-Eichenberger, I knew I wanted to continue with Spanish. However, something else was missing. It wasn't until after I dropped Spanish, declared sociology, that I realized I wanted to major in both! I love learning more about me and my culture in class, especialmente con Profesor Reyes. Quiero combinar mis intereses en sociologia y espanol para poder usar mi voz en representar y ayudar a la gente latina quien sufre por poder vivir una vida justa y, quienes intentan de mejorar las vidas de sus hij@s. My interests in giving back to my community stem from the hard-work and dedication that my grandparents and parents put into building a life for themselves and for my family in the United States. Estoy en Dickinson College por y para mi familia. Gracias a ellos, he podido viajar y aprender mas sobre la cultura latina en México, Guatemala, Ecuador, Argentina, y Chile. Thanks to Dickinson, I am able to study abroad in South America learn more about latinamerican cultures and the people.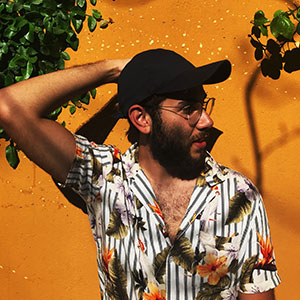 Justina Warnick '20
¡Hola, me llamo Justina y soy de Wilkes-Barre, Pennsylvania! I'm pursuing a double major in Neuroscience and Spanish with the intention of going to medical school after Dickinson. Originally, I decided to study Spanish so that I could communicate with Spanish-speaking patients. However, this changed once I took my first Spanish class at Dickinson with Professor Diaz. I knew almost immediately that my interest in Spanish had developed far beyond simply obtaining fluency in the language. By the end of my first year, I found myself engaging in readings about culture and applying to live in the Romance Languages House! The Spanish major has allowed me to take classes exploring the culture of soccer in Latin America, the racism towards immigrants in Spanish film, and the puertorriqueñidad in the United States. I can confidently say that I have gained a valuable understanding of different cultures that will help me in every aspect of life upon graduation!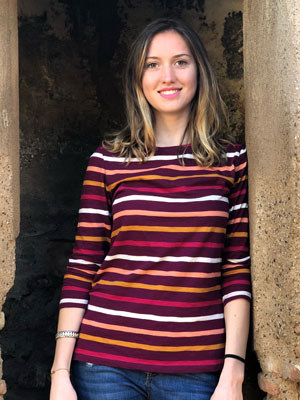 Kiana Smith '21
¡Hola! Me llamo Kiana Smith y soy Nuevo Jersey. I am a double major in Spanish and International Studies. Upon coming to Dickinson, I knew right away I wanted to continue studying Spanish while also learning more about our world developments, international politics, and history. My three main reasons for wanting to Study Spanish and International Studies was by traveling and having amazing teachers in high school. My Junior and Senior year I was very blessed to visit Costa Rica and Cuba. I fell in love with the language and the culture of Latin America the moment I stepped off the plane. After returning from Cuba senior year spring I told my parents and later my teachers right away that I was going to double major in Spanish and International Studies. One of my main goals while I am here at Dickinson, is to travel abroad to Spain for a year in 2019-2020. I am so excited to continue my journey in learning and exploring the Spanish language and culture here at Dickinson.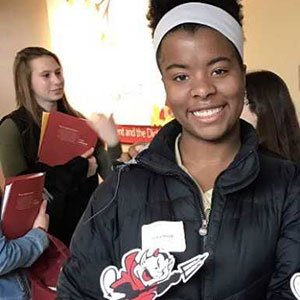 Melanie Baime '21
¡Hola, me llamo Melanie! I am a sophomore Spanish and Psychology double major. The Spanish department at Dickinson gives me the opportunity to use my love for the Spanish language outside the classroom. I am currently taking Spanish for the Health Professions with professor Arnedo-Aldrich. Each week we drive to migrant clinics and farm grounds to interpret for Spanish speaking workers. We partner with the Keystone health program who provide migrants free/low priced medical care. Having this opportunity to interpret has opened my eyes to lifestyles and cultural details I had previously known little about. In the fall of 2019, I plan on studying abroad to Málaga, Spain. I hope to continue growing my Spanish speaking abilities and use it in any career I end up in.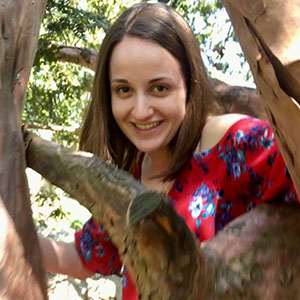 Annie Pendleton '21
¡Hola! Me llamo Annie Pendleton. I am from Warrenton, VA and I am currently a sophomore here at Dickinson. I am an International Business and Spanish double major with a minor in Economics. I fell in love with Spanish during high school thanks to a great teacher, and I am continuously reminded of all that love in all of my spanish classes here. My favorite class thus far has been Spanish in the Business Professions because it is a great combination of my two majors. Next year I hope to study abroad in either South America or in Malaga. I cannot wait to be completely immersed in a language that I have been practicing for so long. After college, I hope to use my Spanish to connect with people on a more meaningful level in the business world.