Student Life
By the Numbers
43 first-year interest groups
101 student clubs and organizations
> 39,000 hours of community service completed annually by Dickinson students.
President's Vision
Nancy A. Roseman
Our students need a supportive community to reach their full potential. At a small, residential liberal-arts college like ours, life and learning go hand in hand. Staff, faculty, alumni and peers all play a role in enriching life on campus, where learning and personal growth often occur outside the classroom. With this in mind, we will focus on providing each of our students with layers of supportive Dickinsonians so that all students feel connected to this greater community.
JOYCE BYLANDER, VICE PRESIDENT AND DEAN OF STUDENT LIFE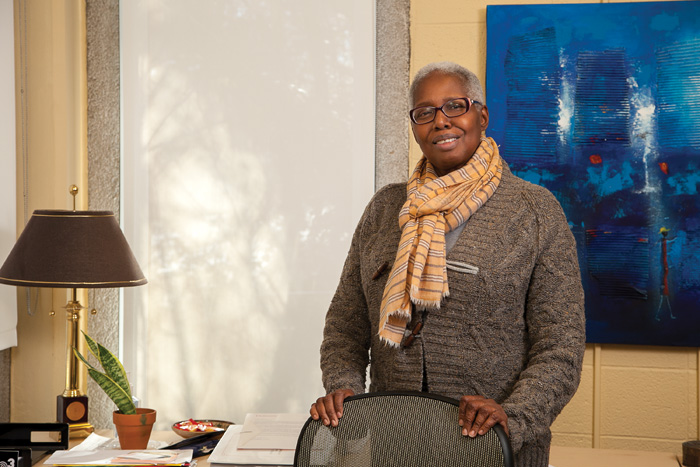 We have all heard the saying that it takes a village to raise a child. Well, I believe it takes a community to educate a college student, and building and strengthening the Dickinson community is our goal in student life. We have made significant changes in our structure and programming to achieve that mission. We know enrolling students in Dickinson is just the beginning. We need to help them feel that they belong. Before students stepped into their first classroom, we were working with them to develop personal connections on campus. For several weeks in July, faculty members made personal calls to incoming first-year students to help them select classes. We also re-instituted Pre-Orientation programs, which give incoming first-year students a chance to meet and share adventures with members of the Dickinson community. Those programs included outdoor adventures in West Virginia, Pine Grove Furnace and Laurel Lake, as well as opportunities for community service and learning about the local region.
To further build community, we have enlisted the support of upper-level students as well as faculty, staff and alumni to create First-Year Interest Groups, or FIGs. These groups meet regularly throughout the academic year, providing new students with a built-in support network of peers and adult mentors. All of these efforts are aimed at helping students adjust so that we can increase our already strong 90 percent retention rate for first-year students.
We know that instilling a sense of community relies, in part, on shared spaces where students can gather or unexpectedly run into their classmates. The Kline Center expansion provides greater space for students to enjoy wellness activities, with an expanded fitness space, a juice bar and squash courts. We have been intentional about creating social spaces, and are looking for ways to leverage Allison Hall, formerly the Allison United Methodist Church, as a hub for student activities.
We also are developing plans for a new residence hall, which would allow us to provide additional on-campus living space, bringing more of our seniors back into our residential model. Right now, about 123 seniors live off campus. Since many of these students are coming back from a year spent studying abroad, we want to welcome them back onto campus and ensure they feel connected to the Dickinson community.
Changes in demographics and the challenges with recruiting and enrolling future classes are going to reduce our need for off-campus housing permissions. We must make sure our programming meets the needs of seniors in their important transition year.
We increased our efforts to launch students into their postgraduate lives. Our Career Center staff begins working with students their first year on campus, encouraging those students to get practical work experience. More than 70 percent of the class of 2014 completed at least one internship prior to graduation.
For students to really feel a sense of belonging, they must feel safe. The subject of sexual violence on campus rightly has been a topic of national conversation. Dickinson is committed to providing a safe and inclusive environment, and we have been engaged on this issue for many years. We are focused on doing everything we can to prevent sexual violence, including having a full-time violence prevention coordinator on staff, who supports education and training for students, faculty and staff. We provide education to help our students form healthy relationships, and we have implemented a bystander program that enlists the entire community in a shared responsibility to keep our campus community safe.