Enrollment
By the Numbers
68% of students received merit or need-based aid
> $41 million in financial aid annually
Geographic distribution of the class of 2018: 19% in-state, 81% out-of-state, 9% foreign countries, 29 states plus District of Columbia, 14 countries
Racial/ethnic background: 70% white, 19% domestic students of color, 10% internationals*.
President's Vision
Nancy A. Roseman
Dickinson's student body must reflect the diversity of the world in which our students and graduates will live. We have increased the number of students of color and international students on our campus, and we must continue that momentum, while also increasing the number of first-generation college students. We provide more than $41 million in financial aid annually, and we must increase that aid in the years ahead. In addition, as shifting demographics reshape the landscape of higher-education admissions, we will continue to travel the country and the globe to enroll students with the potential to become Dickinsonians.
Catherine McDonald Davenport '87, Dean of Admissions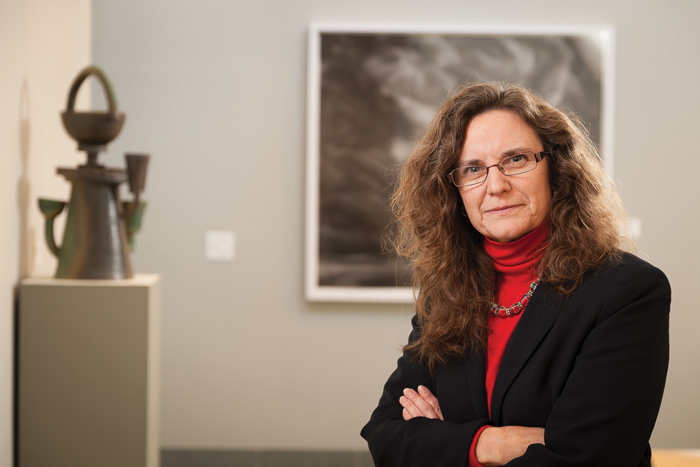 The landscape of higher education has changed dramatically during my 25 years in the field. From the rising cost of tuition and the increasing need for financial aid to the changing demographics of high-school graduates (more diverse and female) and the shift of this tech-savvy generation toward exploring and applying to colleges completely online, all institutions are taking a hard look at how we recruit, enroll and retain students.
One priority that has remained an area of focus for Dickinson is increasing the diversity of our student body. The more students from disparate backgrounds, regions, ethnicities and customs, the richer the experience for all students. Our current first-year class, the class of 2018, includes 19 percent domestic students of color, 10 percent international students and 11 percent first-generation college students. We also welcomed 15 transfer students, with four students joining us from our community college partners (Montgomery College, Northampton Community College and Montgomery County Community College). Our partnerships with community-based organizations like the Posse Foundation, Philadelphia Futures, New Jersey SEEDS and College Match are growing, which give qualified, historically underrepresented students the chance to attend institutions like Dickinson. We also are doing more work with high schools committed to college preparation and access—the Cristo Rey Network, the Noble Network of Charter Schools and Young Women's Leadership are a few examples.
We are committed to enrolling and retaining the most talented and diverse class that we can afford. As tuition costs increase, more families are applying for financial aid, although not all are eligible. Meeting this gap has been a challenge, as the competition for academically talented students has never been greater than this last admissions cycle. In the class of 2018, 70 percent of students received $11.7 million in institutional aid, while in the class of 2008, 56 percent of students received $6.2 million.
Moreover, none of our students (or their families) actually pay the real cost of a Dickinson education. While the direct price this academic year is $59,664 (tuition, fees, room and board), the annual cost is about $75,000, the college's endowment and annual giving subsidize the gap.
While the admissions and aid staff is committed to making a Dickinson education affordable to all, we cannot continue to provide additional financial aid if we do not have the money in our budget. Dickinson also remains committed to educating the wider world about the value of a liberal-arts education when the question, "Is it worth it?" is on the lips of nearly every parent.
The admissions and coaching staff and members of our Dickinson Admissions Volunteer Society expanded visits around the world, connecting with students at more than 900 locations in more than 35 states and numerous countries. We will continue to expand to new geographic and demographic markets, with the help of the greater visibility being provided to Dickinson by news and social media efforts headed by our colleagues in marketing & communications, but we also remain focused on the students within the home regions that have solid enrollment success each year.
Our recruiting efforts also have been bolstered by the launch of a responsive and accessible new Web site in February, which greatly enhances prospective students' and parents' ability to discover Dickinson virtually. Our campus visit numbers also remain strong, which is critical given the high conversion rate for students applying and enrolling after spending time on campus.
*Due to rounding, the figures do not total 100 percent.