Academic Affairs
By the Numbers
9:1 student-faculty ratio and average class size of 15
$700,000 grant from the Andrew W. Mellon Foundation to support innovative approaches to the humanities
43 majors ranging from neuroscience to Middle East studies
22 interdisciplinary programs
4 certificate offerings
No. 5 ranking among liberal-arts colleges in the number of long-term study-abroad participants
10 foreign languages supported by the multilingual Writing Center
255 student-faculty research and independent-study projects with faculty mentors completed by the class of 2014.
President's Vision
Nancy A. Roseman
We have an exceptional academic program and world-class faculty who regularly cross the borders of their individual disciplines and fully embrace Dickinson's interdisciplinary approach to the liberal arts. As we continue to provide an education that prepares students to take on an ever-changing world, we also must continue to provide faculty the resources they need to innovate and cross boundaries, and we must provide the support our students need to achieve academic success. Our nationally recognized, multilingual Norman M. Eberly Writing Center provides an excellent model of this support. This year we will begin to explore how we might adapt that model to quantitative fields in math and science. To strengthen our position as a leader in global education, we also will undertake a thorough review of our global-education programs this year. Sustainability will continue to be a philosophy at the core of our curriculum and our operations. Lastly, we will seek new ways to leverage our work in the digital humanities, highlighting the value of technology to enhance, not replace, our high-touch, intensely collaborative approach to education.
NEIL B. WEISSMAN, PROVOST, DEAN OF THE COLLEGE AND PROFESSOR OF HISTORY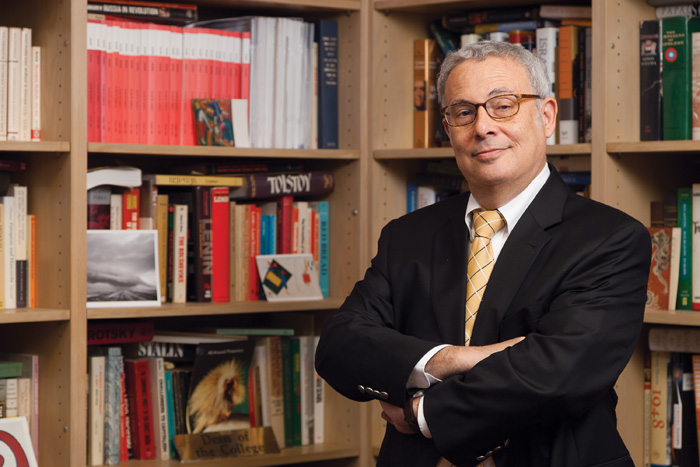 Concluding an article on college rankings, Wall Street Journal columnist Eric Felten asked the apt question, "Who wants an education with an expiration date?" At Dickinson we value the inherited insights and practices of liberal learning, including emphasis on such habits of mind as critical thinking, reflection on meaning and the ability to communicate well. Yet liberal learning in our vision is also dynamic, able to join inherited wisdom with connection to the contemporary and future.
Take the case of writing. Facility with the written word has been and remains central to the liberal arts; its value has increased as its forms and uses have become more specialized and variegated, from philosophical treatises to text-messaging shortcuts. Instruction in writing infuses our entire curriculum but centers in our vibrant writing program. Last year our Writing Center hosted 4,592 tutoring sessions, had 73 student tutors on staff and provided student-mentor writing associates for 45 courses. And we established a distinctive Multilingual Writing Center to support work in 10 foreign languages.
We now seek to extend the same support for quantitative skills. A working group led by Associate Provost and Writing Program Director Noreen Lape is designing blueprints for an enhanced quantitative-skill program. Its multifold targets include providing quantitative literacy for all students, enhanced training for majors requiring strong mathematical ability and support for emerging work in big data. We anticipate recommendations as early as this spring.
The melding of inherited strengths with new approaches characterizes our ongoing work in global education and sustainability, two fields in which Dickinson is a national leader. Our much-envied network of study-abroad programs was founded on deep study of foreign language and culture. We now also must align our offerings with newly emerging emphases in global education on transnational issues, such as immigration and climate change. These shifts in global education as a field parallel changes in our curriculum, particularly the rise of interdisciplinary majors in international business & management, international studies and environmental studies. Executive Director of the Center for Global Study & Engagement Michael Monahan has launched a review of our abroad programs to ensure that we continue to define best practice in education abroad.
The melding of inherited strengths with new approaches characterizes our ongoing work in global education and sustainability, two fields in which Dickinson is a national leader.

Neil B. Weissman
Sustainability studies is another arena in which we bring depth and perspective to a pressing contemporary issue, to connect the liberal arts with the wider world. Other institutions interpret sustainability only in terms of facilities ("green operations, brown curriculum," one expert put it). Our Center for Sustainability Education works with faculty to infuse engagement with the issue across the curriculum—92 percent of the class of 2014 took one or more sustainability-related courses. We continue to find ways ranging from our biodiesel-fuel project to the certified-organic College Farm to make the campus a "living laboratory." And we extend the reach of sustainability studies beyond the campus, whether through community-based activities such as ALLARM (Alliance for Aquatic Resource Monitoring), expanded options at our abroad sites, EPA-GRO fellowships or new opportunities in different bioregions provided by our recent membership in the Eco League.
Our track record for faculty, administrators and students receiving grant awards from prestigious national funding sources is impressive. In 2013-14, members of the Dickinson community garnered awards from the National Science Foundation, National Endowment for the Arts, National Geographic Society, American Council of Learned Societies, Association of American Colleges and Universities, American Academy of Arts and Sciences, Research Corporation for Science Advancement and the Andrew W. Mellon Foundation, among others.
Finally, technology. Despite all the talk of "disruption" and the threat of displacement of residential education epitomized by MOOCs, computing makes the liberal arts taught through direct student-faculty contact more, not less, germane. Rather than being replaced, liberal learning is enriched by technology as a tool. Each year, select Dickinson faculty in the Willoughby Institute for Teaching with Technology explore approaches to pedagogy ranging from the use of tablet computers in the classroom to new models of commentary on Greek and Latin texts. Supported by a $700,000 grant from the Mellon Foundation, faculty are investigating digital approaches to the humanities. Another Mellon award has made possible a Central Pennsylvania Consortium faculty project on "blended learning" through the use of technology.
In sum, Dickinson continues to offer a vibrant liberal arts and sciences education without an expiration date.