Registration for the 2018 Spring Into Fitness Challenge has now closed. The fun began on Sunday, March 18 and continues through Saturday, April 28!
This campus-wide Challenge includes all students, staff and faculty! Activities and programs are still being planned. We look forward to sharing some new Challenges and events this year for all who participate. Watch for updates to be shared on this webpage and through Dickinson Today announcements, Vitality, Twitter @DickinsonHR, and posters across campus.
Excited to get started? Click the link below to download the Spring Into Fitness Challenge fillable-tracking form to track weekly your exercise minutes during the Challenge:
Spring Into Fitness Challenge Tracking Form
At the end of each week of the 2018 Spring Into Fitness Challenge, please report your weekly exercise minutes totals at the following Office 365 FORMS reporting form (link below):
Spring Into Fitness Challenge ~ Exercise Minutes Reporting Form
***
Join this year's colleagues, family and friends to enjoy the fresh, warmer air outside that will arrive soon! Fun activities and mini-challenges will be held over the six week 2018 Challenge running from Sunday, March 18 through Saturday, April 28.
Dickinsonians are challenged to exercise, have fun and enjoy the spring weather! Reported exercise minutes will be converted to miles, and as a community we hope to Walk-Around-the-World on our quest, visiting all of the Global Education sites along the way.
2018 Spring Into Fitness Kick-off Walk Participants!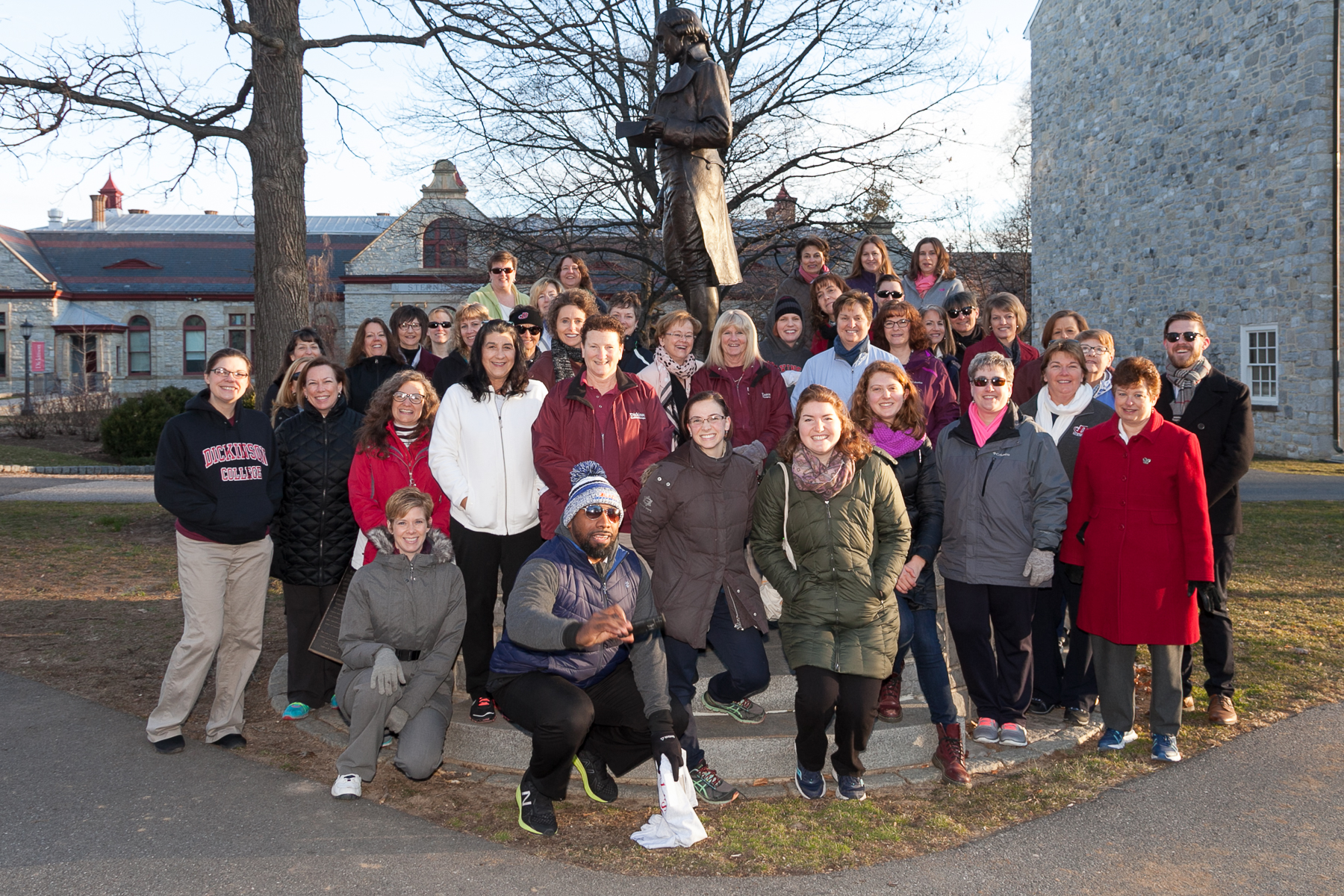 Photo courtesy of Carl Socolow.
For a peak at the progress we made in Spring 2017, see a snapshot of the virtual map below: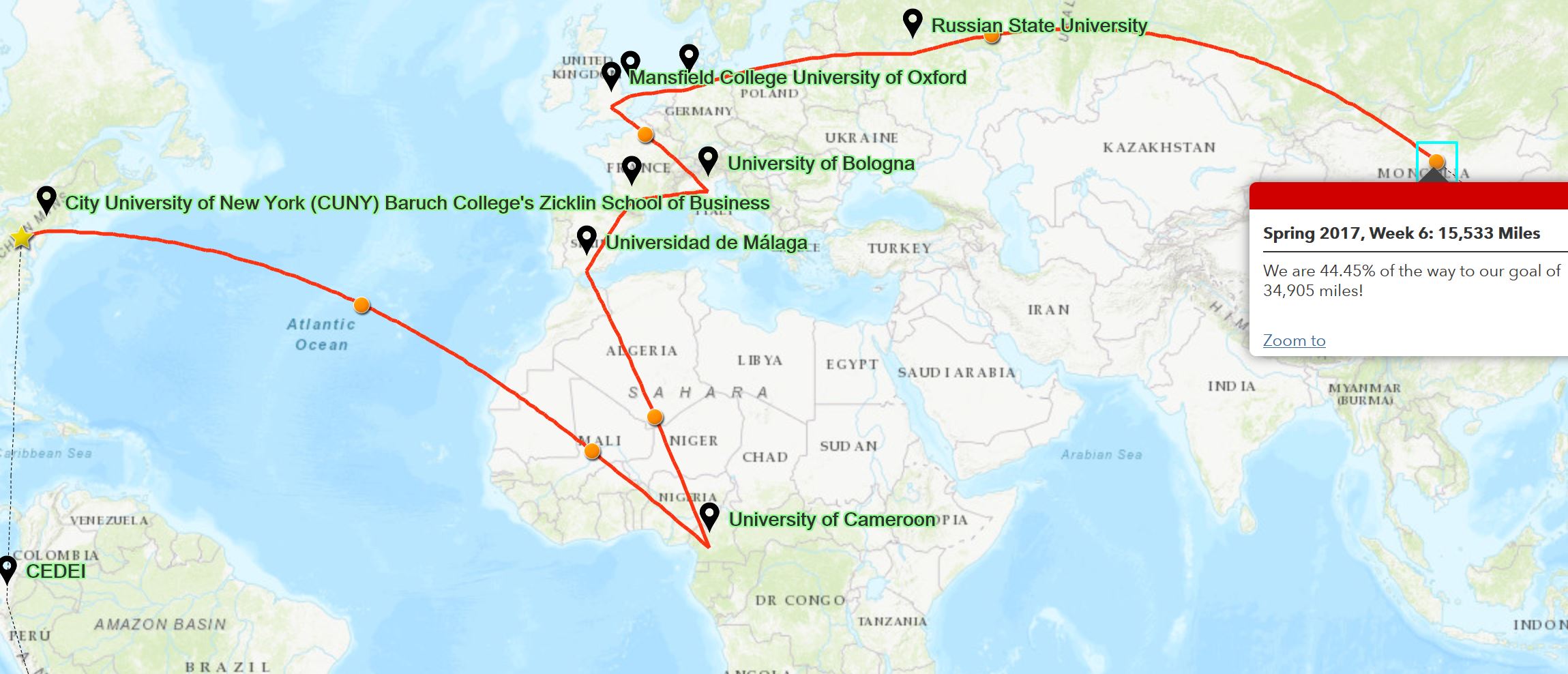 2017 Spring Into Fitness Challenge - Virtual Walking Map Week 6 Progress
Summary of the annual Spring Into Fitness Challenge
Beginning on Sunday at the end of spring break each year, and continuing through the last Saturday in April – Dickinson College faculty, staff and students, as a community, participate in a fitness/walking challenge. In the early years of the Challenge, it originally was designed as a peer institution program between employees of the institutions. Challenge winners were determined by two criteria – the greatest percentage of cumulative participation for staff and also the highest average number of minutes per participant! During the four years of peer Challenges, we enjoyed competing with Elizabethtown, Franklin & Marshall, Gettysburg and York College.
The Spring into Fitness Challenge continues to be held, and includes a divisional challenge but was re-designed as a campus Challenge starting in 2017! The President's Office dominated the 2016 Challenge, claiming the golden sneaker trophy from Academic Affairs, the 2015 winner of the divisional challenge. In 2017, LIS (a previous divisional winner) reclaimed the 2017 Spring Into Fitness Challenge...Who will win the divisional Challenge in 2018? Watch for participation updates during this spring's Challenge!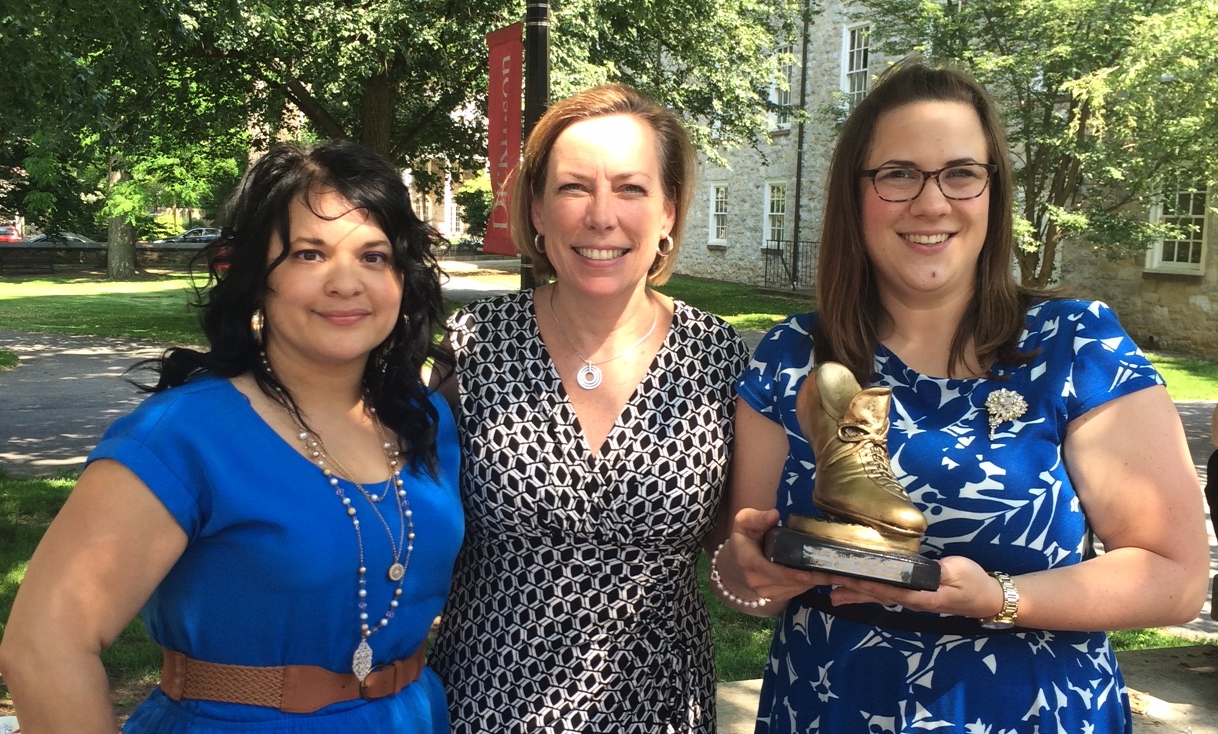 2016 Spring Into Fitness Challenge President's Office Division Winners. Photo provided by Debra Hargrove.
The 2016 and 2017 Challenges included the option to form mini-teams within your division, or with colleagues across campus. Participants joined together in small groups to have fun competing with other mini-teams across campus that included the entire campus community - students, staff and faculty. For 2018, we again have mini-teams, and continue this inclusive wellbeing Challenge to inspire activity and wellness for our campus!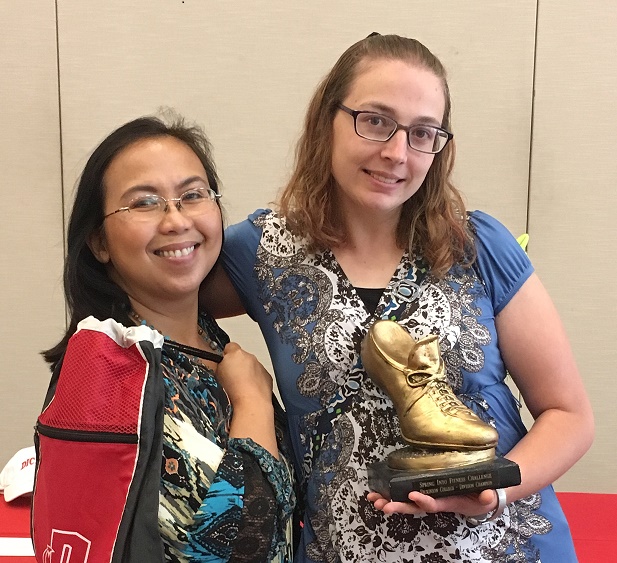 2017 Spring Into Fitness Challenge LIS Division Winners! Photo courtesy of Jeanette Diamond.
Fun activities will be announced during the weeks of the Spring Into Fitness through Saturday, April 28. Click the links above to see the list of many activities and programs offered this spring. Use the sidebar links for the listing of Mini-Team Challenges and to navigate between the Spring Into Fitness Challenge webpages!