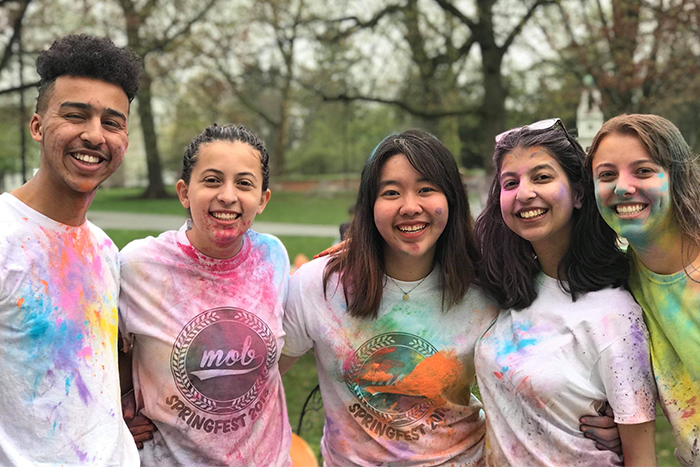 Welcome to Dickinson College, international students! We are so excited you have chosen our institution for your four-year undergraduate academic experience.
During the months leading up to your arrival at Dickinson, you will receive a lot of digital communication from the college in order to prepare you for your academic journey. It is important that you keep up with this information, and we hope it will get you excited for the new adventure ahead of you! We look forward to meeting you in August.
WHO ARE WE?
Melodi Hendrickson - Assistant Director, International Student & Scholars Services, Center for Global Study & Engagement
Nidia Werner - Program Associate, Coordinator/Advisor, International Student & Scholar Services, Center for Global Study & Engagement
International Orientation Assistants - Current Dickinson students who are eager to introduce you to life at Dickinson and will help you through the orientation process and first-year experience.
TRAVEL
It is important for you to plan your travel using Dickinson's calendar. Campus housing is open on specific dates, and we cannot provide accommodation for students who arrive early or remain in Carlisle when housing is closed. Due to COVID-19 and added travel restrictions, we understand your travel planning may be more complicated than usual. Please reach out to us with additional questions if you are facing unique challenges with your travel arrangements.
TRANSPORTATION & ARRIVAL
International students who have never been to our campus here in Carlisle can request free transportation from Harrisburg on the arrival date. All international students, regardless of the way you arrive to campus, must report their travel plans in Studio Abroad. Harrisburg, Pennsylvania's capital city, is the closest transportation hub to Carlisle. For information about travel to Harrisburg, see International Travel Options.
MOVE-IN DAY
Arrival day is an exciting and exhausting day! If you requested transportation service from the Center for Global Study & Engagement, we will bring you to campus to begin your initial check-in after you arrive in Harrisburg, PA. There you will meet some of our staff and student Orientation Assistants, pick up your orientation folder, and proceed with all COVID-19 related health and safety protocols before heading to your on-campus housing assignment. Orientation Assistants are there to guide you through orientation, as well as answer any questions you may have before classes begin the following Monday.
BEFORE YOU ARRIVE AT DICKINSON
Travel - If you would like transportation to campus from the Harrisburg airport or train/bus station, you must communicate your travel plans in your application portal on StudioAbroad.
Pre-Admission Health Policy - All new students are required to have a physical exam and submit all required documentation prior to arriving on campus. It is very important that you follow detailed instructions on how to complete your Health Forms and submit your documents to the Wellness Center by their required due date. Any student who has not completed the forms/requirements by their arrival day will not be able to directly check-in to their room upon arrival.
Academic Advising and Course Selection - International students will be contacted via their Dickinson e-mail account during late June or early July to begin the advising process. This is typically accomplished through a video conferencing call scheduled in advance. If video conferencing is not possible, an exchange of emails with a Summer Advisor will help you focus on the best courses for you. Students should monitor their Dickinson email and begin thinking about which courses for which they would like to register. Once these courses are reviewed and discussed, the student will enter courses during the course-selection time period.
Packing - It is challenging to decide what to bring to campus! The weather in Carlisle will be very warm during your first month here and then will get cooler in late September. By November, temperatures may drop to freezing. It will be necessary to have warm clothing and a thick winter coat. A coat in the U.S. will cost about $80 to $200 depending on the quality. Consider your suitcase space and your budget to decide whether you will buy winter clothes here or bring them with you.
You can pack linens for your room, but these items will take up space in your luggage. You have the option to purchase a linen set in advance through the College Bookstore. If needed and upon request, the Center for Global Study & Engagement will provide temporary linens for your first week of college - you do need to request those linens through your StudioAbroad application portal. If you do not bring linens with you, you will need to purchase linens, towels, etc. during the first week. The temporary linens must be returned after one week.
We do not recommend bringing electronics or appliances like hair dryers that require a power adapter. Everyday items can be purchased in Carlisle, and you do not want to use an adapter for four years! Depending on where you live, it may be more convenient to buy a laptop and other electronics in the U.S.
Carlisle has several large retail stores where you can purchase clothes, linens, items for your room, and book supplies. During Orientation, students can use a shuttle service to a shopping center with major retailers Walmart, TJ Maxx and Staples. These stores are within walking distance to campus, but the shuttles allow students to buy items that may be hard to carry.
If you are flying, check baggage restrictions for your airline. Airlines charge high fees for overweight baggage. Also keep in mind that you may be very tired as you handle your baggage upon your arrival. Be sure you can carry all of your luggage.
Carry all of your immigration documents with you. Do not put documents in your checked baggage in case your baggage is delayed or lost! Flight delays may prevent you from arriving on campus at the expected time. It is wise to have medications, a change of clothes, and any necessary toiletry items in a bag that you keep with you on the plane.
Money - If possible, change some money into U.S. dollars before you leave your home country. We recommend that you carry between $100 and $200 with you. If you have a debit or credit card that allows international access to a bank account in the US or in your home country, carry that as well. If you plan to work on campus, you will still need money for the first few weeks. Due to legal requirements, international students usually receive their first paycheck in late September or October.
Mail - You will receive your campus mailbox number in late July. If you decide to send some items ahead of your arrival, you can do so BUT no sooner than two weeks before your arrival (Aug. 8). The Dickinson campus has a mail center where you can send and receive international mail and packages.
Communicating with Family - Before you leave your home country, talk with your family about how you will stay in touch. You may purchase a phone card, but most students use e-mail, facetime, and Skype. You can also buy phone time using Pingo. Upon arrival in Carlisle, students are encouraged to contact family quickly to notify them of their arrival. However, you may arrive late at night and go immediately to bed. It may be some time before you have a chance to access e-mail or a phone; set this expectation with your family so that they do not worry.
INTERNATIONAL STUDENT ORIENTATION
We will be in communication with you all over the summer to prepare your immigration documents via email, but we are very excited to get to meet you in August. International Student Orientation goes by quickly and there will be a lot of materials to cover! We know that you will be tired from the jet-lag, but we hope that you will be able to absorb the information while getting to know your international peers, Orientation Assistants and college staff. We will cover topics such as: Cultural Adjustment, Health & Wellness, Student Employment, Academic Culture, Academic Integrity, practical information, visa regulations, and more!
NEW STUDENT ORIENTATION
All first-year students will be on campus during this time - and it will be a busy time! Most American students will be moving in on Wednesday, Aug. 25, with their parents and families. Wednesday will be a busy day on campus; luckily, you all will already know your way around and should be able to navigate through the masses of excited students and their families. You will have a busy schedule filled with informative and fun sessions and activities. Take advantage of every opportunity! There will be lots of new faces and people to meet at every event.
BEGINNING OF FIRST SEMESTER
All international students will get a chance to meet one-on-one with International Student Services during your first semester on campus. We are here to make your first-year experience the best it can be and connect you with the right people to make that happen for you. During your first semester, there will also be extended orientation workshops that you will attend, as well as many Center-hosted and all-college events, lectures, and activities.