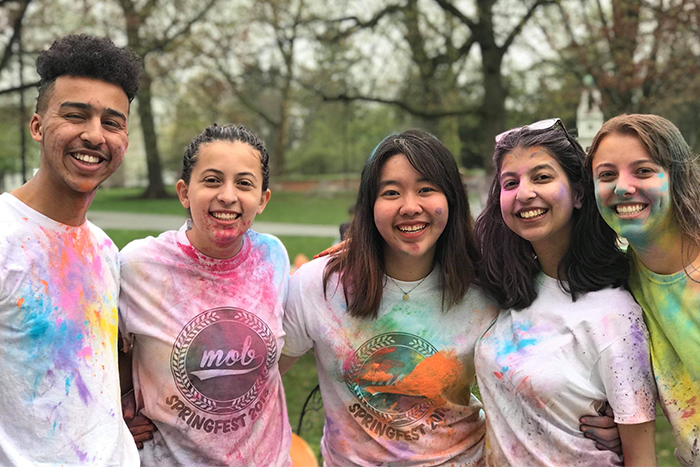 Welcome to Dickinson College, international students!
We are thrilled you are coming to Carlisle and look forward to assisting you as you prepare for your academic journey at Dickinson! We look forward to meeting you on campus soon!
WHO ARE WE?
Melodi Hendrickson - Assistant Director, International Student & Scholars Services, Center for Global Study & Engagement
Nidia Werner - Program Associate, Coordinator/Advisor, International Student & Scholar Services, Center for Global Study & Engagement
International Orientation Assistants - Current Dickinson students who are eager to introduce you to life at Dickinson and will help you through the orientation process and first-year experience.
BEFORE TRAVELING TO DICKINSON
Pre-Admission Health Policy - All new students are required to submit all required documentation prior to arriving on campus. Complete your Health Forms and submit your documents to the Wellness Center by their required due date. Please contact studentwellness@dickinson.edu if you have any questions or a problem with registration and the Wellness Center staff will be happy to assist you through the process. Please note that any student who has not completed the health requirements will not be able to directly check-in to their room upon arrival.
Packing - Carry all of your immigration documents with you. Ensure documents are not in your checked baggage as you will need them handy! It is also wise to keep medications, a change of clothes, and any necessary travel size toiletry items with you. If you are flying, check baggage restrictions for your airline. Airlines charge high fees for overweight baggage.
Money - If possible, change some money into U.S. dollars before you leave your home country. We recommend that you carry between $100 and $200 with you. If you have a debit or credit card that allows international access to a bank account in the U.S. or in your home country, carry that as well.
Mail - Mail Sevices information and package pick-up procedures are managed by the Mail Center staff. First-Year students will receive communication prior to arriving on campus regarding their mailing address and HUB number.
Communicating with Family - Before you leave your home country, talk with your family about how you will stay in touch. Upon arrival in Carlisle, students are encouraged to promptly contact family to notify them of their arrival.
TRANSPORTATION & ARRIVAL
Harrisburg, Pennsylvania's capital city, is the closest transportation hub to Carlisle. For information about travel to Harrisburg, see International Travel Options. New Incoming International students will be offered a complimentary Dickinson shuttle from Harrisburg on the official campus arrival date. All International Students regardless of the way you arrive to campus must report their travel plans in as directed by CGSE staff.
MOVE-IN DAY
Arrival day is an exciting and exhausting day! If you requested transportation service from the Center for Global Study & Engagement, we will bring you to campus to begin your initial check-in after you arrive in Harrisburg, PA. There you will meet some of our staff and student Orientation Assistants, pick up your orientation folder, and proceed to your on-campus housing assignment. Orientation Assistants are there to guide you through orientation, as well as answer any questions you may have before classes begin the following Monday.
BEGINNING OF YOUR FIRST SEMESTER
All international students will meet one-on-one with International Scholar & Student Services staff during the first semester on campus. If you are unsure where to find a particular service on campus or how to navigate through requirements, our ISSS team provides guidance relevant to your question or problem. We invite you to reach out to us!