Pre-Orientation: Explore More Adventures
Pre-Orientation: Explore More programs are dynamic, interactive experiences for small groups of incoming first-year and transfer students hosted by campus departments, offices, and student groups. They will introduce students to distinctive aspects of Dickinson and enable participants to:
Gain a sense of belonging from the connections they make with their peers, upper-class students, and faculty/staff in their program.
Familiarize themselves with Dickinson's campus and/or the nearby community.
Gain skills and/or knowledge specific to the program of their choosing.
Gain exposure to co-curricular opportunities (campus clubs and organizations, centers and offices) that support Dickinson's values for interdisciplinary academics, arts and culture, global education, civic engagement, sustainability, student wellness, and equity and inclusion.
The dates for the 2023 Pre-Orientation: Explore More are:
Sunday, August 20 – Tuesday, August 22
There is a registration fee for each Pre-Orientation: Explore More program. The registration fee supports the logistics of the program, staffing, as well as students who may need financial assistance to participate in the program.
The cost varies depending on the experience and time each program offers and is broken down into three (3) tiers:
$150/participant
$200/participant
$250/participant
More information about programs and their cost is available on May 1. You must pay in full when you register—note there is a $50 non-refundable deposit. If you would like to be considered for a fee waiver, email orientation@dickinson.edu. Please do not hesitate to reach out about a waiver—we want EVERYONE who is interested to have an opportunity to participate.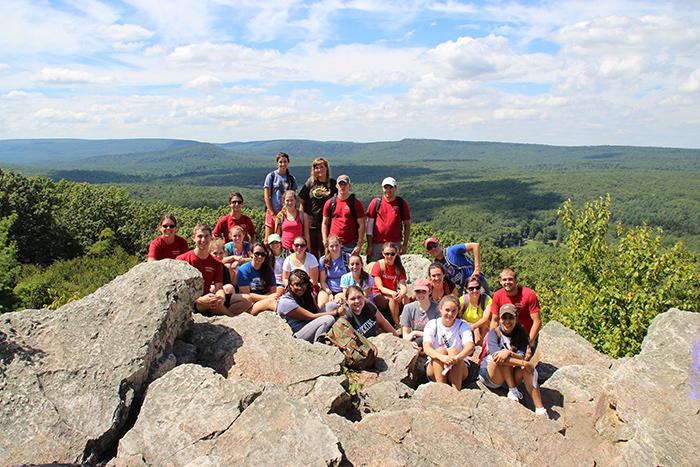 An Explore More group posed for a photo at the top of Pole Steeple!