Living on Campus
Residence Life & Housing supports the advancement of the academic mission of the college through the residential program. Our philosophy of residential living is grounded in the history of Dickinson College. As a residential college, we provide housing options for all four years that students live at Dickinson. As an integral part of the out-of-classroom experience, students living in college residences will increase their cognitive, interpersonal and intrapersonal development and complexity. Students need space for physical and intellectual activities to fully benefit from this experience.
Your Housing Assignment
One of the major areas of interest for new students is finding out where they will be living. In order to prepare for making your housing assignments in the summer, we ask that you complete a roommate preference and housing agreement form that will be available on the Dickinson Gateway in May. If you have any questions about this form, or housing in general, please contact Residence Life & Housing at 717-245-1556 or reslife@dickinson.edu.
Once you have completed the roommate preferences form, we will assign you a room and a roommate(s) in late July. When you receive your roommates' contact information, call them! Be sure to talk about what items each of you are bringing so you can make best use of the space in your room. We recommend not only focusing on social networking sites to learn about your new roommate. Take time to build a relationship outside of Facebook. When working with your roommates to determine what to bring, consider our Packing for College list.
Be sure to check out our descriptions of the residential facilities and tips on living with a roommate.
Your Community
All new students are placed either in Adams and Drayer on Morgan Field or in the Quads. You will have staff and structures to help create your community through governance, social event planning, community forums and town hall meetings. At Dickinson, the learning experience flows seamlessly into the residence halls as you bring concepts from what you are learning in class home to reflect and engage with your peers.
Gender-Inclusive Housing
Dickinson College offers gender-inclusive housing to all students. This is an expansion of the previous program that offered this option to upper-level students. This option allows two or more students to share a multiple-occupancy bedroom, suite or apartment regardless of students' sex or gender identity. Gender-inclusive housing is intended for students who wish to share a living space with friends regardless of gender identity; it is not intended for romantic relationships. Please review the gender-inclusive housing policy page for further information.
Housing Accommodations for Students with Disabilities
Dickinson College is deeply committed to the full participation of students with disabilities in all aspects of college life, including residential life. In accordance with Section 504 of the Rehabilitation Act and the Americans with Disabilities Act (ADA), Dickinson College has established the following Housing Accommodations Procedures to ensure that students with documented disabilities receive housing assignments that reasonably meet their needs as required by law. For information about documenting a disability, please contact Access and Disablity Services at 717-245-1080 or access@dickinson.edu.
Equipment Purchase and Rentals
Dickinson College offers opportunities for students to rent mini-fridges and purchase linens and carpets through the Dickinson College Bookstore. There is also an opportunity for students to insure their personal belongings while on campus by purchasing rental insurance.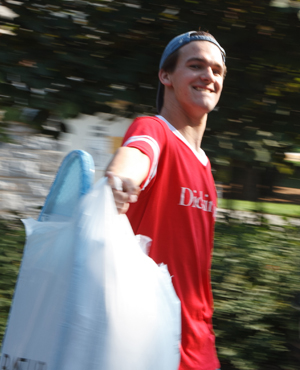 What to Expect on Move-in Day
Students are permitted to check in to their residence halls from 8 to 11 a.m. on Wednesday, Aug. 28, 2019. Students participating in the Pre-Orientation program should plan to arrive from 8 to 11 a.m. on Sunday, Aug. 25, 2019. Students arriving outside of those times must make arrangements to pick up their key in the Student Life Office on the lower level of the HUB. Students will pick up Orientation information and a room key at his/her assigned residence hall.
Upper-level students including Resident Advisors, First Year Mentors and athletes will help with your move-in on Sunday, Aug. 25, 2019 and Wednesday, Aug. 28, 2019. They will help unload your car and carry belongings to your room! To be ready for this, we encourage you to mark your belongings with your last name, hall name and room number. If you don't remember, it's OK—we will have materials available. Labeling in advance will help speed up the process and make sure your belongings are delivered to your room.
Traffic will move very quickly at each move-in location. Your vehicle should not be left unattended and should move with the flow of traffic at all times. Once you permanently park your vehicle in a designated lot you will have the opportunity come back to set up your room.
Some of the streets surrounding the campus will be closed. Follow the detailed driving directions provided to proceed to your assigned residence hall. We will post signs near campus to direct you to the correct location. An officer will be on hand to assist drivers.
Students who have unfinished business/paperwork that must be completed prior to check in should first report to the information tents on Britton Plaza (on High Street in front of the HUB).
Note: If a student attempts to check in without completing all necessary business, a staff member will direct him/her to the information tents.
As more information becomes available, it will be posted on the Orientation site. Please check back regularly to make sure you have the most current information.