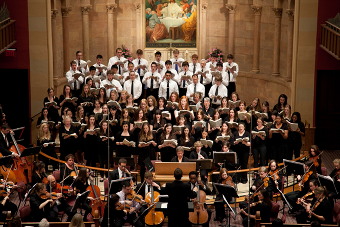 Fall 2011, the combined forces of Dickinson Orchestra, Choir and Collegium draw an overflowing audience to the First Lutheran Church in Carlisle for their performance of Handel's Messiah.
The College Choir was founded in 1860 and continues to create meaningful and exciting musical experiences for Dickinsonians. Each year, the choir welcomes auditions from all voice types (soprano, alto, tenor, and bass) in the fall at Music Audition Night and also in the spring on an individual basis.

The choir performs a balance of classical standards and more adventurous programming that reflects the rich tradition of choral singing. Students might find themselves collaborating with the Dickinson Orchestra to perform the Mozart Requiem or Orff's Carmina Burana, or joining forces with the Hershey Symphony Orchestra to realize Beethoven's choral Ninth Symphony. The ensemble has commissioned new choral works by rising composers such as Mohammed Fairouz and participated in interdisciplinary productions with the Dance Theater Group, Dickinson Improvisational and Collaborative Ensemble, and Jazz Ensemble. It is a vibrant forum for those who love to sing.
The College Choir rehearses on Tuesdays and Thursdays from 5:15 to 6:30 in the Weiss Rehearsal Room. Members agree to uphold a strict attendance policy.