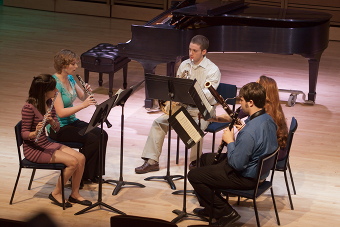 Student Woodwind Quintet, Spring 2012
Within this course, music majors and non-majors study and perform glorious works of chamber music literature, such as e.g. Ligeti's Bagatelles, Beethoven's, Ravel's, Borodin's, Shostkakovich's String Quartets, Schikele's Trio, Mendelssohn's Piano Trios, Brahms's Horn Trio, etc. The ensembles generally consist of 2-8 members, of various instrumental and vocal combinations, including jazz combos. The intimate settings allow for nurturing of student leadership, team-work, art of diplomacy and effective negotiation, as well as development of exquisite skills in music making.

Ensembles receive weekly coachings from faculty members. Every effort is made to organize the ensembles according to the skill level and available instruments. Ensembles rehearse a minimum of one hour per week in preparation for the coachings and ensemble members are expected to practice their individual parts. Pre-formed groups are considered. In case of mixed ensembles, students may receive instruction from multiple coaches, according to their expertise. Though the majority of the ensembles consist solely of students, some may include faculty members and/or experienced alumni.
Ensembles perform publicly as part of the course, whether in the chamber music concert, in noonday series or other performance venues, including the Dickinson College Music Outreach Program.
Placement and registration:
All student musicians, majors and non-majors, are invited to participate in the chamber ensembles based on placement auditions held on the first Tuesday of the academic year — Music Audition Night — or by appointment with the chamber music coordinator. To register for the first time, the student must obtain permission (registration code) from the chamber music coordinator. In subsequent semesters, the student will be able to register without a special registration code.
This course is offered every semester. It is not available for Audit or Pass/No Pass. Students do not receive letter grades but performance credit similar to large music ensembles.