September
Through Oct. 5
Reception: Sept. 13, 5-7 p.m.
Evan Summer: Remnants of the Future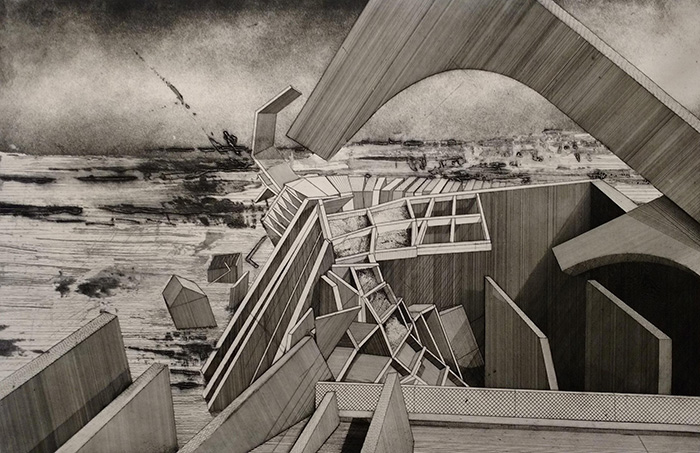 Evan Summer, Ground Collapse, 2014. Etching and drypoint on paper.
The Trout Gallery, Weiss Center for the Arts
Gallery hours: Monday-Saturday, 10 a.m.-4 p.m.
Remnants of the Future presents a selection of etchings and related works that offer remarkable visual testimony to the conflict between elements of nature and elements of human creation. This selection of prints draws from a recent gift of prints to the museum from the estate of print collector and dealer Donald Vogler. Reception presented in conjunction with the Dickinson College Farm and POP (Pizza on the Plaza).
Through Oct. 19
Reception: Sept. 22, 6-7 p.m.
Edward Burtynsky: Water
Edward Burtynsky, Salt River Pima-Maricopa Indian Reservation Scottsdale, Arizona, 2011.
The Trout Gallery, Weiss Center for the Arts
Gallery hours: Monday-Saturday, 10 a.m.-4 p.m.
Water features large-scale photographs that draw attention to the growing needs of an expanding and very thirsty civilization that is reshaping the Earth in colossal ways. It comes to The Trout Gallery courtesy of the New Orleans Museum of Art. The Sept. 22 reception will be held in conjunction with the premiere of Current, a multidisciplinary production by pianist Jennifer Blyth and artist Todd Arsenault (see description below).
Tuesday, Sept. 10 - Saturday, Sept. 28
Reception: Wednesday, Sept. 11, 5:30-7 p.m.; Artist Talk at 6 p.m.
Future Past: Recent Work by Steve Dolbin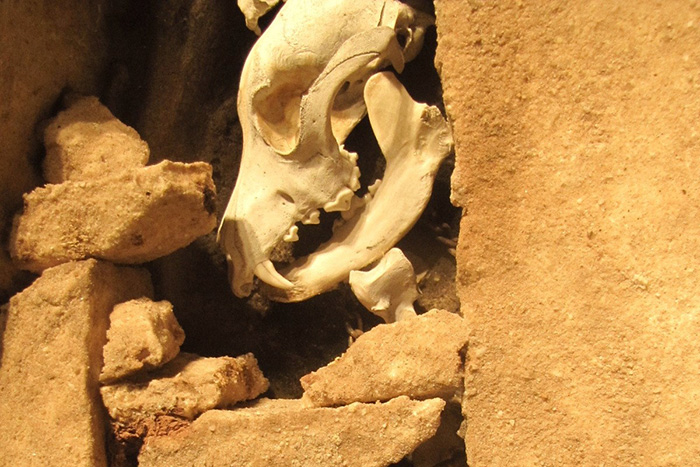 Guardian Niche: Place of Spirits (detail), 2018. Stone veneer, sand, resin, found bone and found objects with acrylic stains.
Goodyear Gallery, Goodyear Building (Cedar St. entrance)
Gallery hours: Tuesday-Friday, 3-5 p.m., Saturday, 2-5 p.m.
Steve Dolbin's sculptures explore the complicated intersections of creativity, memory, history, technology, spirituality and the environment. The works featured in this exhibition incorporate mortal, synthetic and natural materials to arrive at an almost archeological reflection on the temporality of the human condition.
Learn more
Note: The Wind Ensemble concert originally planned for Sunday, Sept. 15, has been rescheduled to Friday, Nov. 1.
Sunday, Sept. 22, 4 p.m.
Piano Recital: Current
Rubendall Recital Hall, Weiss Center for the Arts
Joined by baritone James Martin and Heare Ensemble (piano, cello and flute), pianist Jennifer Blyth examines landscape/waterscape as history, and as an exhibit of consequences. The program seeks to explore aural images and narratives of water from multiple perspectives through works for trio and voice and for solo piano and voice. Rivers, oceans and waterways converge as nature, habitat, artifact, system, problem, wealth, ideology, history, place and aesthetic in a recital designed to complement the Edward Burtynsky exhibit at The Trout Gallery. This performance will feature a video installation by Dickinson artist Todd Arsenault, alongside compositions by Ravel, Cowell, Crumb, Copland and Rzweski.
Learn more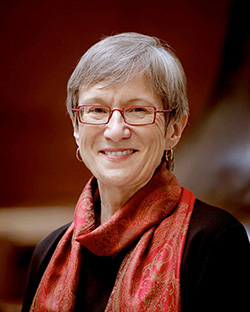 Tuesday, Sept. 24, 5:30 p.m.
Kandinsky Lecture by Linda Dalrymple Henderson '69
Room 235, Weiss Center for the Arts
This talk, Wassily Kandinsky's Pioneering Abstraction in its Early 20th-Century Scientific/Occult Context, focuses on Kandinsky's great 1913 painting Composition VI and his pursuit of "the spiritual in art" in the context of new paradigms of matter and space suggested by scientific discoveries of his day. A Dickinson alumna, Dalrymple Henderson is a faculty member at The University of Texas at Austin.
Learn more
Friday, Sept. 27, 8 p.m.
River City Big Band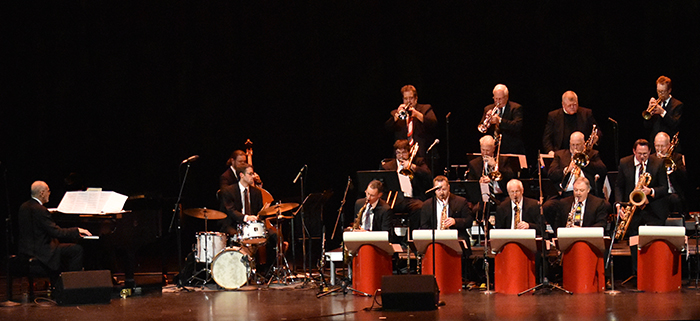 Anita Tuvin Schlechter Auditorium
Contributing faculty members Dave Zygmunt (drums), Greg Strohman (trombone) and Jeff Wohlbach (trumpet) will be joined by members of Harrisburg's River City Big Band for an evening of big-band jazz. Made up of the finest Central Pennsylvania musicians, the band plays charts from the books of Count Basie, Buddy Rich, Thad Jones and Stan Kenton, as well as originals from members and the local jazz community.
Learn more
Many of Dickinson's public events are livestreamed; check our livestream page for the latest information. All of the above events are open to the public and are free, unless otherwise noted. Events listed in the Calendar of Arts are subject to change. Please contact the appropriate department prior to an event to confirm that it will take place as listed.