Package Pickup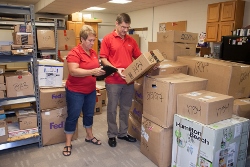 First-Year Students will receive a HUB number at their Dickinson email address before their arrival on campus. The email will include important mailing information. Mail Services will assign a HUB number to return students once confirmation is obtained.
Students keep the same HUB number while at Dickinson, even during their stay abroad. Students that leave campus for reasons other than going abroad could receive a different number when returning to campus.
All First Class mail and packages arriving on campus are held in Package Pickup. Students receive an email notification once mail and packages are processed. Students receive a second email notification for unclaimed packages after two weeks. Packages must be picked up one week after the second notice, failure to do so will result in packages being returned to the sender. All letter mail will be returned to sender as unclaimed after thirty consecutive days,
Students must have their Dickinson College ID, when picking up the items at Package Pickup, without a Dickinson ID, the mail will not be relinquished. Due to lack of storage we recommend you send packages no more than two weeks before the start of a semester.
If we are unable to identify the receiver of a package, it will be returned to the sender after five consecutive business days.
The Mail Center is not responsible for perishable items.
Perishable items will be held in Package Pick-up no longer than five consecutive days. Refrigeration is not available.

Mail Service is not responsible for damaged, lost, or stolen package left unattended by private carriers.
Due to limited space, we recommend you send packages no more than two weeks before the start of a semester. Mail/packages for a student have their first name, middle initial, and last name, and be sure to always include the student's HUB number.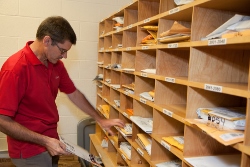 Please email fasmailroom@dickinson.edu with any questions.
All offices are closed on Saturday and Sunday
Scheduled hours may vary during exams, breaks, and holidays.