Be Well - Be Calm - Be Engaged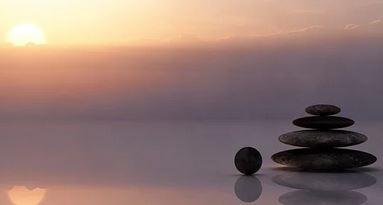 The coronavirus (COVID-19) pandemic has created an atmosphere of unrest and turmoil in our lives. As the environment evolves, we continue to strive for some balance and look for ways to offer support to the Dickinson community.

One way to find a small measure of balance is through mindful meditation. The brief meditation of compassion shown below is a great way to center yourself and find some inner peace, while also being compassionate to others in the world aroound you:
May I be well - May I be happy - May I be peaceful
May my family/friends be well - May they be happy - May they be peaceful
May the world be well - May the world be happy - May the world be peaceful
(Meditation source: Blue Lotus Buddhist Temple, Carlisle PA)
Human Resource Services
Pennsylvania Department of Health Resources
Additional resource: For a safe, secure platform to inform your COVID-19 contacts, check out www.tellyourcontacts.com.
Partnership for Better Health
UPMC Healthcare Provider COVID-19 Resources
Johns Hopkins Medicine - Coronavirus Updates & Information
COVID-19 Information & Updates: Johns Hopkins Medicine is using its expertise to address the new coronavirus (COVID-19) pandemic, treat patients, protect visitors and staff and provide up-to-date information to the public. Visit this link to keep up-to-date on the most recent updates and developments from the experts on the COVID-19 pandemic.
Emotional Wellbeing Resources
Resources for keeping your cool and staying calm and focused in these trying times are listed below:
CALM is an app that offers a 31-day challenge (and more) to help with free stress reduction and guided meditations!

10% Happier is a team of dedicated professionals offering a daily chat and free guided meditation sessions each weekday at 3 p.m. (EST) to help everyone during this stressful time. This group is also offering a FREE Coronavirus Sanity Guide for anyone who is interested.
Special Resources for Adults, Kids & Teens
Health Advocate
Aetna/CVS Health

Substance Abuse and Mental Health Services Administration (SAMHSA)

The Wellness Center
The Clarke Forum offers live webinars and programs virtually at times. Click the link(s) below to participate:
The Center for Civic Learning & Action

Financial Wellbeing Resources
TIAA offers free webinars each month.Click the link to view upcoming webinars as a TIAA participant or as a guest - these webinars are open to everyone.
HTA Financial Services will be offering a Medicare webinar to employees on Monday, April 13 at noon or 6 p.m. Sign-up to participate in Totara!

Free Fitness Options

Remember to take time to take care of yourself with some exercise and fitness activities:
Simply Moving Guide: Cumberland & Perry County Rails to Trails Guide offers an amazing overview of the public parks, trails and recreation options in Cumberland and Perry counties. Take a few minutes to see all of these options and explore!

Fizikaflex Exercise Guide is a FREE resource and exercise program designed by a Dickinson alum, Martha Harris '77, who has provided us with this to share with the campus community to promote overall wellbeing! Ms. Harris (CEO and Founder of Fizikaflex) is also currently looking for volunteers to participate in a study for the Fizikaflex fitness app currently being designed and tested. To learn more about this opportunity open to anyone between the ages of 50 and beyond, simply visit the Fizikaflex website or send an email to devwell@dickinson.edu.
Important Note: It is highly recommended that you check with your physician before beginning any new physical fitness routine. Also, avoid walking on days with any extreme weather conditions.
Other campus partners and departments also offer resources that might be helpful to explore at the challenging time in our lives: