Report Requirements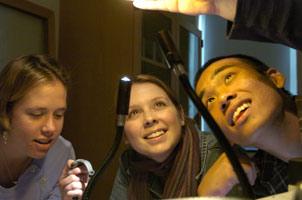 Narrative Reports: For all R&D awards, except for Faculty Travel to Present and Publication awards, you must submit to the R&D Committee a 2-3 page final report within a month of the completion of the project. In this report, describe the outcome of the project and provide an accounting of expenses. Please note that R&D cannot consider proposals from those who owe reports on past grants. (See individual pages for requirements.)
Changes to Project (See General Regulations)
Financial Reporting (Receipts):
When submitting receipts for all approved R&D grants, please also submit the following to randd@dickinson.edu. (This should be completed within 30 days of completion of your grant).
R&D Detail Worksheet/Expense Form
An R&D Detail Worksheet/Expense Form completed and submitted ELECTRONICALLY to randd@dickinson.edu with receipts sent to randd@dickinson.edu.
Electronic receipts are required for all out-of-pocket expenses; copies of credit-card statements do not constitute valid receipts. For purchases that are made on department credit cards copies of receipts are permitted because financial operations require originals to be sent with cost allocation reports each month. All other purchases must have original receipts to be reimbursed. Invoices sent to you from online purchases are also permissible.
Please note: (Complete reimbursement for expenses in 1 or at the most 2 transactions per grant).
Website to look up exchange rates http://www.x-rates.com/
For "Travel to Present" awards, please also submit a copy of your paper or equivalent documentation of your presentation
Please be sure to read the Updated Financial Operations Travel Guidelines
Information on Sales Tax Exemption
All grants require the submission of ORIGINAL receipts and an EXPENSE FORM.