Sigma Delta Pi
Epsilon Delta chapter of Sigma Delta Pi
National Collegiate Hispanic Honor Society (Sociedad Nacional Honoraria Hispánica)
This chapter was established at Dickinson College in 1962. Please vist the national society's website to learn more.
Faculty Advisor: Professor Angela DeLutis-Eichenberger
Photo galleries
Sigma Delta Pi Induction Ceremony 2019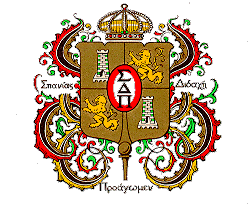 The insignia of Sigma Delta Pi
Sigma Delta Pi, the National Collegiate Hispanic Honor Society (La Sociedad Nacional Honoraria Hispánica) was established on November 14, 1919 at the University of California in Berkeley. Its insignia is the royal seal of Fernando and Isabel, representing Castille, León and Aragón. The Society's colors are red and gold and its flower is the red carnation.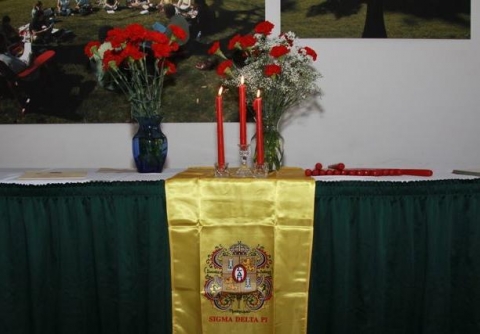 The purposes of this society are:
To honor those who attain excellence in the study of the Spanish language and in the study of the literature and culture of the Spanish-speaking peoples.
To honor those who have made the Hispanic contributions to modern culture better known in the English-speaking world.
To encourage college and university students to acquire a greater interest in and a deeper understanding of Hispanic culture.
To foster friendly relations and mutual respect between the nations of Hispanic speech and those of English speech.
To serve its membership in ways which will contribute to the attainment of the goals and ideals of the society.
Membership Requirements:
Active membership shall be limited to college students who have demonstrated high scholarship in general and excellence in the academic study of Spanish. Specifically, they must meet the following requirements:
Each must have completed three years of study of college-level Spanish (eighteen semester credit hours) or the equivalent thereof, including at least three semester hours of a course in Hispanic literature or Hispanic culture and civilization at the junior (third-year) level. A student may be admitted to active membership while still enrolled in the second junior-level course if all other requirements have been met and if the instructor of the course certifies that the student's work is of "B" or "A" quality.
The candidate for active membership must have a minimal grade point average of 3.0 on a 4.0 point scale in all Spanish courses taken.
The candidate must rank in the upper 35% of his/her class--sophomore, junior, or senior--and must have completed at least three semesters or five quarters of college work.
Graduate students who have been unconditionally admitted to a degree-granting program may be elected to membership upon completion of two graduate courses in Spanish with an average which, if continued, will make them eligible for a graduate degree.
Sigma Delta Pi does not discriminate on the basis of race, color, national or ethnic origin, sex, age, or disability.
Membership Benefits: