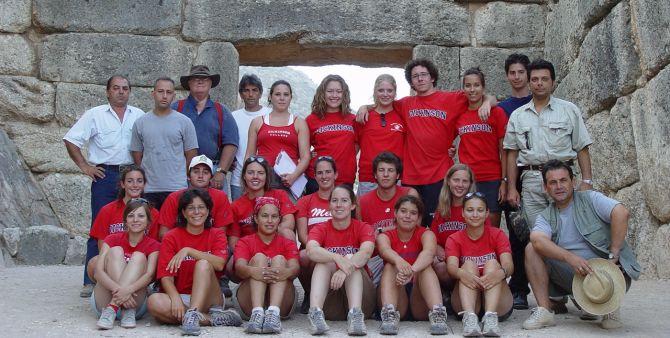 "Students at all levels...are thoroughly invested in the program. Many came to Dickinson expressly to major in archaeology and several who had not known of the program before matriculating were so captivated by their early experience with courses in the IAP that they decided to major in archaeology. The students who led our tour through the Archaeology Laboratory and the SEF had a laudable proprietary sense of the place, using the personal pronouns 'we' and 'our' as they talked about the lab, the excavation, and the databases...Many of the students wish to continue their archaeological studies in graduate school or in their future careers and their devotion to the discipline made the reviewers jealous of the ability of the program to involve and to energize undergraduates to such a high degree." (excerpt from the External Reviewers' report, April 2007)
The Department of Archaeology maintains annually an average of 35-40 majors and several minors. Outside the class, students participate in the Keck Archaeology Lab and contribute to various digital archaeological projects, travel to regional museums and exhibitions, enjoy the bi-annual A.I.A. lecture series at Dickinson, the annual Moser Memorial lectures, and various invited guest lectures, and participate in summer archaeological digs and immersion programs abroad.
After graduating from Dickinson, students go on to graduate studies in archaeology, work as hired archaeologists by the state or private companies, as museum curators, or pursue a wide variety of professions. The academic and professional achievements of our students are the measure of our success. According to the official alumni lists of Dickinson College, 41 archaeology majors (33%) in the period 2002-2015 have advanced to graduate studies in the U.S.A. (Boston Univ., Univ. of Pennsylvania, Temple Univ., University of Florida, Florida State University, George Washington Univ., Univ. of North Carolina, Duke Univ., Ohio State Univ., SUNY at Albany, Mississippi State Univ., Trinity College, Indiana Univ. at PA, and Columbia University) and abroad (Univ. College London, Durham Univ., Univ. of Bradford; Univ. of Sheffield, Univ. of Liverpool, American Univ. in Cairo, UCL at Qatar); these students set an example of excellence and vividly portray beyond any doubt the quality of education, training, and preparation of our majors as well as their strong drive and motivation:
Amber Standifer '02; Jesse Fuhrman '03; Lauren Swift '03; Jenn Danis '04; Megan Gerseny '05; Catherine Lantzas '05; Sarah Peterson '05; Jeffrey Baroody '05; Jeffrey Meyer '05; Owen Berliner '06; Rebecca Worsham '07; Allison Cuneo '07; Kyle Tipping '07; Anabella Atach '08; Breanne Clifton '08; Rebecca Mendelsohn '08; Sarah Rivera '08; Daniel Fallu '09; Diane Evitts '09; Kris Wroth '09; Eric Verbovszky '09; Sarah Zaleski '10; Erica Pitcairn '10; Ashley Rees-Jones '10, Ryan Shears '10, Megan Paqua '11; Margaret Staudter '11; Erik DeMarche '11; Jennifer Smith '11; Lawrence Chiatti '12; Marjorie Haines '12; Andrew Shoemaker '12; Daniell Haigler '12; D. Ehrlich '12; A. Hummel '13; K. McCusker '13; Archer Smith '13; Michael D'Aprix '14; D. Plekhov '14; Sarah Eisen '15; Kathryn Jones '15.