April 22, 2022
Please join us for a panel discussion on translating poetry. Featured guests include Jan Wagner, Uta Gosmann and David Keplinger.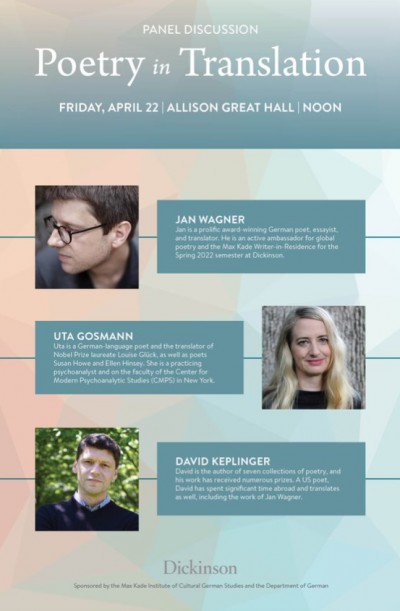 Poetry in Translation will take place at noon on Friday, April 22, in Allison Great Hall. The panel discussion will include Jan Wagner, an award-winning German poet and Max Kade Writer-in-Residence for the spring 2022 semester at Dickinson. Uta Gosmann is a German-language poet and the translator of several well-known poets, including Nobel Prize laureate Louise Glück. David Keplinger is the author of seven collections of poetry, and his work has received numerous prizes. He translates as well, including the work of Jan Wagner. More information about Jan Wager's residency at Dickinson can be found in "Acclaimed Poet's Residency at Dickinson Creates 'Incomparable Opportunity' for Student-Translators."
The Poetry in Translation event is sponsored by the Max Kade Institute of Cultural Germanic Studies and the Department of German.
Further information