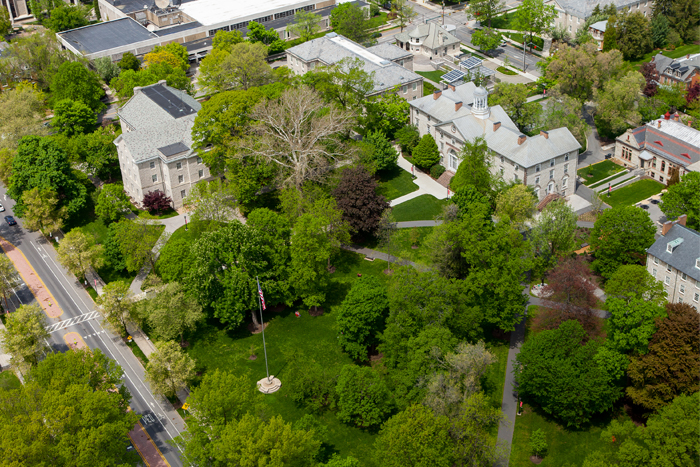 Visiting a college campus, spending time with people who are part of the community and seeing for yourself what a college is all about are key ways to determine your fit. For your convenience, Dickinson offers a variety of ways for you to visit that will enable you to experience our vibrant campus community.
Discover Dickinson Days
Designed for first-time visitors, this ideal introductory look at Dickinson features a welcome, a tour of our historic campus and an opportunity to learn more about the admissions and financial-aid processes. Come learn more about the distinctiveness of the Dickinson experience. Registration coming soon!
January 16
February 20
April 17
Information Sessions
Information Sessions are conducted by admissions staff members and provide an excellent opportunity to learn about everything from the college's distinctive mission to the "nuts and bolts" of the admissions process. To confirm availability and schedule an information session in advance, please call us at 800-644-1773 or register online.
Campus Tours
Walk the campus with a member of our Liberty Cap Society and see Dickinson through the eyes of a current student. Tour highlights include: academic buildings, a residence hall and campus facilities like the Holland Union Building (student center), the Kline Center (athletics facilities) and the Waidner-Spahr Library. To confirm availability and schedule a campus tour in advance, please call 800-644-1773 or register online.

Tours are offered Monday through Friday.
Mornings: 9 and 11 a.m.
Afternoons: 1 and 3 p.m.
Green Tours
Please join the Center for Sustainability Education (CSE) in exploring the nationally recognized sustainability initiatives currently underway by our students, faculty and staff. Led by one of our Green Tour Guides, highlighted information includes the Center for Sustainable Living (aka Treehouse), The Handlebar Bicycle Co-Op, renewable energy production on campus, LEED-certified buildings, and a visit to CSE headquarters.
Green Tours are offered on Fridays at 12:30 p.m. To confirm availability and schedule a Green Tour in advance, please call 800-644-1773 or register online.
Day Visits
A day visit gives high school seniors the opportunity to experience life as a Dickinson student for the day. Each day-visit itinerary is customized for you. Typically, it will include (but is not limited to) attending classes in an area of academic interest and lunch in the Dining Hall with a current Dickinson student. Optional requests may include a campus tour or on-campus interview. The day-visit program is our most popular option for students hoping to explore Dickinson "behind the scenes."
Day visits are offered most weekdays from January 30 through April 28 and may be scheduled by calling of the Office of Admissions at 800-644-1773 or register online. (Requires advanced registration of at least three business days.)
Interviews
Interviewing can help us get to know you and learn more about your personal experiences, goals and aspirations for college; however, participating in an interview is not required for admission to Dickinson.We provide a variety of ways for prospective students to interview. If you wish to interview, you must do so before your application deadline.
On-Campus Interviews
On-campus interviews are offered to students starting in April of the junior year in high school. On-campus interviews are available Monday through Friday. To confirm availability and schedule an on-campus interview in advance, please call us at 800-644-1773 or register online.
Learn more about our student interviewers.
Off-Campus Interviews
Off-campus interviews are also offered to seniors from mid-September through the end of January. These interviews should be requested at least three weeks before your application deadline. To confirm availability and schedule the off-campus interview, please use our online form or call 800-644-1773.
Saturday Visits
Our Saturday visits are offered March 25 through April 29. These visits include a 10:15 a.m. information session and an 11 a.m. tour. To confirm availability and schedule a Saturday Visit in advance, please call 800-644-1773 or register online.
Admitted Student Programs
We design several programs exclusively for admitted students. Throughout April, Decision Dickinson Made-to-Order (MTO) Programs offer opportunities to observe classes, attend Q&A sessions with students and faculty and eat in our Dining Hall. Also in April, our Decision Dickinson Accepted Student Open House offers accepted or enrolled student an insiders look, including opportunities engage in conversations with our faculty and students, connect with your future classmates and see Dickinson's distinctive programs firsthand.
Admitted and enrolled students may register through the Applicant Status Page.