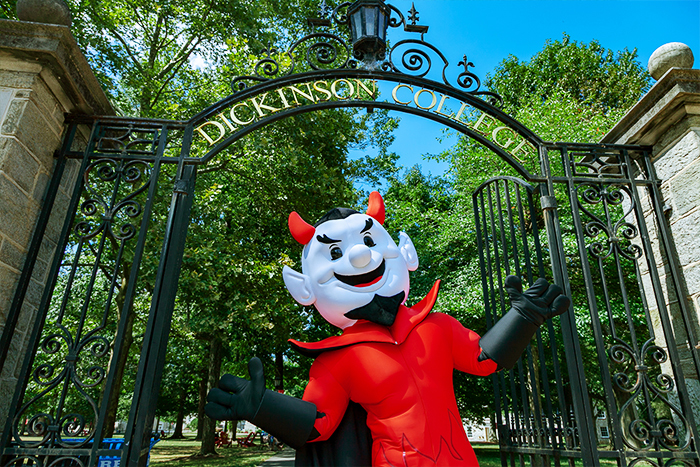 Visiting a college campus, spending time with people who are part of the community and seeing for yourself what a college is all about are key ways to determine your fit. For your convenience, Dickinson offers a variety of ways for you to experience our vibrant campus community.
Available On Campus
Campus Tours
Walk the campus with a member of the admissions team. Tours for small groups will be offered with social distance in mind—each student may be accompanied by up to two family members—and will be largely outdoors. Registration in advance is required. Please review our current procedures and select your tour time from our scheduling calendar. Students and families interested in self-guided tours of campus are also welcome to explore Dickinson and are encouraged to stop by the admissions office. There you'll find maps that include a self-guided tour route with scannable content in many locations.
Weekend Visits
Unable to make it to campus during the week? Join us on a select weekends for a campus visit. These weekend sessions provide good foundational information about Dickinson while also allowing time for a Q&A with staff. Weekend sessions with admissions staff will run 30 minutes and may be accompanied by a self-guided QR code campus tour.
Available Virtually
Information Sessions
Virtual information sessions are currently offered Monday through Thursday. They are conducted by admissions staff members and provide an excellent opportunity to learn about everything from the college's distinctive mission to the "nuts and bolts" of the admissions process.
Interviews
Interviewing can help us get to know you and learn more about your personal experiences, goals and aspirations for college; however, participating in an interview is not required for admission to Dickinson. If you wish to interview, you must do so before your application deadline. Interviews are offered via phone, Skype or Zoom to students starting in April of the junior year in high school, and are available Monday through Friday. To confirm availability and schedule an interview, please call us at 800-644-1773 or register online.
View our full array of virtual-visit options and explore Dickinson anytime, from anywhere!
Currently Unavailable
Dine with a Dickinsonian
This is another opportunity to ask questions about the student experience on campus and live a little piece of the Dickinson experience with a current student. Meet your hosts—members of the Triton Admissions Ambassadors—in the lobby of the Admissions Office for your lunch ticket.
Lunch with a Professor
Dickinson students' professors are not just teachers, they are mentors who remain in your life beyond your college years. This visit experience provides students the opportunity to attend a small group lunch hosted by a professor.
Red Devil Days
Experience life as a Dickinsonian by shadowing a student for the day! The Red Devil Day is designed for the high school senior who wants to experience a true "day in the life" of a Dickinsonian. Each visit is customized for you and typically includes (but is not limited to) attending a class, spending time with a current Dickinson student and having lunch in the Dining Hall. Optional requests may include a campus tour or on-campus interview.