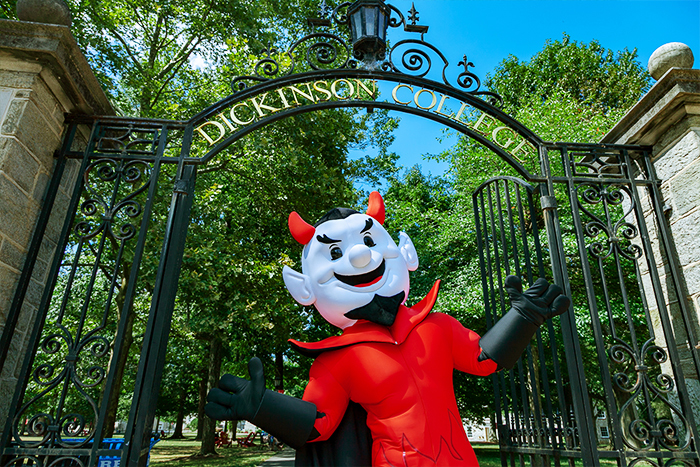 Visiting a college campus, spending time with people who are part of the community and seeing for yourself what a college is all about are key ways to determine your fit. For your convenience, Dickinson offers a variety of ways for you to experience our vibrant campus community.
Discover Dickinson: Summer Preview Days (July 12 & 26, August 2, 9 & 16)
For over 240 years, Dickinson has been committed to educating and preparing citizen leaders who create change in the world. A mission of this magnitude begins with a focus on the individual student. Join us for a summer preview showcasing our campus community, introducing you to Dickinson's core values, and highlighting the many ways that students make this place their own. This preview will include a campus tour, student panel, academic session, light lunch in our dining hall, and one-on-one opportunity with the admissions staff.
Registration will be available soon.
Campus Tours
Explore Dickinson with a member of our Liberty Cap Society (student tour guides) and see Dickinson through the eyes of a current student. Tour highlights include academic buildings, a residence hall and campus facilities like the Holland Union Building (student center), the Kline Center (athletics facilities) and the Waidner-Spahr Library. Tours are offered on weekdays and advance registration is required.
To schedule a campus tour, please call 800-644-1773 or register online.
Information Session
A member of our counseling staff digs into the details and beyond the data. Attendees will discover the distinctive nature of the Dickinson experience, from our focus on active learning in the classroom to the success of our alumni.
Information sessions are offered most weekdays at 10:15 a.m.
Interviews
Interviewing can help us get to know you and learn more about your personal experiences, goals and aspirations for college; however, participating in an interview is not required for admission to Dickinson. If you wish to interview, you must do so before your application deadline. Interviews are available to current or rising high-school seniors or prospective transfer students.
For more information and to sign up for an interview, click here.
Self-Guided Campus Tour
Students and families interested in self-guided tours of campus are welcome to explore Dickinson. Maps are available in several red kiosks around campus and include a self-guided tour route with scannable content in many locations.
Available Virtually
View our full array of virtual visit options and explore Dickinson anytime, from anywhere!