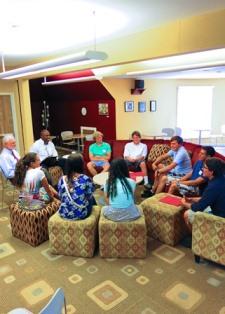 Interviewing is a great way for us to get to know you better and to help us gain insight into your personal experiences, passions and goals. Your interview at Dickinson is also an excellent opportunity for you to explore the college, get vital questions answered and enhance your application.
Interviews are offered for as many applicants and prospective students as possible but are not a required element of the application. Due to interview demand, students may only participate in one interview opportunity.
You may bring an unofficial transcript and/or activities resume to your interview. Thoughtful questions about Dickinson's programs, people and opportunities are also welcomed.
On-Campus Interviews
On-campus interviews last approximately 35 minutes (though you should reserve a full hour in your visit schedule) and are conducted by admissions counselors and trained student interviewers. On-campus interviews should be scheduled and conducted before your application deadline.
Interviews are available to prospective students starting in April of the junior year in high school. Dickinson offers interviews Monday through Friday at 9:15, 11:15 a.m. and 1:15 (except Wednesdays), 2:15 and 3:15 p.m. To confirm availability and schedule an interview in advance, please register online or call us at 800-644-1773.
Off-Campus Interviews
Off-campus interviews are available to prospective students should be requested no later than your application deadline. On and off-campus interviews are viewed equally by the Admissions Committee.
Interview Days
Dickinson will sponsor Interview Days in several locations in the summer and fall. These programs provide great opportunities to connect with admissions staff and alumni and parent volunteers. Check back for Interview Day locations and dates.
If an Interview Day is not being held in your area, please request an individual off-campus interview (see below).
Individual Off-Campus Interviews
These interviews are conducted by members of our interview team, sometimes in person and sometimes through Skype or other video conferencing programs. To request the interview, please use our off-campus interview request form or call 800-644-1773.
Forum
Forum, a group interview, is a discussion-driven experience in which prospective students interact with each other and members of the admissions staff. Forum highlights Dickinson's distinctive brand of liberal-arts education and gives you a preview of the types of discussion and dialogue your many encounter in our classrooms.
Forum is offered during select Discover Dickinson programs. For more information and to schedule in advance, call the Office of Admissions at 800-644-1773.