Prospective Students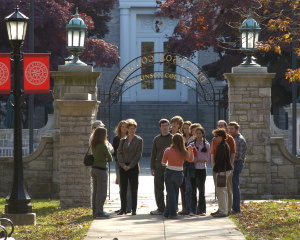 The music department strongly encourages you to schedule a campus visit by contacting Tara Fischer at fischert@dickinson.edu. During your visit you may sit in on classes and lessons, attend a concert and/or a rehearsal, and see for yourself what sets music at Dickinson College apart from other music programs within liberal arts settings.
Admission to Dickinson College is based on academic excellence. As the college values excellence in all artistic and intellectual pursuits, you may also elect to have your musical experiences and talents considered in the application process.
Application/Audition Process
For your musical interests and experiences to be considered in the application process, you must:

Complete the Common Application for Dickinson College and follow links (in the Common Application) to either

A) Schedule a live audition/interview (required for scholarship consideration)
or
B) Upload your music materials to SlideRoom
Live auditions/interviews are required for consideration for scholarships but not for admission to the college.
Uploaded Submissions from EDI, ST, EA and EDII Applicants for 2014 entry will be considered for scholarships based on recordings.

A) Live Auditions/Interviews
Live auditions/interviews (in performance, music history, theory and composition) give our faculty the opportunity to meet each candidate and to assess a his/her musical abilities, potential to be a scholarship recipient, and potential for success as a musician at Dickinson as music major, minor, or non-major. Likewise, an audition/interview is an important opportunity for you to meet our faculty, see our facilities, and assess how studying music at Dickinson matches your educational goals. Auditions and interviews are approximately 15-30 minutes long.
Scheduling live auditions/interviews
To schedule a live audition/interview, contact Tara Fischer at fischert@dickinson.edu or the Office of Admissions at (800) 644-1773. Ms. Fischer will then work in conjunction with the Music Department to schedule your visit. You will receive an automatic confirmation for your visit. Upon checking in on your scheduled day, you will receive your official itinerary, which will include all of your special requests.

Please schedule your auditions/interviews well before the deadline for the application plan under which you are applying. Music faculty are not available for unscheduled visits or auditions.

Students who wish to be considered for a scholarship but are not able to travel to Dickinson for a live audition/interview should submit a request for special consideration and explain the circumstances via email to Angela Barone at baronea@dickinson.edu.
B) Uploads: Online Submissions Only
Music faculty reviewing uploaded materials will assess a candidate's strengths and potential for contribution to and success in the music program and will make recommendations to the admissions staff.
If you wish for the music faculty to consider recommending you for scholarships, please see A) above and use the program "Live Audition/Interview Only" with the Common Application.
What to prepare for audition/interview or upload
Please follow the audition repertoire and material submission guidelines.
Do you intend to major in music?
If so, we strongly encourage you to schedule a campus visit and live audition/interview. Please see item A) above. This process is especially important for students who intend to study abroad in their junior year at Dickinson.
Audition Results
Music faculty assessments, whether based on live auditions/interviews (to be recommended by the music faculty for scholarships) or materials submitted online, are confidential. Music faculty communicate recommendations directly to the College Admissions Committee, which considers music-faculty recommendations in conjunction with your entire application to Dickinson College. The College Admissions Committee makes the final decisions with regard to acceptance to the College and scholarship awards.
For further information on admission or scholarships, please contact the Admissions Office at 800-644-1773 or admissions@dickinson.edu.
Questions for music faculty?
Please contact the appropriate Music Faculty with any questions regarding the music program or auditions and interviews.