Center for Global Study and Engagement
Dickinson College
P.O. Box 1773
Carlisle, PA 17013
Phone: 717-245-1341
Fax: 717-245-1688
global@dickinson.edu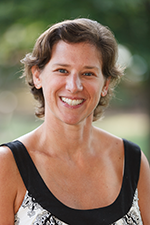 Samantha Brandauer
Executive Director of the Center for Global Study and Engagement and Associate Provost
brandaus@dickinson.edu (ext. 8068)
Samantha, a graduate of Dickinson College, earned her Bachelor of Art's degree in German and Anthropology. As an undergraduate she studied abroad in Cameroon, Germany, and France. She earned a Master's degree in International Communication from the School of International Service at American University. Samantha's professional experience includes having served as Programs Manager at the Institute of International Education; Study Abroad Advisor at the University of Maryland; Associate Director of the Office of International Programs at Brown University; Visiting Staff Member at the Danish Institute for Study Abroad in Copenhagen; and Assistant Director of Off-Campus Studies at Gettysburg College. Her research interests lie in the study abroad gender gap, intervention in student learning abroad, and development and assessment of intercultural competencies. In addition to numerous conference presentations, she recently published an article in the Journal of International Education in Business on experiential learning theory and intervention in learning abroad. As Associate Provost and Executive Director, Samantha is responsible for all global education programs, operations and services at the College, including Education Abroad and International Student and Scholar Services.

In her free time, she enjoys eating and cooking global cuisine utilizing locally sourced agricultural products, cycling through the rolling hills of southern central Pennsylvania, anything Austrian, and traveling with her family.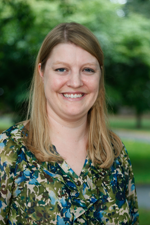 Sonja Paulson
Director of International Student and Scholar Support
paulsons@dickinson.edu (ext. 1343)
Sonja Paulson holds a Bachelor's degree in English from St. Olaf College (Northfield, MN) where she studied abroad in London and Florence. She earned her Master's degree from the University of Minnesota in Comparative International Development Education. Sonja spent three years teaching English in Slovakia between her undergraduate and graduate degrees.
Sonja joins Dickinson from Concordia College in Moorhead, MN, where she served as Assistant Director for the Office of Intercultural Affairs for five years. At Dickinson, Sonja serves as the PDSO for F-1 students and RO for J-1 students and scholars. She advises students in the maintenance of their visa status.
In her free time, Sonja enjoys local festivals and ethnic cuisine, treasure hunting at thrift stores and yard sales, and taking long walks with her dog. Having grown up in the Upper Midwest, she looks forward to immersing herself in Dickinson and Central Pennsylvania culture.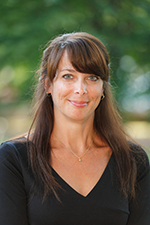 Kristine Barrick
Coordinator, Center for Global Study and Engagement
barrickr@dickinson.edu (ext. 1342)
Kristine brings more than ten years of Dickinson service and experience to her role within the Center. She oversees the Center's technology and information systems, as well as its outside reporting and institutional research efforts and obligations. She is responsible for, inter alia, data management, education abroad application processes, and evaluation and assessment reports. She works closely with the offices of the registrar and financial aid. She manages center budgets and expenses. And she advises students on select education abroad options.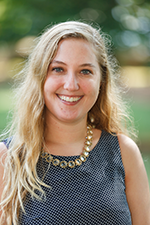 Stephanie Gulden
Program Associate, Education Abroad
guldens@dickinson.edu (ext. 1769)
Stephanie is a graduate of Gettysburg College, where she earned her Bachelor of Arts degree in Organization and Management Studies. She spent the fall semester of her junior year studying abroad in London and at Lancaster University in England. Stephanie got her start in education abroad first as a student worker and then post-graduation as Interim Assistant Director of the Center for Global Education at Gettysburg College. Stephanie hopes to continue her education by obtaining her Master's degree one day. At Dickinson, Stephanie works with students through the study abroad advising process. She also assists with event planning and oversees the Center's social media accounts.
In her free time, Stephanie enjoys baking, interior decorating, traveling, and spending time with her family and friends. She also likes playing tennis and enjoys learning about health and fitness.
Marissa Mitchell
Study Abroad Advisor/Coordinator
mitchmar@dickinson.edu (ext. 8192)
Marissa Mitchell holds a Bachelor's degree in International Studies, Political Science and Spanish from the University of Evansville in southern Indiana, where she studied abroad in the United Kingdom, Spain, South Korea, and China. She earned a Master's degree in International Studies from the University of Denver. After receiving her graduate degree, Marissa spent a year teaching English in rural Spain through the Spanish Ministry of Education. Before joining Dickinson, Marissa began her career in Education Abroad at the University of Evansville, first as the Coordinator of Short-term Programs Abroad, and then as a Program Coordinator. At Dickinson, Marissa works with students through the study abroad advising process and coordinates a portfolio of programs including Dickinson's programs in Cameroon, China, Germany, Japan, Latin America, Russia and Spain.
In her free time, Marissa enjoys traveling, hiking, and watching football. As a native Coloradan, she continues to cheer on the Denver Broncos no matter where she is.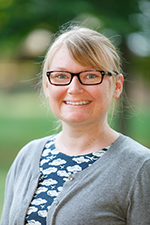 Leslie Miller
Administrative Assistant
millerle@dickinson.edu (ext. 1341)
Leslie holds a bachelor's degree in Liberal Arts from The New School and is currently working towards her Master's in Public Policy. From her office at the front desk of the CGSE, she is the first point of contact for student, parent and faculty questions and assists CGSE staff with special projects and day-to-day office operations. She oversees the office email account and works closely with CGSE staff, the GEAC committee, student workers and various inter-campus departments to support collaboration and to ensure effective communication. In her free time, Leslie enjoys cured meats, learning new things and spending time with her family and friends.