Carlisle Borough Ambassador 2020-21 Reflection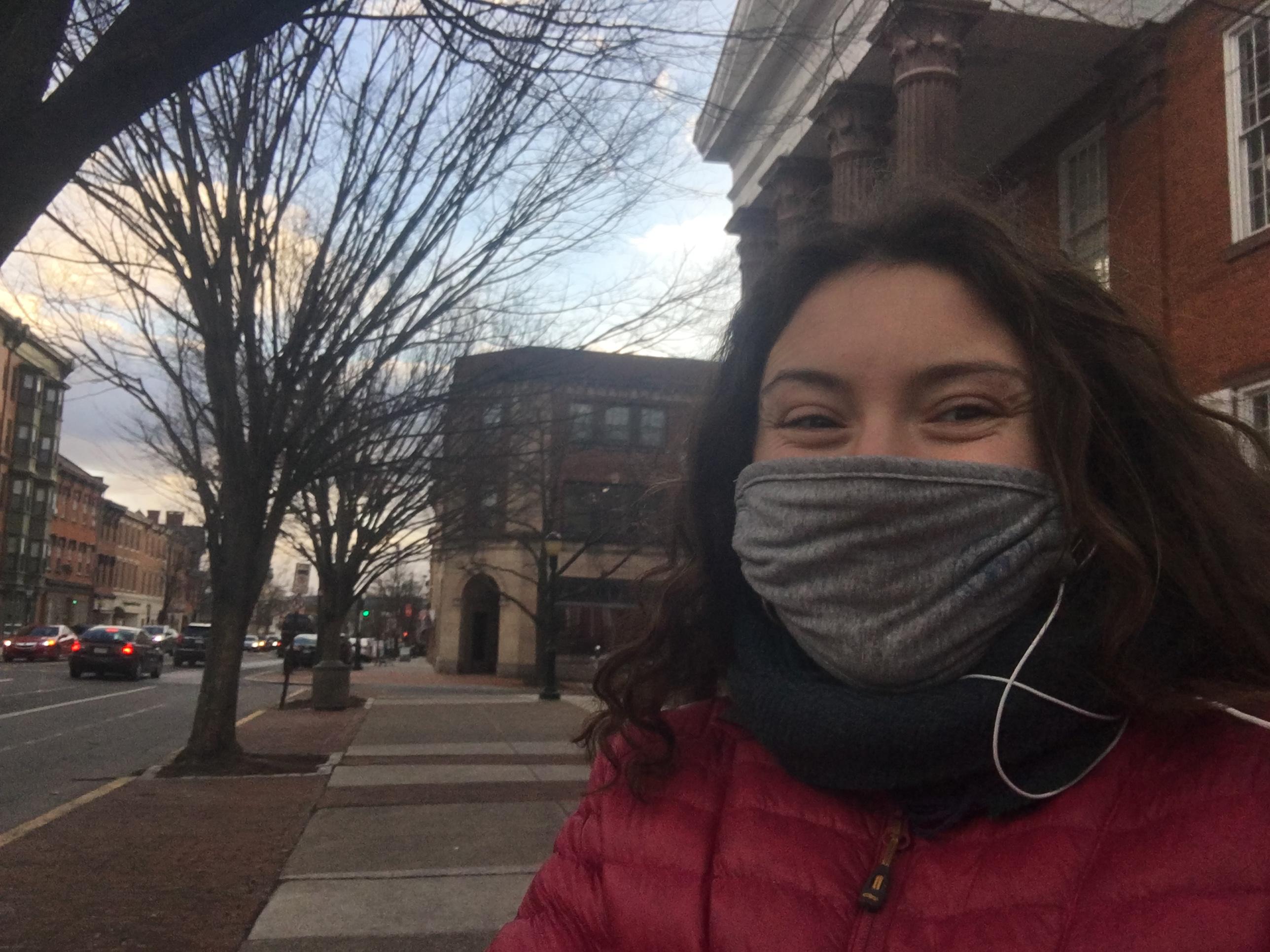 From National to Local: Carlisle Borough Takes Strides for Anti-racism
By Espoir DelMain '21
In the past year, the Carlisle Borough and the community have been proactive in responding to the interconnected layers of a global pandemic, addressing national systemic racism and police brutality against Black people and communities of color, and responded to a tense presidential election. What a year to be involved in politics! I have been community and campus organizing for many years now and this fall was my first foray into local government. As Dickinson College's Ambassador on the Borough Council, I have been able to experience all the work that happens at a local level to keep our municipality running.
Coming from an organizing background, I have been able to develop a new understanding of local government structures and systems, but thanks to the generosity of the Borough employees as well as elected officials, I have been able to learn a lot of details about the behind the scenes work as well. Originally, I did not know the extent of the Borough's responsibilities. It has been eye opening to learn from Council members and Borough employees as to how they address big picture issues and more focused concerns such as storm drains, LED lights, and lawn mowers. While the Borough manages things like stormwater and EMS services, they have also been supporting local and small businesses. The Borough has also worked with community members and Dickinson College to promote safe shopping and eating. I have learned the significance of balancing the short-term and long-term perspectives when using the skill of organization. In local government, however, organizing works differently. Things move on a very specific timeline and much of the work happens in semi-public ways. The Facebook live-streamed Council meeting is one example of the semi-public method used for communication. Since the Borough has to plan in advance, I sometimes wonder how they tackle issues that are brought up by a community member or arise at a Council meeting. Even though I know there is more to learn about the specific projects that the Borough and its committees are taking on, I know that each of the committees works very hard taking care of the responsibilities in their area of expertise and following through with all mandated services that the Borough provides.
Although nationally there are conversations taking place about how to address government systems and structural and cultural racism, a community member at an October meeting said that Carlisle is "an example of how things could be". In the past year, the Movement for Black Lives gained momentum nationally due to police brutality. Locally, the Carlisle Borough recognized these countrywide issues. Weekly Black Lives Matter rallies were held at the Square and a group called Carlisle for Justice Transparency launched. This group is holding the police department accountable by questioning budget increases due to new firearms. I met fire chiefs, police chiefs, and engineers working for the Borough of Carlisle, and I saw useful communication take place. In addition, there has been incredible action on the part of the Borough when they publicly apologized for historic discrimination against Black people, and specifically, the mistreatment of the Lincoln cemetery. This was powerful for me to see because it demonstrated how local governments can create a culture of accountability.
In high school, I remember learning about how the US as a country has not apologized publicly or formally for many of the atrocities it has contributed to- and the few times it has it has been very significant. In 2010, the US apologized for American experiments on Guatemalans in the 1940s, and in 1993, it apologized for its role in the overthrow of the Hawaiian Monarchy. The fact that Carlisle is acknowledging their history in this way is a big deal, and to me it shows the depth of work that can happen at a local level in a way that does not happen nationally. Although the Borough may have only used words to recognize and apologize for mistreatment of the cemetery, a framework for addressing omnipresent histories of racism was initiated.
Seeing the duality of police departments working hard to protect the community and groups challenging their priorities is very telling of the moment we all find ourselves in today. While the problems we face come to light in new ways, it can feel overwhelming to try and think about how each of us can show up for the work that needs to be done in both big and small ways. Recognizing that some of these issues are just starting to get the recognition and support they deserve, a significant amount of progress was made in the last seven months. This semester, while working in the Carlisle government, I was inspired by the myriad of ways people are participating in and engaging with our community. Resolutions offer a framework through which continued action can be ensured. Legislation like that of an apology for histories of racism condoned by the Borough is important because it shows how the Borough is embodying the changes we want to see. The decriminalization of marijuana possession, a charge that disproportionately puts Black people in prison, offers another example of how elected officials ensure that our local government contradicts systemic racism that has existed throughout history at a national level.
I have been involved in the Carlisle community since my freshman year in 2017, but this year has felt particularly impactful as the Borough Council Ambassador. I feel like I have gained momentum and I have begun to see and better understand the many things people in Carlisle are doing to be stewards of their community. I feel incredibly grateful for the role models I get to learn from and work alongside on the Borough Council. Many Borough employees, elected officials, and appointed officials have taken time to talk to me about their work and I appreciate the opportunity to be part of creating reciprocity between Dickinson College and the Borough.
Promoting a beneficial exchange between communities of the College and Carlisle is important for many different reasons. One of which is cultivating sustainable structures for action and advocacy. The murder of George Floyd in my hometown of Minneapolis and my work with the Borough this fall taught me that, especially as white people, we must hold ourselves accountable to being part of an anti-racist reality and future. The structures of reciprocity must also reflect the many different facets of communities since historically the relationships between groups is not always the same. As such, policy, projects, initiatives, and public ordinances all have an impact and I have had the privilege of starting to learn how each can be effective. Most recently, when working with community leaders and Dickinson faculty and staff on the preliminary phases of a public art project for the Spring semester, I learned about the structures through which ordinances, planning and policies occur.
Some other work and projects I have been engaging with include the Community Engagement Team as part of the Climate Action Planning process, and the Carlisle Community Action Network (CAN). It has been incredible being part of these initiatives at different points of their evolution. Whether the group is just establishing their work, or having done it for the last decade, participating in these different groups has helped me learn about the cycles and stages projects might go through in local government. I learned about who needs to be at the table and I have gained new insights into how change occurs at different levels. I think these are some of the most important skills in community and political organizing work, and as the Carlisle Borough Ambassador this year, I feel privileged to be included in these spaces and conversations.