2020 Presidential Fellowship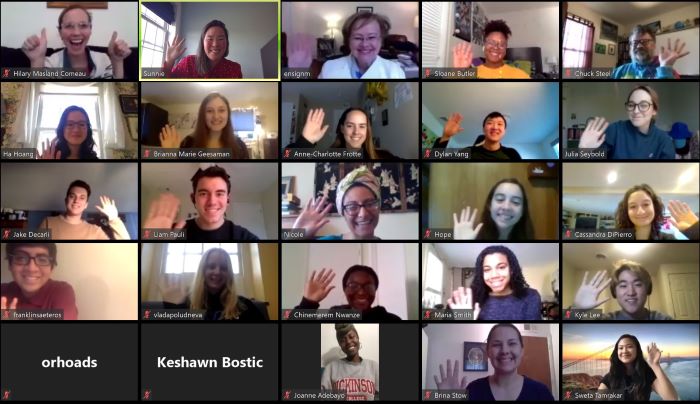 The 2020 Presidential Fellows meet on Zoom with President Ensign to officially begin the program.
Last summer, Dickinson launched the Presidential Discovery Initiative, an alumni interview program designed to help the college gather graduates' hopes for Dickinson's future and better understand how the Dickinson experience has shaped graduates' lives.
As part of this initiative, the college hired a select group of students to serve as presidential fellows and conduct the interviews. This paid fellowship presents exceptional students with an opportunity to conduct original research that will better inform Dickinson's strategic planning while gaining marketable skills in the social sciences, communications and nonprofit development. Twenty-nine students, representing a variety of majors, were awarded the fellowship at the close of the spring semester.
Prior to the structural change to our semester due to COVID-19, we were well into the planning for this year's 2020 Presidential Discovery Initiative. With the program's successful inaugural summer in 2019, the staff and students involved for this year were extremely excited to continue this important work; learning the stories, experiences and opinions of our alumni from all across the country in order to help shape Dickinson's future. After much thought and consideration, we have decided to continue the program virtually and are hopeful you will take part in an interview this summer!
2020 Presidential Fellows
Anne-Charlotte Frotte '23
Chinemerem Nwanze '23
Jacob DeCarli '22
Keshawn Bostic '21
Sweta Tamrakar '22
Vlada Watkins '21
Brina Stow '22
Cassandra DiPierro '23
Liam Pauli '21
Maria Smith '22
Olin Rhoads '21
Dylan Yang '23
Joanne Adebayo '21
Krystal Ramirez '21
Kyle Lee '22
Brianna Geesman '21
Franklin Saeteros '22
Hope Stollsteimer '23
Julia Seybold '21
Sloane Butler '23