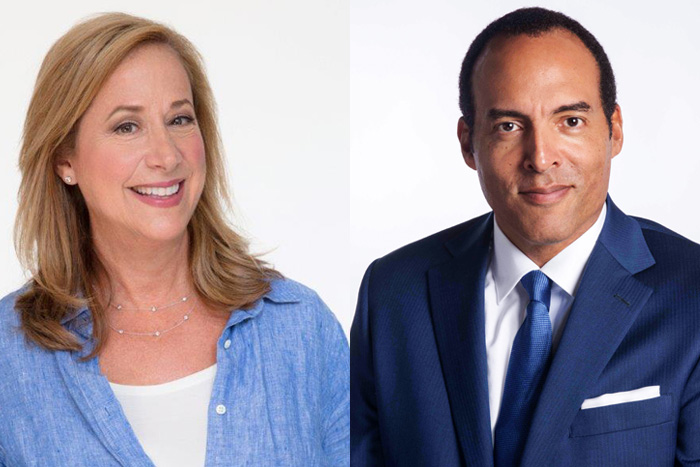 Lisa Sherman '79, president & CEO of the Ad Council and Dickinson trustee, will address graduates and receive a Doctor of Public Service honorary degree. Michael B. Moore, vice president and diversity and inclusion officer at Blackbaud and founding CEO of the International African American Museum in Charleston, South Carolina, will receive a Doctor of Public History honorary degree.
Lisa Sherman '79
Doctor of Public Service
Lisa Sherman is an innovative leader and accomplished operating executive with deep experience building, transforming and growing private and nonprofit organizations. Since 2014, she has served as president and CEO of the Ad Council, leading all aspects of this national institution that convenes the world's best marketers to produce pro-social, public engagement campaigns around the most pressing issues facing the country.
Under Sherman's leadership, the Ad Council launched the groundbreaking "Love Has No Labels" campaign that promotes acceptance and inclusion of all people. In 2015, the campaign's first video "Skeletons," became the first public service ad (PSA) to win an Emmy Award for Outstanding Commercial, and to date, it is the second most-viewed community and activism campaign of all time with more than 164 million views. Most importantly, "Love Has No Labels" has had significant impacts on shifting behaviors and attitudes towards bias and inclusion.
Sherman also has led Ad Council campaigns tackling LGBT acceptance, gun safety, breast cancer awareness, opioid abuse, teen bullying and teen suicide prevention, STEM for girls, voter engagement, and sexual harassment. Of those breakthrough campaigns, former NAACP president Bruce Gordon said, "They represent the underrepresented. They protect the unprotected. They inspire the dialogue that too many would opt to avoid. They reinforce those of us who consider ourselves to be woke. And they serve as a wake-up call for those who need it." Gordon, also a former Verizon executive and Sherman's mentor and friend, made those comments in 2019 as he presented Sherman with the coveted Matrix Award from the New York Women in Communications, one of many industry and community service awards she has received.
In March 2020, Sherman led the Ad Council's immediate response to the COVID-19 pandemic, which included critical messaging about wearing masks, social distancing and staying home when possible, while also addressing issues exacerbated by the pandemic, such as racial justice and inequity, gun safety, mental health, and more. In November, the Ad Council announced its initiative with the COVID Collaborative to educate the American public about the COVID-19 vaccines—with more than 300 partners involved, including medical experts, brands and corporations, government agencies, sports leagues, celebrities, pharmacies, faith-based organizations, and more, it's the largest and most critical communications effort in American history.
Prior to the Ad Council, Sherman was at Viacom, where she built a powerful media business, launching and leading Logo TV, the first cable network for LGBTQ audiences. She also held a number of senior operating roles at Verizon, ad agency Hill Holliday, and the Women's Sports Network, the venture-capital backed marketing company she co-founded and one of the first marketing companies that connected brands with women and girls through sports.
Sherman is an active participant on advisory boards for several industry and public service organizations, including the World Economic Forum's Information and Entertainment Stewardship Board. She also is an advisor to Guild Education and a member of the Dickinson College Board of Trustees and President's Panel on Innovation. In her Matrix Award acceptance speech, Sherman said "the best job on the planet" is aspiring to do work that truly matters, "creating the life we want to live. Creating the world we want to live in. That is the ultimate project."
Michael B. Moore
Doctor of Public History
Michael Boulware Moore built a successful career in brand management at Coca-Cola and at Kraft, where he oversaw the iconic Coca-Cola and Jell-O gelatin brands. He went on to became chairman and CEO of Glory Foods—the leader in Southern, seasoned foods—led The Brand Farm, a boutique marketing consulting practice and served in multiple C-suite corporate roles. A thought-leader on brand strategy, consumer behavior, social justice and African American history, Moore most recently was founding CEO of the International African American Museum (IAAM) in Charleston, South Carolina, which is scheduled to open in 2022.
The IAAM will be located on the former Gadsden's Wharf, the predominant site of arrival for enslaved Africans who were taken from West Africa, entered North America in Charleston, endured hardship and cruelty, and then contributed so significantly to the greatness of America. Moore led the IAAM's $100 million capital fundraising effort, recruited a world-class staff and was responsible for the development of the museum experience, which will tell important narratives that have been overlooked in most history books and promote compassion and empathy across all races and ethnicities.
Moore's work is informed by his own family history. He is the great-great-grandson of Robert Smalls, the Civil War hero who liberated himself and his family by commandeering the Planter steamer ship in Charleston Harbor in 1862 and who served five terms in the U.S. House of Representatives during Reconstruction. Moore also is the great-grandson of attorney Samuel Jones Bampfield, a Charlestonian who was a leading businessman, clerk of court and state legislator. Additionally, Moore's cousin, the Honorable Harold S. Boulware Sr., was a South Carolina judge who served with Thurgood Marshall on the legal team that won the landmark Supreme Court case, Brown vs. Board of Education.
"My ancestors arrived at Gadsden's Wharf, and I am proud to have played a role in creating a museum and memorial that commemorates their lives and the lives of the tens of thousands of others who took their first steps into America on that hallowed ground," Moore said.
Moore is the author of Bridging the Gaps: The Love of Marketing, an Amazon bestseller on brand strategy and consumer behavior, and he writes and speaks frequently about issues of social justice and African American history. Currently, Moore is the VP, Diversity and Inclusion Officer at Blackbaud, the world's leading cloud software company. He serves on the boards of St. Mark's School in Southborough, Massachusetts, and Nation United Foundation He is an advisor to The National Civil War Museum and Reconstruction Beaufort.