Elaine Livas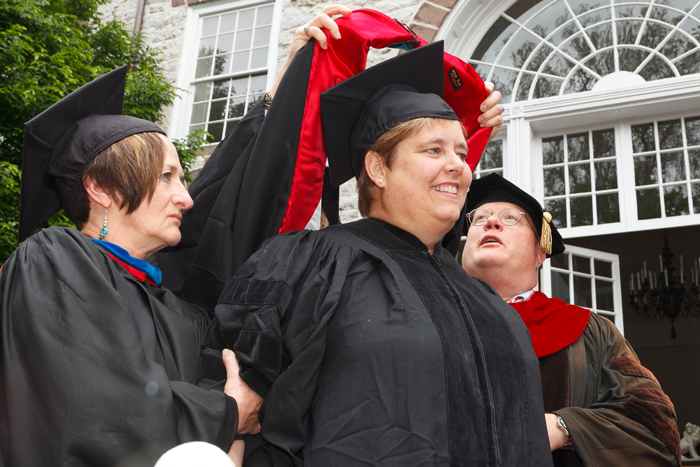 Commencement Exercises, May 22, 2016
Elaine Livas '83
Doctor of Public Service
Citation presented by Susan D. Rose
Chales A. Dana Professor of Sociology
Conferring of the degree by Nancy A. Roseman, President
As the founder and executive director of Project SHARE (an acronym for Survival, Help and Recipient Education), you have dedicated your life's work to creating a more caring and compassionate community. You have supported and improved the lives of literally thousands of low-income families in the Carlisle region. You have also inspired the lives of hundreds of others whom you welcomed to be part of your efforts. So many Dickinsonians have been involved in Project SHARE through service learning courses and service days, internships and independent studies. An alumna wrote, "Elaine Livas' remarkable open door policy welcomes everyone. She wants the very best for all individuals who gather there to rise above the challenges of everyday life—this includes volunteers, staff and recipients alike." You have recruited and educated dozens of students and faculty, athletic teams, sororities and fraternities, service organizations, CommServ volunteers, Montgomery Service Leaders and Baird Fellows to become aware, active and engaged volunteers.
A native of New England, you graduated cum laude with a major in anthropology and a minor in Russian from Dickinson College in 1983. Inspired by the plight of people you met in Carlisle who were struggling to feed themselves and their families, you founded Project SHARE in 1985 with the support of area churches to provide food to those in need. Under your leadership, more than 65 organizations throughout the region are now working together, providing food and nutrition classes to their neighbors—both adults and children—who live below the poverty level. More than 35 local farmers donate fresh produce, gleaned by Project SHARE volunteers and recipients, so that those in need have greater access to fresh fruits and vegetables. Your concern about providing access to quality food reaches far beyond our local community; your testimony about the need for food pantries to go beyond offering junk food was cited in the state's Blueprint for a Hunger Free Pennsylvania.
Influenced by your Quaker faith, your philosophy that "it is not how caring your job is but how much caring you bring to the job" infuses your work with those who find themselves homeless or in prison or in need of medical care they can't afford. Your commitment, determination and faith in advocating for others is what has grown Project SHARE from the back of your car when you were a Dickinson student to the robust organization it is today. Were it not for your leadership, the realities of hunger in Carlisle would look much grimmer today.
In recognition of your remarkable work, you have received numerous awards, including the Carlisle Area League of Voters Community Service Award, the Jefferson Award for Outstanding Public Service, and the Alexis de Tocqueville Humanitarian Award from the United Way of Carlisle & Cumberland County. In 2007, you were named one of the 25 Most Influential Dickinsonians by Dickinson Magazine.
Madam President, for her engaged and empathic citizenship, her humble and generous spirit that has made such a difference in the lives of so many people and this community, and for serving as a model extraordinaire—for myself, for generations of Dickinsonians, and for our entire community—I am humbled and honored to present to you Elaine Livas, class of 1983, for the honorary degree of Doctor of Public Service.
*****************
Elaine Livas, upon the recommendation of the Faculty to the Board of Trustees, and by its mandamus, I confer upon you the Degree of Doctor of Public Service, honoris causa, with all the rights, privileges and distinction thereunto appertaining, in token of which I present you with this diploma and cause you to be invested with the hood of Dickinson College appropriate to the degree.
---
---