David Satcher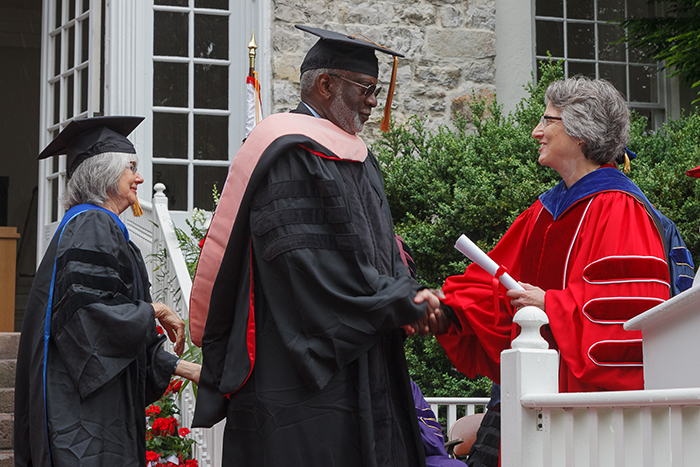 Commencement Exercises, May 22, 2016
David Satcher
Doctor of Public Health
Citation presented by Marie Helweg-Larsen
Professor of Psychology
Conferring of the degree by Nancy A. Roseman, President
Your life has been marked by getting doctors to patients who don't have them. As a child growing up in rural Alabama in the 1940s, you nearly died. As your mom frequently recounted, you were two years old with a serious infection caused by whooping cough, and no doctor or hospital was available to help a rural family like yours. A black local doctor did come to your parents' farm on his day off, and after treating you, he told your parents that he did not expect you to live.
But live you did, and you have often credited this transformative experience for inspiring you to become a physician. After graduating Phi Beta Kappa from Morehouse College in Atlanta in 1963, you just could not choose between a career in science or in medicine, and you went on to a joint M.D./Ph.D. in cell biology at Case Western Reserve University. Your research was in cytogenetics, and you examined the impact of radiation on chromosomal damage. You described these seven years as enjoyable because you were able to combine patient contact, scientific research and community involvement.
This was just the beginning of your lifelong commitment to community. You have modeled for others how important it is to get young people interested in the health sciences and demonstrated that they can make a difference through their actions. You have improved public health by promoting good laboratory and behavioral science and nurturing in young people a strong desire for providing service to the community.
You were director of the Centers for Disease Control and Prevention (CDC) from 1993 to 1998. There you worked to increase childhood immunization, improve women's health care and establish a centralized HIV/AIDS program. In your leadership at the CDC you also focused on health as a global problem and established worldwide strategies for controlling emerging and resurgent infections such as Ebola, AIDS and tuberculosis.
You were appointed U.S. surgeon general by President Bill Clinton in 1998 and continued to serve into President George W. Bush's first term until 2001. You also simultaneously served as assistant secretary for health—becoming only the second person ever to serve in both positions. As the nation's top physician, you brought attention to the problems of suicide, mental health stigma, and smoking and called for action to promote sexual health and responsible sexual behavior among adolescents and adults.
In 2006 you founded the Satcher Health Leadership Institute at the Morehouse School of Medicine, where you train leaders who can develop and promote fair and inclusive health system strategies. At this center you have continued to work on improving public health for everyone and building leaders who can continue your work on eliminating health disparities for minorities, the poor and other disadvantaged groups.
Madam President, for his achievements in public health, in reducing ethnic and racial disparities in health care and improving the health of people in underserved communities, I am honored to present to you Dr. David Satcher for the honorary degree of Doctor of Public Health.
*****************
Dr. David Satcher, upon the recommendation of the Faculty to the Board of Trustees, and by its mandamus, I confer upon you the Degree of Doctor of Public Health, honoris causa, with all the rights, privileges and distinction thereunto appertaining, in token of which I present you with this diploma and cause you to be invested with the hood of Dickinson College appropriate to the degree.
---
---