Governor Tom Wolf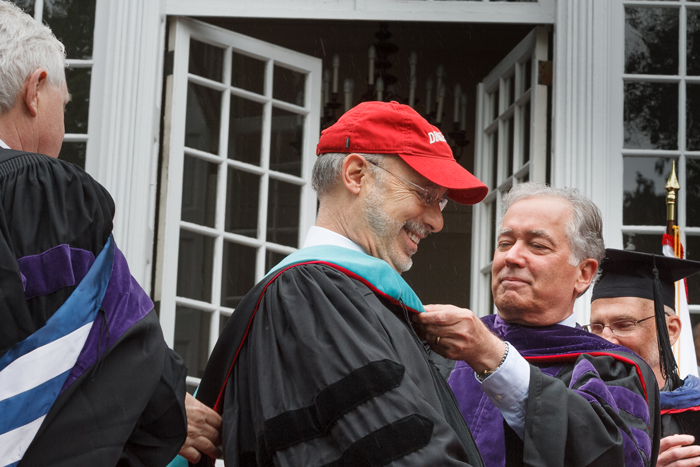 Commencement Exercises, May 22, 2016
Governor Tom Wolf
Doctor of Public Service
Citation presented by James Hoefler
Professor of Political Science
Conferring of the degree by Nancy A. Roseman, President
Governor Tom Wolf. Your life might remind us all of "The Road Not Taken."
You were born and raised in Mt. Wolf, Pennsylvania: a town named for your great-great-grandfather and just 40 miles south of where we now stand. As a young high school graduate, you could have taken the road here to Dickinson, like many of the wise, young scholars seated before us. But no, you took a different and longer road, to a small, little-known school in snowy New Hampshire that also begins with a "D."
There, you could have done your four years without a break. But no: At the tender young age of 19, the siren song of public service called you away to the Peace Corps and two years of service in a rural rice-farming village in India.
You returned to Dartmouth to finish your degree. But rather than return to York, to join your family's business, you took another road, this time to earn a master's degree at the University of London.
It is here you met your wife-to-be Frances—where all good scholars meet their match—in the library.
From there it was back to the colonies; not to York, though, but to MIT. Here you earned a Ph.D. in the master science: Here, of course, I speak of political science. You also won the Schattschneider Prize for your 500-page thesis, judged to be the best political science dissertation completed in the nation that year.
You were also offered a tenure-track position at Harvard.
Would you take that road? No! Your path would lead back home, to Mt. Wolf, where you finally joined the family business.
Would you start with a white collar, as the business's heir apparent? No, Tom Wolf, you would start with a blue collar and a more interesting title: fork lift operator.
In the meantime, you and Frances settled down to raise two daughters, both of whom you are rightly proud:
Sarah, an architect, and
Kate, a geologist.
You and Frances also became pillars of the community:
serving on boards too numerous to list,
donating money to a litany of charities and causes, and
bettering the community in which you lived beyond any traditional measure.
In the meantime, you built the Wolf Organization into the largest distributor of kitchen cabinets in the country, while also sharing one quarter of all net profits with the workforce.
Then, in 2014, you decided that it would be a good time to run for governor. You rose in the polls from an asterisk in January to an asteroid in November, winning the general election, going away with 55 percent of the vote.
To be honest, the road since then has been tough, tougher than even a political scientist might have predicted. But dither you didn't. Instead, you have used the Governor's powers of executive order:
To expand protections from discrimination based on sexual orientation, gender expression, or gender identity for all state employees and for all employees of contractors doing business with the commonwealth.
You also increased access in our schools—and across the commonwealth—to Naloxone, which reverses the potentially deadly effects of drug overdose, which, by the way, has surpassed traffic accidents to become the leading cause of accidental death in the country.
Finally, and surely most importantly, with the stroke of your pen, you have expanded Medicaid in the state in order to cover more than 600,000 Pennsylvanians who were not previously covered, including 160,000 children.
Two roads diverged in Penn's Woods
And you, Governor Wolf —
You have always taken
The one less traveled by
And that
Has made all the difference.
Madam President, for his achievements in public service, and his exemplary leadership of and within the Commonwealth of Pennsylvania, I am honored to present to you our commencement speaker for 2016—Governor Thomas Westerman Wolf—for the honorary degree of Doctor of Public Service.
*****************
Governor Tom Wolf, upon the recommendation of the Faculty to the Board of Trustees, and by its mandamus, I confer upon you the Degree of Doctor of Public Service, honoris causa, with all the rights, privileges and distinction thereunto appertaining, in token of which I present you with this diploma and cause you to be invested with the hood of Dickinson College appropriate to the degree.
---
---