David Kim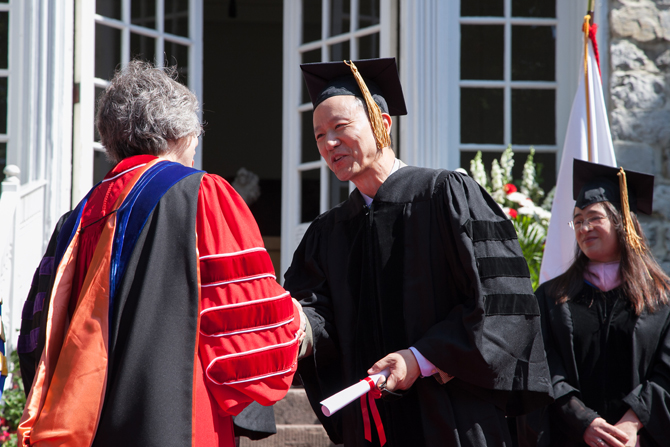 Citation presented by Blanka Bednarz, Associate Professor of Music

Conferring of the degree by Nancy A. Roseman, President

David Kim, we honor you here today for your outstanding artistic contributions to humanity through music.

Though only five of the nearly 600 members of the class of 2014 are music majors, your career and accomplishments evince the value and rewards of perseverance and passion in pursuit of a chosen field—in your case an art form that enriches not just those who perform it, but also those audience members who are graced as listeners.

A native of Carbondale, Ill., you began to study the violin at the age of three. At only eight years old, you were invited to study with Ms. Dorothy Delay, the international Grande Dame of violin pedagogy. Your talents earned you acceptance to the esteemed Julliard School of Music, where you earned your bachelor's and master's degrees. You made history as the only American violinist to have won a prize at the prestigious Tchaikovsky Competition in Moscow in 1986. You continued to enjoy international success, including being a 1990 prizewinner at the International Violin Competition in Indianapolis. Accomplishments such as these established you as an internationally renowned artist. Since then, you have performed as a soloist with numerous orchestras and under the top conductors in the world, as well as at the most prestigious festivals and venues. Your playing has been hailed for its extraordinary quality, brilliance, grace, elegance, virtuosity and stylistic nuance by critics around the world.

In 1999 you won the coveted position of concertmaster of the Philadelphia Orchestra, hailed as one of the best orchestras in the world, and as its leader you have inspired countless members of the audience as well as your colleagues. You are described as "one of the most genuine, kind and open people" possessing "remarkable humility, honesty and self-awareness on display, as [you] talk about [your] own experiences that led [you] to discover that it is possible to lead effectively with kindness and generosity." These accomplishments have led you to receive honorary degrees from Eastern University and the University of Rhode Island.

You are also tireless in bringing music and sharing your knowledge and experience to students across the world. A highly sought after pedagogue, you frequently give master classes at preparatory schools, youth orchestras, universities, conservatories and colleges. Generous of spirit and passionate about educating younger generations of musicians and music lovers, you founded the Kingston Chamber Music Festival at the University of Rhode Island and directed it for 20 years. You also founded an annual outreach program through which you introduced music to and inspired countless school children. This year alone, you are visiting professor at the University of Texas, concertmaster of the All-Star Orchestra in New York City, and have shared your talents on PBS.

Here at Dickinson, we treasure our special relationship with you, in which your talents as a performer and teacher have benefitted our community directly. In the Philadelphia Orchestra you hold the Benjamin Rush chair, a connection in which the college, founded by Dr. Rush, takes great pride. Those of us who had the pleasure to attend your recital at Dickinson in fall 2011 (which inaugurated the newly renovated Rubendall Recital Hall) will never forget your stunning performance. That year, you also worked with Dickinsonians in a master class—their enthusiasm and gratitude to you is immeasurable, as is ours. In January 2013 you returned to work with our students and faculty in an inspiring three-day residency that culminated in a performance of an all-Mozart program, including a Piano Concerto and Eine Kleine Nachtmusik. The concert was performed without a conductor, with you leading us from the concertmaster chair. It was a deeply moving experience for our entire community.

Madam President, for his demonstration of excellence in the field of music, for living a model life of the artistic potential in each of us—a model for this community, this college, and the class of 2014¬—I am honored to present to you Mr. David Kim for the honorary degree of Doctor of Arts.

David Kim, upon the recommendation of the Faculty to the Board of Trustees, and by its mandamus, I confer upon you the Degree of Doctor of Arts, honoris causa, with all the rights, privileges, and distinction thereunto appertaining, in token of which I present you with this diploma and cause you to be invested with the hood of Dickinson College appropriate to the degree.