H.F. Lenfest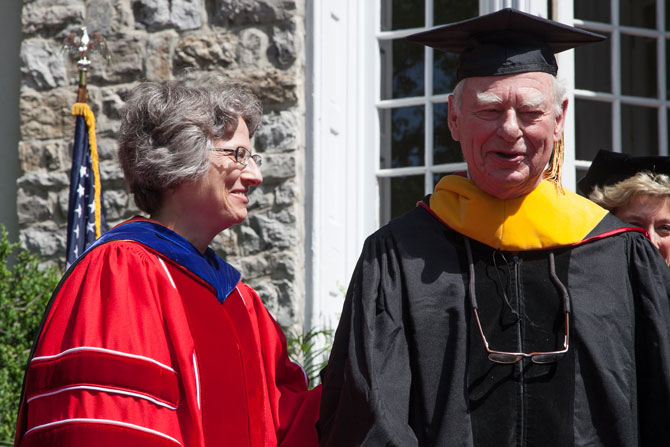 Citation presented by Stephanie Balmer, Vice President for Enrollment, Marketing & Communications and Dean of Admissions

Conferring of the degree by Nancy A. Roseman, President

H.F. Lenfest, your path has been as steady as it has been successful, and you've always dedicated yourself to generously sharing that success with others. You've set the bar high, as your and Marguerite's giving has benefitted an astonishing array of causes to the tune of more than one billion dollars through the Lenfest Foundation and private donations.

This path started, fittingly for us today, in the liberal arts, when you majored in economics at Washington & Lee University. After two years in the U.S. Navy, you headed to New York to attend Columbia Law, which led to your larger-than-life career in the communications industry. In 1965, you were corporate counsel for Walter Annenberg's Triangle Publications and within five years became the managing director of the company's communications division. Four years later, you launched Lenfest Communications with the purchase of two cable companies from Annenberg.

A unit of Lenfest Communications, Suburban Cable TV, became the Philadelphia region's largest cable operator, and then Comcast Communications bought it for more than seven billion dollars in 2000. It was that year that you and Marguerite established the Lenfest Foundation and quickly set your philanthropic priorities—among them providing college scholarships for rural Pennsylvanians and funding early childhood education and out-of-school programs for disadvantaged youth. You branched out into the arts, becoming a champion of Philadelphia's Barnes Foundation, and the environment, creating the Lenfest Center for Sustainable Energy at Columbia University and the Lenfest Oceans Program. It's no accident that you're an honorary trustee of the Chesapeake Bay Foundation.

You've also turned your sights on history, particularly in dedicating yourself to saving precious pieces of it. Your time in the Navy wasn't limited to the two years from 1953 to 1955. In fact, you remained in the naval reserves for 24 more years and retired with the rank of captain. So maybe it's not surprising that one of your philanthropic endeavors involves a ship, the USS United States, a piece of American history headed for the scrapyard. You came forward to save what you called "an icon of American pride." You also spearheaded the Museum of the American Revolution with a 40 million dollar challenge grant, which was met and exceeded.

You also fought to bring Teach for America to Philadelphia with a 2007 challenge grant of 10 million dollars. It's been efforts such as these that prompted former Philadelphia mayor and Pennsylvania governor Ed Rendell to declare you and Marguerite the city's "go-to couple."

This giving has been absolute as well. In June 2010, you and Marguerite signed the Gates-Buffett "Giving Pledge," thereby committing the majority of your wealth to charity. And not being content with giving monetary gifts, you have made an enduring gift of your time as well, chairing or having chaired the boards of the Museum of the American Revolution, the James Madison Council of the Library of Congress, the Philadelphia Museum of Art and the Curtis Institute of Music.

There has been little of yourself that you have not given to make the world around you a better place, and your generosity will only be exceeded by the legacy you and Marguerite leave behind.

For his commitment to building a brighter future through innovation, education and sustainability, it is my honor to present H.F. Lenfest for the honorary degree of Doctor of Philanthropy.

H.F. Lenfest, upon the recommendation of the Faculty to the Board of Trustees, and by its mandamus, I confer upon you the Degree of Doctor of Philanthropy, honoris causa, with all the rights, privileges, and distinction thereunto appertaining, in token of which I present you with this diploma and cause you to be invested with the hood of Dickinson College appropriate to the degree.