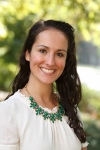 Welcome to Dickinson College! My name is Mary, assistant director of admissions and proud graduate of the class of 2012.
As a Dickinson student, I majored in history, pursued my passion for dance, and studied abroad in Norwich, England. Traveling with the Norwich Humanities Program, I explored academic and cultural opportunities with fellow Dickinson students and professors at the University of East Anglia. Following my tenure in England, I lived in Dublin, Ireland, interning at the National Folklore Collection and attending an international conference on Celtic studies. My experience abroad influenced my senior thesis research and inspired me to choreograph a dance piece for the main stage. My education at Dickinson prepared me well for my graduate work at Villanova University, where I studied education and received my teaching certificate.
At Dickinson, I could delve into my passions while exploring new perspectives and expanding my comfort zone. Look forward to Dickinson challenging you to visualize concepts on a global level and empowering you to try new activities and become a responsible global citizen. Dickinson provides a close-knit community that advocates service, experiential learning and motivation to achieve goals. While each student's undergraduate experience is different, Dickinson provides a useful foundation for success no matter what one chooses to pursue in life.
As your regional counselor, I strive to get to know you as an individual and help you learn more about Dickinson. Your college search should be about finding a college that "fits," and I hope to help you find your passion as you navigate the undergraduate admissions process. Please do not hesitate to contact me at chobanim@dickinson.edu. I look forward to hearing from you!
Mary Chobanian Aguirre '12
Assistant Director of Admissions