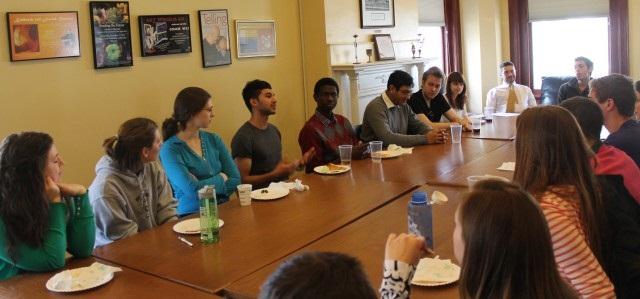 "Leaders of Dickinson's Religious Life student groups gather for a discussion on various interfaith topics and issues."
There are many student groups on campus that are religiously organized. Please contact individual groups for more information, event schedules and meeting times.
Dickinson Christian Fellowship
Dickinson Christian Fellowship (DCF) seeks to create a space where anyone, regardless of their spiritual background, can gather to learn and unpack what it means to follow Jesus as college students. We have bible studies, worship nights, speakers, and host events like Grilled Cheese Text Please where we answer your spiritual questions and deliver a free grilled cheese! DCF is a chapter of InterVarsity Christian Fellowship USA.
Contact: dcf@dickinson.edu
Hillel is a Jewish Organization for the Dickinson College community dedicated to providing opportunities for religious observance, cultural awareness and Tikkun Olam (Community Service).
Contact: hillel@dickinson.edu
Muslim Student Association
This group of students of the Muslim faith build community and understanding of the Muslim culture and religious traditions through holiday celebrations, small group gatherings and club meetings. This is a reorganizational year to bring MSA back into the fold of active student Religious Life groups on campus. Transportation is available to the Islamic Peace Center for Friday services at 1:15 p.m. Interested in learning more about what is happening? Check out their calendar of events to learn more.
Contact: msa@dickinson.edu
Check out a new video from MSA.
Dickinson Catholic Campus Ministry
A small but active group of Catholic students meet for Sunday Mass, Fellowship, Rosary, Small group Bible Study and other special masses and events. All are welcome to join us for Mass most Sundays at 2:00 at the Allison Interfaith Chapel. Mass is celebrated by our campus priest Father Javed Kashif from St. Patrick Church in Carlisle. He is available to meet for confession and spiritual direction. Please refer to the DCCM EngageD page for our upcoming events!
Contact: catholic@dickinson.edu
Orthodox Christian Fellowship
This campus ministry welcomes Orthodox Christian students, faculty, and staff of all jurisdictions, as well as other interested individuals, for worship and study. In the Interfaith Chapel in Allison Hall, the Divine Liturgy is scheduled on designated Sundays throughout the academic year, and a weekly Bible study is held on Saturday afternoons. The chaplain, Fr. Theodore Pulcini, can be reached at pulcini@dickinson.edu.