The NEW Center for Spirituality, and Social Justice assists students, community members, faculty and staff to build connections around spirituality and religion, explore the complexity of identity and values, understand worldview diversity, participate in interfaith dialogue, dive into complex social justice issues and explore meaning and purpose. We are hiring Interfaith Interns for the 2019-2020 academic year. Apply here and send your resume to Kim Sallie at salliek@dickinson.edu by 4:30pm on April 10. If you have any questions, please reach out to Donna Hughes at hughesdo@dickinson.edu.
The May trip will take place from May 20-30 in Navajo Nation, AZ! There will be an information session on March 27 in Althouse 110 from 6pm-7pm. The trip fee for all trips is $500. Scholarship assistance IS available. Apply online by April 5 at 11:59pm.
If you have any questions about either trip, please email servicetrips@dickinson.edu!
Welcome to the Center for Service, Spirituality and Social Justice!
Social justice is defined as "promoting a just society by challenging injustice and valuing diversity." It exists when "all people share a common humanity and therefore have a right to equitable treatment, support for their human rights, and a fair allocation of community resources." In conditions of social justice, people are "not to be discriminated against, nor their welfare and well-being constrained or prejudiced on the basis of gender, sexuality, religion, political affiliations, age, race, belief, disability, location, social class, socioeconomic circumstances, or other characteristics of background or group membership" (Toowoomba Catholic Education, 2006). CSSS seeks not only to expose students to the opportunities for service and experiencing differences in faith but also to encourage students to understand what it means to challenge injustice, support human rights and work to bring about a just society.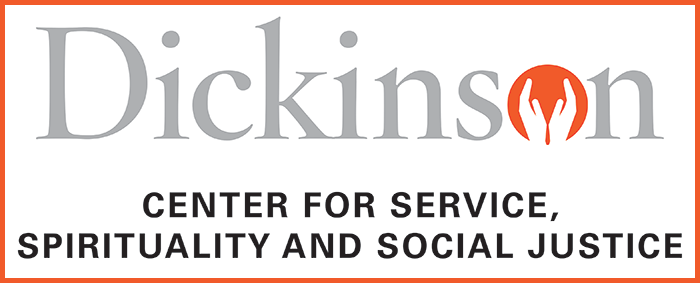 Orange is the color of CSSS and you might wonder, "why orange?"
The color psychology of orange is optimistic and uplifting, rejuvenating the spirit. In fact orange is so optimistic and uplifting that we should all find ways to use it in our everyday life, even if it is just an orange colored pen.
The color orange relates to social communication, stimulating two-way conversations. A warm and inviting color, it is both physically and mentally stimulating, so it gets people thinking and talking!
Orange aids in the assimilation of new ideas and frees the spirit of its limitations, giving us the freedom to be ourselves. At the same time it encourages self-respect and respect of others.