Office Staff
Below is a listing of the staff in the Center for Spirituality and Social Justice, as well as our religious affiliates. None of our work, however, would be possible without the dedicated efforts and clever ideas of our incredible student staff.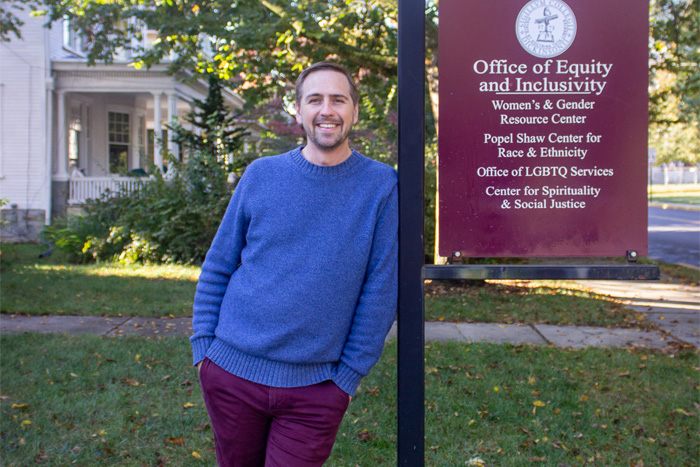 J. Cody Nielsen Ph.D.
Director of the Center for Spirituality and Social Justice
Email: nielsenc@dickinson.edu
Phone: (717)-245-1931
Location: Landis House
Cody holds a Ph.D. in Higher Education Administration from Iowa State University and masters degrees in mental health counseling and divinity. He is the founder and Executive Director of Convergence on Campus, a North American volunteer led social change organization which seeks to dismantle longstanding systems of marginalization of religious, secular, and spiritual identities in higher education. His 2013-2015 study Multifaith in Higher Education explored the campus climates through a policy and practice lens of over 150 institutions across the United States and Canada. The former Expert in Residence for Religious, Secular, and Spiritual identities for NASPA, Cody is an emerging voice in national calls for equity of religious minorities and non-religious identities on campus. A scholar by practice (not by nature), Cody's dissertation considered the institutional climate of Penn State University and its Pasquerilla Center, the largest multi faith center at an institution of higher education in North America. He is a father to Levi and an avid runner, writer, and board game enthusiast. On the weekends you can find Cody on a bike trail, in a hammock reading, or in the kitchen baking bread or trying recipes out of cookbook he probably found in a used bookstore.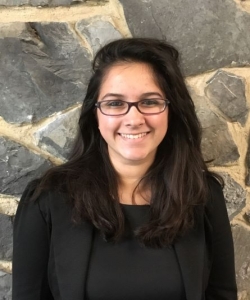 Angelica Mishra
Engagement Associate
Email: mishraa@dickinson.edu
Phone: 717-245-1931
Location: Landis House
Angelica holds the post-bac joint position of Program Coordinator at the Center for Spirituality & Social Justice (CSSJ) and Civic Learning Coordinator for the Center for Civic Learning & Action (CCLA). She graduated from Dickinson in 2019 with a B.A. in Women's, Gender, & Sexuality Studies and Political Science. Working with students and staff at the Office of Equity & Inclusivity (OEI) and constantly learning new things about religion and spirituality are her favorite parts of her work at CSSJ. At home, she likes to cook, read, go for walks in nearby parks filled with green, and FaceTime with her parents in New Jersey for the latest gossip about her two fluffy cats.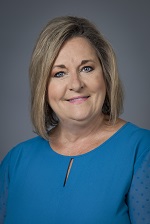 Lori Loudon
Administrative Assistant
Email: loudonl@dickinson.edu
Phone: (717) 245-1931
Location: Landis House
---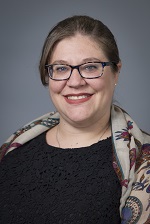 Rabbi Marley Weiner
Director of Asbell Center of Jewish Life
Email: weinerma@dickinson.edu
Location: Asbell Center
Rabbi Marley joins the staff of the Asbell Center following two years as the rabbi and Senior Jewish Educator at Hillel at Binghamton in New York. A Philadelphia native, Rabbi Marley discovered a life long love of Hillel at Barnard College, where she was the vice president of Columbia Barnard Hillel's Reform Jewish group. After college, she moved back to Philadelphia to attend the Reconstructionist Rabbinical College. While there, she learned a lot of Talmud, taught students from one to ninety nine, and developed a love of pluralistic Jewish community that endures until this day. When Rabbi Marley is not working, she enjoys museums, baking, Dungeons and Dragons, and bragging to everyone about how adorable her cat is. She looks forward to having coffee with every Jewish student on this campus!
---
Religious Affiliates (Those religious professionals who are not college employees)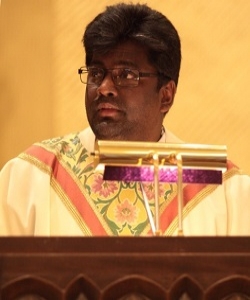 Fr Raja
Parochial Vicar Saint Patrick Parish, Carlisle
Dickinson College Chaplain
Email:
Father Tiburtius Antony Raja is from the Diocese of Chengai, in India, a new Diocese bifurcated from the Diocese of Madras- Mylapore, where Saint Thomas, one of the twelve Apostles is buried.
Fr. Raja was the First Youth Director of his new Diocese and the First Rector of the Minor Seminary of the Diocese. He also has served as the Pastor in three different Parishes in his Diocese in India.
He is the Co-Founder of Star Light Communications, Starlight Leadership Center, and Star Light Charities, in India, that support Children, and young Boys and Girls in their Education, and development of their Leadership Skills, through various Productions, Provisions and Programs.
He served in the Diocese of Harrisburg for seven years, from 2008, three years as Parochial Vicar at Saint Leo the Great Parish, Lancaster, and four years as Parochial Vicar at St. Theresa's Parish, New Cumberland.
For the past four years, he was involved in Media Apostolate, in his own Diocese in India, creating audio, visual and printed materials, for evangelization and for various training programs for children and youth.
On the 23

rd

of June, 2019, He was appointed the Parochial Vicar, Saint Patrick Parish, Carlisle and the Chaplain, Dickinson College and Dickinson Law School, Carlisle.
---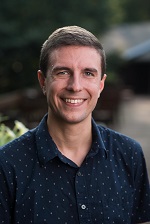 Andrew Berg
Campus Staff Minister for Dickinson Christian Fellowship
Email: berga@dickinson.edu
Originally from Newburgh, NY, Andrew graduated from Franklin & Marshall College in 2012, finishing a double major in History and Government and studying abroad in Jerusalem. After graduating, Andrew taught middle school science in Baltimore through Teach For America while earning a M.S.Ed at Johns Hopkins University. Andrew has served on staff with Dickinson Christian Fellowship (a chapter of InterVarsity Christian Fellowship USA) since 2014. For fun, Andrew loves reading and discussing theology, politics, and Star Wars.
---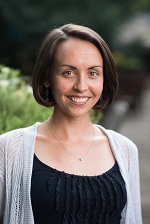 Liz Albright Berg
Campus Staff Minister for Dickinson Christian Fellowship
Email: bergel@dickinson.edu
Hailing from Allentown, PA, Liz graduated from Franklin & Marshall College in 2012. At F&M, Liz completed a double major in Spanish and Environmental Science, studied abroad in Ecuador and Spain, and earned honors for her senior thesis on bird feeding patterns. Liz has been on staff with Dickinson Christian Fellowship (a chapter of InterVarsity Christian Fellowship USA) since 2012, and works to see students' lives transformed, the campus renewed, and world changers developed. For enjoyment, Liz enjoys long-distance running, traveling, and cooking healthy food.