About Dickinson College Hillel
Welcome to the Dickinson College's Hillel Website. It is a great resource to learn about the student-led Jewish life on campus. Hillel is open to students from all denominations of Judaism. Because each student has his or her unique Jewish identity, it allows for students to learn from each other and grow as a community and individuals. We sponsor weekly Shabbat services and dinners, High Holiday celebrations with the surrounding Harrisburg community, Sukkot on the College Farm, Hanukkah and Purim parties, Bagel Brunches, discussions with local Rabbis, and movie nights. By offering a variety of activities we make everyone feel included and welcome. Find us on Facebook, Dickinson College Hillel, to get more information on weekly going-on's at Hillel.
Dickinson College Hillel's mission is to create meaningful social, religious, and cultural experiences for Jewish and non-Jewish students on campus. We strive to make Jewish life at Dickinson accessible and comfortable for students, and to design programming that helps connect students to Judaism. Have an idea or want to get involved? Email hillel@dickinson.edu.
Shabbat Services / Friday's at 6:00 p.m. / Second Floor Sanctuary, Asbell Center
After services, a delicious meal is served at 7:00 p.m. / 1st Floor Conference Room, Asbell Center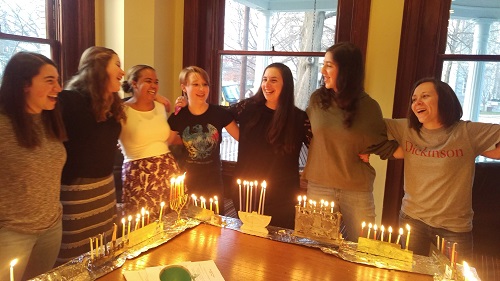 Hillel Board for Spring 2019:
Co-Presidents: Jody Efron '21 and Ilana Zeitzer '19
Vice President: Abby Israel '20
Treasurer - Omer Siegel '20
Social/Communications Chair - Rachel Prince '21 and Sam Halpern '22
Religious Chair - Nicole Nelkin '22
Tikkun Olam Chair - Stephanie Levin '22