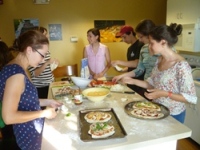 Dickinson College Dining Services provides the KOVE station in the HUB Dining Hall. The KOVE is our kosher + vegan option on campus and offers kosher food during the week. The special connections made at the KOVE, coupled with the "favorite meals" students enjoy, make the KOVE a very popular place to eat on campus.
Head kosher chef Miriam Dickey and cook Ian White prepare KOVE meals, and the KOVE is supervised by Rabbi Marley Weiner, director of the Asbell Center for Jewish Life. The KOVE closes for Jewish holidays that require observance. The KOVE closes weekly from Friday dinner through Saturday in observance of the Jewish Sabbath.
KOVE Hours
Monday - Thursday
Lunch, 10:30 a.m. - 2 p.m.
Dinner, 10:30 a.m. - 8 p.m.
Friday
Lunch, 10:30 a.m. - 2 p.m.
Sunday
Lunch, 10 a.m. - 2 p.m.
Dinner, 4:45 p.m. - 7 p.m.
ASBELL CENTER
The Asbell Center for Jewish Life also provides dinner each Friday night following Shabbat services in our Sanctuary (on the second floor). The Asbell Center houses a separate kosher meat and kosher dairy kitchen (on the first floor) supervised by Rabbi Marley. In addition, a student lounge and vegetarian kosher kitchen is located on the third floor. The Asbell Center offices (for student workers and professionals) are located on the second floor.
The Asbell Center provides meals for the following:
Shabbat meal: Every Friday after 6:00 p.m. services
Holidays: Rosh HaShanah, Yom Kippur and Sukkot
Passover: First and second night Seders. Our third floor student lounge-kitchen and first floor meat kitchen is made kosher for Passover and is stocked with food for the entire week.