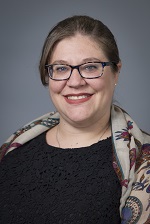 Rabbi Marley Weiner
Director of the Milton B. Asbell Center for Jewish Life
weinerma@dickinson.edu
Phone: 717-245-1636
Office: Second floor, Asbell Center
Rabbi Marley joins the staff of the Asbell Center following two years as the Rabbi and Senior Jewish Educator at Hillel at Binghamton in New York. A Philadelphia native, Rabbi Marley discovered a life long love of Hillel at Barnard College, where she was the vice president of Columbia Barnard Hillel's Reform Jewish group. After college, she moved back to Philadelphia to attend the Reconstructionist Rabbinical College. While there, she learned a lot of Talmud, taught students from one to ninety nine, and developed a love of pluralistic Jewish community that endures until this day. When Rabbi Marley is not working, she enjoys museums, baking, Dungeons and Dragons, and bragging to everyone about how adorable her cat is. She looks forward to having coffee with every Jewish student on this campus.