"On the Beautiful Side of Somewhere…."
Cody Nielsen, CSSJ Director
1/20/21
One of my favorite bands is the Wallflowers. Being that I'm an old millennial (36 and counting) some of the students reading this will have no idea who the Wallflowers even are. But you might know who Bob Dylan is, and it just happens that Jakob Dylan, the lead singer of the Wallflowers is in fact Bob Dylan's son. I digress.
Dylan's (both of them) writing is eloquent and poetic. In one of the Wallflowers songs, A Beautiful Side of Somewhere, Dylan remarks
Tomorrow is gonna make you cry
it's gonna make you kneel
Before it breaks you from inside
Still pressing on, arm over arm
Still trying to get both feet back onto the ground…
I am ready to wake up there in the exodus
On the beautiful side of somewhere someday
This week, some of us will return to this campus, attempting our best to imagine a world in which COVID has rescinded. Imagining a world in which the last four years of open discrimination toward minorities, and in my humble opinion, toward the United States at large, ends. As you read this, it is likely that Joe Biden and Kamala Harris have taken the reigns of the country in the form of their roles as President and Vice President. But lest we believe that one moment will change the world.
The world is changed, as Tolkien once stated, in reference to the world post-World War II. When I first penned my thoughts in this column, I called it "In the Middle." Now, I invite us to call this semester's reflections "Somewhere," an homage to a hopefulness that we are somewhere and are heading toward somewhere further.
I have sincere hope that the semester will bring us back together, that graduation will occur in person like it has almost every other year. I have hope that this new administration will restore us to some semblance of normalcy. I hope we all soon will roll up our sleeves and will be vaccinated, giving thanks to science and our health care professionals for a remarkable achievement. And I hope that we can all stay safe this semester (please stay safe and practice safe practices of washing your hands and distancing and limiting your gatherings amongst other things).
But as Dylan puts it, I am just ready to wake up there in the exodus on the beautiful side of somewhere. I hope you are too. Because if we work together, we will. Soon.
Cody
https://www.youtube.com/watch?v=Bt1l4E2mnYA
One Word Can Change Your Year!"
Lori Loudon, Administrative Assistant
1/13/21
I have been so tired of making New Year's resolutions and found that by embracing a personal word for the new year, it is so much more powerful and meaningful! I would like to share what has helped me through my journey.
Take a look at the list below. One of these words may be YOUR WORD for 2021!!!
Responsible
Try
Kindness
Forward
Create
Soar
Achieve
Focus
Thankful
Work
Choice
Greater
Challenge
Give
Quiet
Strong
Freedom
Awesome
Attitude
Ask
Release
Ready
Or any word that you relate to (No one needs to understand your word!)
My 2021 word for the year is FREEDOM! I am praying for Freedom from disease, freedom from masks, freedom from my house, freedom to travel, freedom to give hugs, freedom to go back to the gym, and many more!
When taking my daily walks, I truly feel free, alive, and positive about this year. Whether you do yoga, power training, knit, bake, or whatever gives you that free feeling, make it a MUST for each day.
Below are the 5 steps that have helped me find my word for 2021:
REFLECT - How are you feeling?
VISUALIZE – What does a perfect day look like for you?
CREATE A LIST – Write down single words that come to your mind randomly.
REVIEW AND REFINE – Look over your list of words and circle 3-5 words that really stand out for you.
ARE YOU COMMITTED – In looking over your 3-5 words you have circled, are you just interested or committed to that word in order to make the change you want? Find that one word that you will be committed to.
You may need to take a day or a week or two to go through these 5 steps. Take your time and really commit to this word.
Each day is a gift to make someone else's day special. Text or message someone you would like to share your word of the year with. You never know who might need to find their own word.
By the way…if someone has not told you today, I want you to know that "YOU ARE ENOUGH"!!!!
HAPPY NEW YEAR AND KEEP THE FAITH!
"I'm Sorry That I Say Sorry So Much"
Sagun Sharma '21, Interfaith Intern
12/2/20
Our household is a sorry free household. We keep counts of the number of times we say sorry when we could have said something more meaningful instead.
Lists of things we try to do or say instead of "I'm sorry":
Ask questions before assuming that we did something to be sorry for: "Did I wake you up this morning because I noticed that I was playing my music too loud?"
Thank the other person: "Thank you for reminding me to do the dishes. I will do them after my class later this evening."
Let the person know that you will do things differently moving forward: "I'll be more careful the next time I'm in a rush to go to the toilet, so I don't crash into you."
Right the wrong: "Oh, here, let me clean up the mess I made and get you another drink."
But who has time to form these thoughtful responses when one can simply say "I'm sorry" and move on? Can we ever be too sorry? Sometimes it just feels good to say I'm sorry, doesn't it? Listen to our podcast where we unpack our apologetic selves, and try to live more unapologetic lives as two women who are sure of ourselves, but unsure of how we want the world to perceive us!
Listen to Sagun's podcast here!
"Fourth Thursday of November"
Angelica Mishra, CSSJ Program Coordinator
11/18/20
This year Thanksgiving is going to look different. Because the pandemic is still raging on, families may have to make the uncomfortable call to host a smaller Thanksgiving dinner this year or not host visitors at all. You may be going home to be with your family and to continue your finals remotely in the following weeks. You may be on campus and enjoying the few days of less zoom classes and meetings during the end of next week. After a stressful and long year, and since we cannot celebrate over dinner with as many people as in previous years, it is more important than ever to practice gratitude for the times we do get to spend with family and for the things we have. This week, CSSJ's "Week of Thanks" helps you do just that.
But I want to draw your attention away from this innocent picture of Thanksgiving. It is indeed understood in our national consciousness as a time to celebrate and give thanks for all we are grateful for. And that is important. But the holiday's dark roots originate from the brutal colonization of Indigenous peoples in the U.S. Children attending public school in the American education system typically learn that Thanksgiving is a time to celebrate how the Pilgrims—then recently settled colonists in Massachusetts—and the Wampanoag Native Americans came together and feasted. They did gather together, but what goes unrecognized today is the twisted celebration of the colonists' subsequent massacre of a group of Pequot Native Americans that resulted in a colonist leader declaring a "Day of Thanksgiving" to honor their atrocity.
Native peoples have been celebrating the harvest and giving thanks to the land for years, an idea similar to how many Americans view the holiday today. But the current American celebration of Thanksgiving dates back to the seventeenth century, when the Pilgrims and Wampanoag tribe gathered. But in 1637, the holiday we now know today as "Thanksgiving" was designated when Gov. John Winthrop of the Massachusetts Bay Colony declared a "Day of Thanksgiving" to celebrate the return of colonists who had just massacred a town of Pequot Native Americans in Connecticut. Today, some Native peoples mourn these lost ancestors on the Day of Mourning, which is also on the fourth Thursday of November each year. It is important to recognize—on the fourth Thursday of November and every day—and call attention to the brutal history of colonization and erasure of Native culture and peoples by the United States. Carlisle's place in this history is particularly atrocious: Carlisle was the site of the infamous Carlisle Indian Industrial School, where founder Richard Pratt's motto was "kill the Indian, save the man". This is just one example of how our country has stolen Native cultures, refused to ignore centuries-old treaties, and committed genocide against Native peoples and nations. To move toward a decolonialized and just future for Indigenous peoples, it is essential we recognize this colonialist history and do no more harm.
While looking to the past and working to dismantle colonial structures in the U.S., I think it is also important to uplift contemporary Indigenous voices and celebrate Indigenous joy. One recent example from the election period two weeks ago: six Native candidates were just elected to the U.S. Congress! Another example, this one of art: Project 562 by Matika Wilbur, who photographed Indigenous communities all across the nation to challenge stereotypes and represent contemporary Native America through art. Check it out here! There are of course many more examples online.
When I was a junior at Dickinson, I took a course with a former Professor in the American Studies Department, Prof. Dragone. She taught a wonderful and invaluable course titled "Native American Activism and Resurgence: Red Power to #NoDAPL". I remember learning about the history of Thanksgiving in her class, and cringing at how awful it is and how unaware I was of it before that class. I'm ashamed to say I never knew about this dark history growing up, and I never thought twice about the fact that I lived on stolen Indigenous land (courtesy of the Doctrine of Discovery—learn more here). So I encourage you, this Thanksgiving, to call attention to the darker side of its history to your family members if you are gathering with them, and research indigenous perspectives. The Clarke Forum, before each lecture or livestream they host, have one of their student project managers announce what Indigenous land they are currently inhabiting. Follow their advice to do the same. Look at this map of Turtle Island to see what land you are on. Some Native communities are mourning on the day we call Thanksgiving. In the fight for a just world, we cannot ignore our country's deep history of colonization that has permeated our culture for centuries. And acknowledging it isn't enough—we have to decolonize the future.
Sources:
https://www.peoplesworld.org/article/a-national-day-of-mourning-for-u-s-indigenous/
https://www.huffpost.com/entry/the-true-story-of-thanksg_b_788436
https://www.businessinsider.com/history-of-thanksgiving-2017-11
https://rights.culturalsurvival.org/we-are-still-here-message-unity-thanksgiving
https://www.culturalsurvival.org/news/8-ways-decolonize-and-honor-native-peoples-thanksgiving
Links:
Six Native candidates were just elected to Congress"-- https://www.cbsnews.com/news/six-native-americans-elected-to-congress-record-breaking/
Project 562, Matika Wilbur: http://www.project562.com/
Doctrine of Discovery: https://upstanderproject.org/firstlight/doctrine
Turtle Island map: https://native-land.ca/
The Golden Rule
Aidan Birth, CSSJ Interfaith Intern
11/11/20
When I was younger, I understood "Love thy neighbor as thyself," as a commandment in the Bible. As I have grown older, I have understood it as a foundational ethical principle across many different traditions, religious and non-religious, often called "The Golden Rule." Yet, I have come to embrace it as more than a rule or commandment, but a way of life. This does not mean I am perfect at making it a way of life, but it means that I am striving to do so.
When I understood "Love thy neighbor as thyself" as a rule or commandment, I understood it as something that could be checked off a list. If I yelled at my parents and refused to do my chores, then I did not check off that part of the list. Yet, as I grew older and matured, I understood it as something I should be striving for in everything that I do. The difference is the motivation behind my interactions.
My motivations and understanding of the Golden Rule have especially changed as I have understood what it means to love. The word "love" in English is very generic. We can say that we love a car, a food dish, a TV show, a class, and a family member, yet our feelings of love for each are very different. It would be strange if I went up to my parents and told them that I loved them the same way I love a TV show where I do not know the actors personally. However, the ancient Greeks made linguistic distinctions for love, and that is when I came to understand the Golden Rule as an expression of agape.
Agape is a term referring to total and unconditional love. Christians often use this referring to the love of God, but I think it is a useful distinction to keep in mind no matter what religious or spiritual tradition you profess. It makes love a lot less abstract because there are now parameters for how to love.
To love totally and unconditionally is to make sacrifices for one another and to promote each other's well-being. Particularly during this time that we are faced with the COVID-19 pandemic, it is important to show this love. There are people in need of food and shelter for whom we can sacrifice through charitable acts of donating. There are people who are lonely who need a reminder that they are not alone by our sacrificing a little time to send them a message or a call. There are people who need help with an assignment for whom we can sacrifice some time to assist and guide them.
To follow the Golden Rule as an expression of agape love can come in many different forms, large and small. I hope I can continue to shape my life around these ways of sacrificing, and my hope is that this inspires you to do so too. To love thy neighbor as thyself is not simply an abstract concept that becomes concrete at certain moments when we can say we loved someone. Rather, it is something we should continually strive to make a way of life in everything that we do. There are opportunities to show this love to others if we take the time to look. Hopefully, when we respond to these opportunities, we can then achieve the more just world that we strive for.
"In the Middle… of Planning Something HUGE"
Rabbi Marley Weiner, Director of Asbell Center for Jewish Life
11/4/20
There is an old saying, "Man plans, and God laughs." And in no year is that more true than this one. So many plans have to be put off, or rescheduled, or radically reimagined. How I thought this year would go is not at all how this year has gone. And it has forced me, and maybe all of us, to get very real about our priorities very fast.
In August, I got engaged to my partner of almost four years. Figuring out how to have a special engagement was its own set of challenges, involving three families, two babies, a quarantine, and a beach house, but it was more or less what we envisioned. And now my partner and I are wedding planning. As with many big life events, there are a lot of choices, both mundane and weighty. Who is invited? What food will we serve? Where will we have it? And added to all of it, what sorts of COVID precautions will we have to take? Under what circumstances should we postpone?
What this process has taught me is how much I value my community. Being able to connect to the people I love and get them involved in this major milestone has forced me to change the way I might otherwise do things. But without them involved, it's hard to imagine finding joy in this time at all. It may not be the process as I imagined it, but there have still been so many ways to make it special.
I am not the only person out there in the middle of planning something big. So many of us were looking forward to sports seasons, graduations, vacations, and semesters abroad. We are, all of us, trying to figure out how to live out our dreams in the middle of COVID. For some of us, we are having to let go of things that really do matter. For others, we are able to find the core of why we are excited about those dreams and make some part of it a reality. And whether it's through joy or mourning, we are all discovering the parts of our lives that really matter, the parts to tend and focus on through this pandemic and then as life returns to normal.
We will have much to grieve when this is all passed. First of all, the hundreds and thousands of Americans who have lost their lives. Second, the missed plans, dreams, and opportunities we were hoping for. But from within the pandemic, there are many beautiful opportunities and memories that would not otherwise exist. Friends drawing closer. Opportunities to connect virtually with people we might not otherwise see. Time spent caring for relatives, and being cared for in return. These are not the circumstances we would want to cause us to rearrange our priorities, but they are the circumstances we have been given. Even as we mourn, there is reason for gratitude, and maybe even joy.
In these times, what are the things you value most? Is it time with friends or family? Is it learning lots of new things? Is it creating art or working for social change? How might you incorporate those things in your life day to day, even when your life day to day looks really different from how you imagined? How can you dream and plan of keeping your priorities front and center, even when it's challenging?
"In the Middle of History"
Cody Nielsen, CSSJ Director
10/28/20
Several years ago, while at a retreat in the midst of a very trying time in my life, I was introduced to a concept so basic and yet transforming that it has forever affected me to this day. The retreat, one which was designed to help its participants to uncover how they could be involved in solving some of the great issues of our time (you might call it a vocational discernment retreat) was grounded in the concept of what was known as the Sankofa. Now, if you don't immediately recognize that word, I wouldn't be surprised, but hopefully, as I did, your life might be transformed. There is an old adage that "those who fail to know history are doomed to repeat it." But what we recognized is that those who knew their history were prepared to alter the future appropriately. That is, in essence, the Sankofa's purpose.
The Sankofa, shown here, is a mythical Ghanaian bird which walks forward while looking backward, and carries a motto that "it is not bad to go back and fetch that which has been left behind." When during the retreat the facilitator asked us to spend our time retracing our steps, picking up our histories as well as the histories of the movements and ideas we wanted to spend our lives focused on, I realized the point was not to dismiss history, but to capture it and examine it as we continuously walked forward personally and holistically as a society.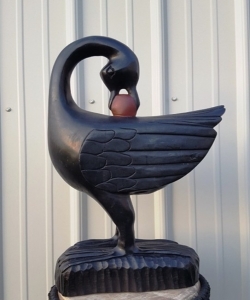 (Sankofa)
I see often in our current environment that many members of the generations I (I'm 36 and on the tail end of the millennial generation) and perhaps even you occupy are quick to dismiss history. "Oh, that's the past. Who cares". But that's precisely the problem. We need to both know (facts and figures) and understand (contextual wisdom) our histories in order for us to understand how to respond in our current lives and sometimes to even follow the "wave" of history into what is next. At other times, we need to course correct.
When last time you heard from me in this column, I said that we were living in the middle: the middle of a pandemic, in the middle of our lives, and onward. And right now, we are living in the middle of history. Next week, the history of 242 years of the United States will once again be put to a vote. The history of social progress, the history of movement building, the history of what we mean by Democracy will be put once again to a tally. And I hope you'll participate. I have heard from many who believe that our "right to vote" is simply given to us by the constitution, but in fact it is not. The framers of the Constitution actually didn't believe any of us really had the wherewithal to know how to vote effectively. That's actually why there are elected representatives who can actually decide the election themselves instead of the common vote (you might have heard rumors of this as a potential tactic being considered by the administration should the vote NOT go their way). Every single time you vote, your vote was fought for and likely died for, especially if you identify as anything BUT a cis-white man.
You're probably wondering where I am going with this. When we use the Sankofa as a lens, we recognize that our history as a country has seen some trying times, some devastatingly bad policies and practices, and ultimately, resiliency. We have fought to come to this point in our history, with millions of individuals who have fought with their lives to provide progress in this country, and even for the right to vote to maintain that progress. If the Sankofa lesson teaches us anything, it is that the most important role as a citizen of the United States is that of our civic opportunity to engage in the vote. And this week, I want to encourage you to participate in that history by making your own history. Whether it's your first vote or your 50th vote, it's time for you to be a part of that history. Know the candidates, call your friends, ask. Do your research. And go and preserve the right to progress, the right to vote, and all that has been fought for in this country. For we are in the middle of history, and while we know not the future, we can help to shape it today and this week, in that continuous right which has been earned for over 240 years.
I AM A "MIDDLE" CHILD
By: Lori Loudon

I would like to share with you what it is like being a "Middle" child. My older sister (FIRST BORN) is two years older than myself. My younger sister (THE BABY) is 5 years younger than me.
It seems like just yesterday. There I was watching the Brady Bunch in the living room after school one day. This was my favorite show when I was around 13ish. That day's episode was all about Jan Brady being the "middle" child. I knew then that what I was feeling and going through was a "THING!" I was Jan Brady!!!! I had that older popular sister and younger cute sister too!!! I always felt, "Hey, what about me?", when something great happened to my older sister. Then when my younger sister wanted to stay out late, mother always gave in to her. I was never allowed to stay out past 11:00pm! Even their names were better. Victoria and Christine…I only got Lori! Was that fair?!?! I always felt stuck in their shadows. Even today watching Downton Abbey's Lady Edith Crawly struck a resemblance for me! The way I got attention was to make people laugh at my silly jokes. Yes, I was the middle child comic relief in my family. Let me tell you, my older sister was put on a pedestal, and my younger sister could do no wrong and got away with ANYTHING!!
I thought you might also enjoy reading about the five fascinating facts about middle children:
Middle Children May Be Endangered (more people are having less children…2 was my max!)
MIDDLE CHILDREN CAN HAVE FIRST-RATE NEGOTIATION SKILLS (Middles are used to not getting their own way, and so they become skillful manipulators. They are more willing to compromise, and so they can argue successfully.)
THEIR LOW SELF-ESTEEM MIGHT NOT NECESSARILY BE A BAD THING (Having an accurate sense of your self-esteem is more important than having high self-esteem)
MIDDLE CHILDREN TEND TO BE FAITHFUL IN THEIR RELATIONSHIPS (middle children, and their spouses, were happiest in marriage when compared to other birth orders. Just don't marry another middle!)
SOME OF HISTORY'S MOST IMPORTANT LEADERS WERE MIDDLE CHILDREN (it turns out that 52 percent of presidents were born in the middle, including Thomas Jefferson, Teddy Roosevelt, John F. Kennedy, and Abraham Lincoln.)
Of course, middle children are exceedingly independent and creative, with certain leadership qualities that their firstborn and last-born counterparts cannot match. This is the part that I am highlighting when I send this to both of my sisters to read!! Yes, this is my comic relief side coming out again.
We have been in the middle of sooo many things this year (which SUCKS!!!). If you are a middle child, guess what? You are an amazing person!!!!! If you have a middle sibling, please make them feel noticed and appreciated…we need it more now than ever.
I feel very lucky to have grown up with both of my sisters. I don't know what I would do without them in my life. I realize looking back, I was the glue in the middle keeping my two sisters as friends as we got older. Being the middle child turned out to be pretty AWESOME!!!!
"This Is About More Than Naps"*
By Sagun Sharma '21, CSSJ Interfaith Intern
10/14/2020
Some days, I wake up at 9am. Other days, I wake up at 9am only to fall back asleep at 10:15am, which is when my first class ends two days a week. I also nap—a lot. My friend told me about this Instagram account called "The Nap Ministry." Their bio reads: "We examine the liberating power of naps. We believe rest is a form of resistance and reparations." I would have instantly followed them if I had not deleted my account a few months ago. I was apprehensive to do so at first—delete the app from my phone. How else would I stay connected? How else would I stay informed?
One day I caved and reinstalled my account. I learned that Chadwick Boseman had died of colon cancer. Posts after posts and stories after stories praised him for working, while hiding his illness, even in his final days. It broke me. That's when I deleted the app again—and this time, for good. I take naps instead of scrolling through Instagram these days. My phone screen time is down by 600%. Now, the first app I use is usually the Clock (to set reminders for breaks), Spotify (to listen to podcasts like Invisible Not Broken) or Messenger (to reply back to my mother's texts from halfway across the world).
I also deleted the email app. To emails that end with "asap," instead of starting my reply with "Apologies for the late response," I want to write, "What's the rush?" Anything today can easily be done tomorrow, but I know many who'd disagree.
Anyway, I made this podcast with two of my amazing friends, Jay and Kay. So, if you're tired of staring at the screen, but want to hear more about how we self-care, grab your blanket and pillow and hit the play button. Happy napping!
"I will lay in this bed for the rest of my days and burn every one of my to-do lists and I still deserve freedom and liberation. My worth is not tied to how much I produce. My birth secured that already." - The Nap Ministry
Rest in Peace, Chadwick
*Title from The Nap Ministry
How Can I Be Silly Today
By Angelica Mishra
10/7/2020
When I was really little, my parents used to sit me in a little rocking baby carrier. One day they took me to a restaurant and set me on the booth seat. We're having a grand old time and then someone at a nearby booth turns around and goes "What was that weird noise?" after they heard this somewhat creepy and oddly deep, loud-for-a-baby, sound. Turns out it was me laughing.
I'm that person that fully chuckles at cheesy jokes. I'm that person that when it hits midnight and if I'm still awake, I look up random videos on YouTube of penguins slipping on ice just to make myself laugh (they don't get hurt). Silliness and laughter have been getting me through my days especially during this pandemic. I spend my days working remotely and engaging with bright, hardworking students who work at CSSJ and the Center for Civic Learning & Action (CCLA). I thoroughly enjoy my work with these two offices—interacting with both sets of full-time staff and the student staffs. But sometimes, as we are all accustomed to nowadays, looking at a computer screen for the whole day can be monotonous and headache-provoking. Silliness and laughter help fill in the gaps of the day.
I think laughter also has a spiritual component. There's something to be said for the calming and relieving benefits of a good ol' belly laugh. Like when you return to your parents' home and find an old drawing you did of a dinosaur connect-the-dots thing and on it are the words "My name is I don't know". Belly laugh—the sheer nonsense had me actually on the floor. Or when your cat tries to jump up on a screen door to get a fly, his claws get stuck so he's hanging there swinging, then he turns around and looks at you as if to say "Don't just stand there, get me down". Belly laugh. When you're playing catch with a teddy bear and it perfectly lands in a little nook between your wardrobe and its cracked door. Belly laugh. I know for me, finding even the smallest thing to laugh at and enjoy during the day brightens it up that much more. It makes me feel almost physically lighter, happier about the world and my existential purpose.
It can be hard though, finding those little things to laugh at when there's so much work to be done academically, politically, socially, and internationally. But all of us here in the Dickinson community are strong and can find joy even when it's hidden. The CSSJ staff try to bring a bit of that to you with our Fun Friday stories on Instagram (follow us for more of my adventures with Mr. Bear!). Connect with fellow students, your professors, all of us here at CSSJ and the other centers within the Office of Equity & Inclusivity, your friends close and faraway, and family. Take time for yourself to enjoy a hobby, even if for only 15 minutes a day—something that makes you smile. Read a fun fiction book. Do your favorite form of exercise that makes you feel good. I hope, with this column, I could make you crack at least a little smile, maybe even a small chuckle, and made you think about your favorite things that make you laugh. And I highly encourage all of you to be silly.
In the Middle...of the Semester
By Aidan Birth '21
10/30/20
If you have been in any space with me for at least one hour, you likely know that I like to make puns. So, it is quite appropriate that the time during which I get to write "The Middle" is a pun itself because I am writing "The Middle" in the middle – the middle of the semester that is. I acknowledge how bad the pun is, but as we reach the middle of the semester, it is important to take the time for the simplest and most lighthearted things like puns, cheesy movies, and reading the same book over and over again.
As I have progressed in my academic career and my spiritual life, I have had a growing appreciation for the simple and lighthearted things compared to what is at hand. As I am writing this, I have my fair share of assignments to complete, and though it would be easy to be narrowly focused on my classes, there is much more to life than my classes. Being a student is certainly my primary role, and I am not encouraging procrastination or not doing work at all. However, I have found that in order to better complete my important tasks at hand, I need to also take some time for resting and relaxing outside of class.
In my case, I have found that community has been extremely beneficial. I have been blessed at Dickinson with great communities through Dickinson Christian Fellowship (DCF) and Dickinson Catholic Campus Ministry (DCCM). Between times for prayer and game nights, among other events, both groups have offered me the opportunity to take a break from the stresses of the middle of the semester. On the slightly more corny and cheesy side of things, I have gotten more into watching old cartoons such as Looney Tunes and Tom and Jerry during the COVID-19 pandemic. These cartoons, which I enjoyed as a young child, offer me once again a time to rest and relax, simple and lighthearted as they are.
For anyone reading this, the way you approach the simplest and lighthearted things may be different, and that is fine, as long as you approach it in the first place. There is certainly a lot that is causing us stress right now, including our exams and assignments in the middle of the semester. It is certainly important to dedicate time to our primary roles, whether that be as students, faculty, staff, or administrators, but in order to better accomplish our primary roles, we should look for the simple and lighthearted things that can bring us joy, rest, and relaxation in the middle of the semester.
The Blessing of Small Gestures
By Rabbi Marley Weiner
9/23/20
As I am writing this, I am preparing for Rosh Hashanah. In years past, I'd be polishing sermons, singing over familiar holiday tunes and prayers, and helping to set up Stern for services and dinner. This year I am cooking. Brisket, quinoa, my grandmother's apple cake recipe, and of course matzah ball soup. Later, I'm going to drop some of this massive feast off for students who are on campus, because even if we cannot celebrate in person in the same room without masks, we can still celebrate together.
Jews are famously known for having a thing when it comes to food. We have a complicated system of rules and taboos, known as kashrut, that governs everything that goes into our mouths, and in what combinations. We also regularly fast from all food and water for up to 25 hours at a time, and spend the week of Passover every spring abstaining from all leavened grain products (no bagels, no beer!). And yet, within those restrictions, Jews raise eating to an art form. Even for Jews who do not keep kosher, who do not fast, we obsess over the best recipes for chicken soup and brisket and latkes and where the best place is to get bagels and schmear. We are a people who are deeply committed to food.
As COVID has shut down so many things, including campus, I am forced to come back to simpler and more private ways of relating to my faith, my community, and the people who I love. I can no longer attend synagogue, so I pray every morning by myself. I can no longer lead services in front of the Dickinson Jewish community, so I box up meals and send out care packages full of snacks. I can no longer attend holiday gatherings filled with friends and family, so I cook elaborate holiday meals for two and send cards to everyone else. And while I've always loved to cook, I am struck by how much power there is in simple gestures, now that I am forced to rely on them. I am filled with gratitude for the women in my family who handed down recipes and trained my hand and palette in the skill of good home cooking, a skill which now allows me to show caretaking when my usual methods are proscribed by social distancing.
Sometimes in student life, the focus is on trying to find the next big splashy program that will attract the most students and draw a big crowd. But I have learned that this is a year of intimacy, of going deep instead of broad, of focusing my energy closely. These times are so challenging, and for everyone differently. They serve as a reminder that much of what I have to offer is the ability to listen closely, to show up and be available, to anticipate the most fundamental needs of our student body and meet those needs as best I can.
During this next week between Rosh Hashanah and Yom Kippur next Monday, Jews all over the world take stock. Stock of what they have done well, and what they may need to do better next time. Where they have risen to meet the moral moment, and where they have fallen short. The hope is that, as we approach Yom Kippur, the day of atonement, the conflicts between friends and family are healed, and communities can come together in welcoming a year of positivity, growth, and working towards what is good and right. And while this year some of the traditional avenues are closed to us, there are always little things we can do to get on the path of proactive love and kindness. I've been cooking a lot. What small thing might you do?
Starting In the Middle
By Dr. Cody Nielsen, CSSJ Director
9/16/20
I like to know people's stories. I always want to know what gets a person up in the morning, where people put their energy, what drives them, who and what do they love and more than anything, simply, who are they? But these are hard questions, both to answer and sometimes to simply ask. How often do we really take the time to get to know someone and truly ask those questions and all the others that come to mind? The amount we are invested in knowing those stories, both of others and ourselves, can tell us a lot about our society. And I fear we are not asking enough, whether because of our busy-ness or simply because we are unpracticed. So, when I ask people to tell me their story, I often find that it is difficult for them (and sometimes for me) to tell them. Where should I begin, they say. Where? In the middle.
We are in the middle of a pandemic (in case you haven't heard) in which we know the beginning, but we don't know the end. We are in the middle of our lives, this moment, which has passed even since you started reading and will hopefully continue through the rest of the reading of this. You're in the middle. And it's okay. Because we are all just walking in the footsteps of history, and our futures are as of yet unknown. We are writing a story, making up new histories that we will one day tell our friends, our kids, and maybe even our grandchildren. But when it really comes down to it, what will we even begin to tell each other about this time, this pandemic era and this moment in history? Where, ultimately, does this story all begin? And frankly where does it all end? The truth is, we rarely know.
As the new Director of the Center for Spirituality and Social Justice (CSSJ), I too am beginning in the middle of something. I'm beginning in the middle of my career, but also in the echoes of where the previous Director took the office, but not yet where this office will go while I serve. I am here in the middle of everything. And honestly, giving myself permission to be here right now, lost and found in the middle of everything can be one of the most stress relieving things that I, and overall, we, can do.
I'm very happy to be joining this institution in the middle of everything. I'm happy to be beginning my time at Dickinson with you, who are as well in the middle of everything. And that middle is a place where we can reimagine what comes next. We can reimagine the campus experience, dedicating ourselves to the work of inclusion and equity, of a place where we bring our whole selves to the campuses we live, work, and go to school on. And someday, we'll be able to be back to a new normal, where you can stop in the office, and I can actually go to the office.
For many of us right now, caught in the middle, the campus feels like such a distant memory. Even for those who still live on campus, and the few staff, faculty, and administrators who visit their offices once in a while, the daily energy of the campus is gone, replaced by the eerie silence that only comes during the end of December break or perhaps in the middle of the summer vacation months. If you are struggling with this time, you're not alone. As someone who has as of this writing still never been to campus and yet now works for it, this is very weird indeed. And the truth is, that for the moment, all we can do is wait it out and stay safe.
So here we are. Where do you begin your story? What will you tell others of what this time was and is for you? Will it be a time of refocus, a time where you learned more about yourself than you ever have? Will it be a time in which you came into your own? No matter how you are doing, good, bad, somewhere in between, I encourage you to hold on. It's ok to not be ok. It's ok to be frustrated, angry, to be antsy to get to (or get back to) campus. To get to a new normal. But somewhere along the line we all get to realize where we really are now. In the middle. And when we give ourselves that permission, we might just be able to make it to the next part of this adventure that we are all living through.