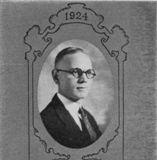 Writing Center Benefactor
"Heavy hearts, dull lives are fraught with care;
Light hearts reserved for those who dare."
"Norman is one of those long lean knotty fellows, as were the pioneers of this country. Slow of speech, slow to anger, unhurried but capable and industrious. He has the faculty of making one feel that life is not so much of a joke as some of us would make it appear."
The Microcosm (1924)
A Writing Life
Norman M. Eberly '24 was the son of a tenant farmer in nearby Shermansdale, Pennsylvania. After graduating from a country school in Perry County, he enrolled in Cumberland Valley State Normal School (now Shippensburg University). The first in his family to pursue higher education, he started out with $50 of his own money and a modest loan from his older brother Bill. Mr. Eberly earned the rest of his tuition by waiting tables and working as a janitor. When his funds ran out during wartime, he found work in an ammunition plant in Mt. Union and a steel mill in Harrisburg until he was drafted into World War I. When the war ended, he returned to school in January 1919 and graduated with a Teacher's Certificate in June 1920.
After graduation from Cumberland Valley State Normal School, he became an elementary school teacher. Desiring career advancement, he quickly realized that he would need to earn a Bachelor's Degree and so he enrolled in Dickinson College. Because of limited financial resources, Mr. Eberly was on the verge of withdrawing from Dickinson in his senior year. President James Henry Morgan, Class of 1878, "saw something" in young Mr. Eberly and agreed to defer his tuition payment. President Morgan's actions allowed Mr. Eberly to graduate on time as a member of the Class of 1924 with a degree in English.
Writing was always an essential part of Mr. Eberly's life. While still a student, he worked for the Harrisburg Patriot News to help pay for his college expenses. As the campus/Carlisle correspondent for the Patriot News, he brought the daily dispatches to the train that ran through the center of Carlisle, delivering them to the conductor who then handed them off to the Patriot man in Harrisburg. Mr. Eberly was also a stringer for the Philadelphia Inquirer, the BaltimoreSun, and an occasional New York City paper. He brought his talents in journalism to the Dickinson community when he became an Associate Editor of The Dickinsonian, the student newspaper, in 1922, and then Editor-in-Chief his senior year.
After graduation in 1924, Mr. Eberly pursued a career in journalism, serving as Editor of the Carlisle Sentinel and City Editor of the Harrisburg Patriot News until 1944. In a 1995 interview with the Sentinel, Mr. Eberly explained, "For most of my time I was with The Sentinel, I was the only newsman on the paper . . . . Any news of a local character was developed by me." Eberly described his typical workday at the paper, "I wrote the story, edited my own copy, wrote the headline and to a large extent determined when and how that bit of news was handled after it left me and went through the linotype." A highlight of his journalism career came in 1943 when he obtained an exclusive interview with Henry Ford, who was traveling across Pennsylvania in his personal rail car and had stopped to visit friends at Carlisle Barracks.
Although Mr. Eberly left journalism, he continued working in the news and information field. Returning to his early roots in agriculture, he joined Penn State University's Agricultural Extension Service, where he wrote farm-related reports and served as news editor. In 1962, he became information specialist for the Pennsylvania Department of Agriculture in Harrisburg and was active in public relations. For almost twenty-five years, he did promotional work for the State Farm Show, the Pennsylvania Livestock Exposition, and the All-American Dairy Show. He also proposed the staging for the 1958 National Plowing Matches at Hershey. Drawing on his extensive writing experience, he served as editor of the Weekly News Bulletin, which reported on the Department of Agriculture's activities.
Throughout his professional life, Mr. Eberly combined his interests in farming/agriculture and writing. A true Dickinsonian, he exemplified what it means to be a "useful citizen": he was a U.S. Army veteran of World War I, President of the Carlisle Rotary, and an elder and deacon of the First Presbyterian Church in State College. He retired on January 27, 1967 after fifty years of service. He returned to Carlisle where he lived until his death in 1996 at the age of ninety-nine.