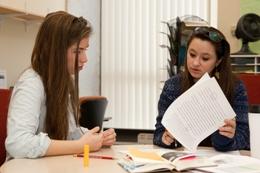 Central to our approach to tutoring is flexibility and collaboration. We see each student as an individual with particular concerns, situations, and goals, and we respond to these diverse factors.
We acknowledge that the writing "belongs" to the student and that our purpose is to help the student achieve his or her goals.
We respect the student's authority and autonomy.
We assist students in understanding and interpreting the requirements of an assignment.
We help students with their writing at any stage in the writing process.
We assist students in clarifying and developing ideas.
We help students in organizing and supporting points.
We help students to write clearly and precisely and to recognize and correct grammatical and mechanical errors.