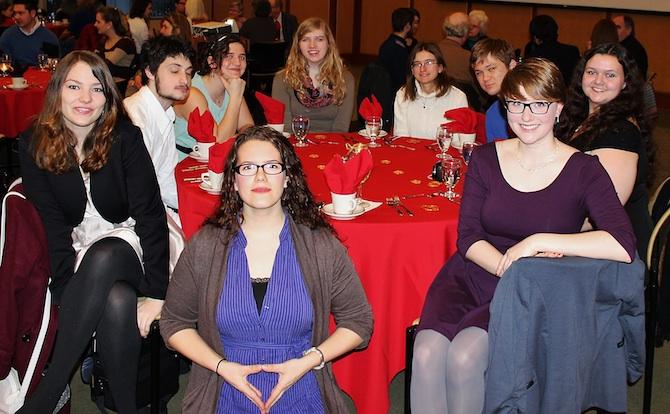 Students of German love the annual German Club Dinner
The German Club Dinner is an annual Spring Semester event hosted by German Club, featuring German food, music, guest speakers, and good conversation between students, faculty, German Faculty Emeriti, and guests.
2015
This year's event will take place on February 19, 2015 at 5:30-9PM in the HUB Social Hall. Join the German Club for an evening of delicious food!

2014

This year Professor Mark Harman of Elizabethtown College was invited to speak, and gave a talk entitled "Kafka Imagining America." Harman, who is a professor of German, English, and International Studies, is a prize-winning translator of Kafka. In his talk, Harman spoke about the sources and inspirations that Franz Kafka sights when writing his representation of the US in his novel, Amerika: The Missing Person. To conclude, Harman debuted a recent translation of a short story by Kafka.
German Club Dinner 2014 Photos

2013
Guest speaker Dr. Beverley Eddy's, Dickinson German professor emeritus, presentation on the lives of brother and sister Klaus and Erika Mann was both informative and interesting. "Danke" to German Club members and to German Club officers Gwyneth Van Son, Justin Brown, Jeffrey Lewek. And it wouldn't be a German dinner without the amazing efforts of Dining Service chefs.

2012

Start with the "sweet" violin of Alex Strachen '13, an entertaining speech by German professor emeritus Wolfgang Müller, and the camaraderie of German students, faculty, and guests. Add Beef Rouladen with Burgundy Sauce, German Potato Salad, Schwäbische Käsespätzle (cheese noodles), German Butter Cake with mixed berries, and so much more.

A special "danke" to German Club members, to club officers Julie King, Geo Nikolov, Justin Brown, and Becky Payne, and to club advisor Professor Ed Muston.
German Club Dinner 2012 Photos